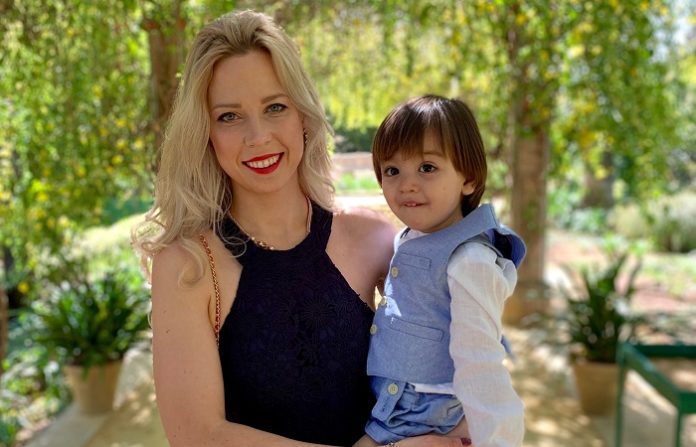 We hope you love the products we recommend! Just so you know, Trendy Mami may collect a share of sales or other compensation from the links on this page.
We hope you love the products we recommend! Just so you know, Trendy Mami may collect a share of sales or other compensation from the links on this page.
Trendy Mami is happy to introduce Ieva Deroui as our Mom Entrepreneur of the Month!
Ieva Deroui is a mami from Latvia who spent her 20's working around the world till she found herself burnout with demanding work life. Finding balance and regaining her health became her upmost priority.

In the years to follow, Ieva became a mom entrepreneur and health coach who cared deeply about the ingredients that went into skincare products. Her endeavors started when she became pregnant with her son, Ieva became very passionate about living a holistic lifestyle. She started paying more attention to what was truly in the products she was using on a daily basis. She was determined to limit not only her own but also her son's exposure to synthetic chemicals and toxins. Ieva found that balance in life goes beyond eating healthy or working out, it extends to how you treat your body through skincare as well.
Just before we get to into it, we would like to tell you a bit about Ellevest. Ellevest 's unique platform provides a customized investment plan to reach your big goals while on the quest to entrepreneurship! Ellevest focuses on helping women invest in specific real life goals like buying a home or starting a business. Go on over to their site and see if Ellevest is for you!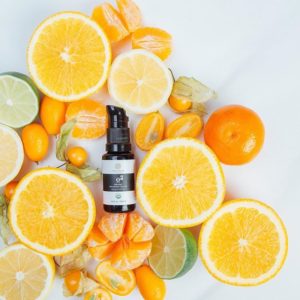 Hence why she has worked hard in creating her own all-natural plant-based skin care line called Ametrine Organics. Ametrine Organics is a USDA Certified Organic skincare company founded on the belief that nature can be our guide to living a sustainable, ethical, and healthy life. She believes that Ametrine Organics will help you transform your skin to become healthy, glowing and luminous.
Now you may be wondering why Ametrine Organics, that's a great question!
Fun Fact: Ieva named her brand after a mixture of healing and cleansing crystals called Ametrine. Her goal with Ametrine Organics is to heal skin in the most natural and organic ways.

With that being said! Ieva is very excited to share her story and what motivated her a mom entrepreneur with our readers!
If you're a mom entrepreneur as well here are some good tips that you might find useful:
If you're looking to setup blazing fast internet in your new office, Comcast Business has you covered starting at $69.95
if you're looking for employees, we found Linkedin Jobs to be the best platform for us! It lets you reach candidates everywhere with any type of skill. What are you waiting for, start your small business today!
The Interview: 
Ieva is such an inspiring mom to us mamis. So much so that we wanted to ask her a little more about her story on how she got to where she is today, a mom and an entrepreneur! So here it is, enjoy!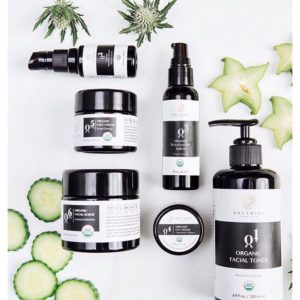 What inspired you to start your business? Tell us a little bit about the story of you becoming an entrepreneur.
Ametrine Organics evolved from my personal journey when I left the corporate world experiencing burnout, weight gain, skin issues. I was put on anti-depressants and bed rest for many weeks. So, I turned to nutrition and wellness and became a Health Coach. This was when I started experiencing positive symptoms and was able to recover with a natural, organic and holistic approach. Even though I was specializing in nutrition and fitness, I had never paid attention to the ingredients in beauty products or cosmetics.
It wasn't until I became pregnant with my son that I became more aware of what I was putting on my body and actually read all the beauty product ingredient lists. I was astonished by the amount and type of potentially harmful ingredients that I was finding in these every-day products which have been linked to cancer, allergies, ADHD, asthma, infertility, autoimmune illnesses and more… Then I took it upon myself and started formulating masks, scrubs and oils in my own kitchen. With this I was able to heal severe eczema I had for over a decade with pure, natural and organic ingredients. I started sharing these products with my family and friends and in early 2019 Ametrine Organics was born.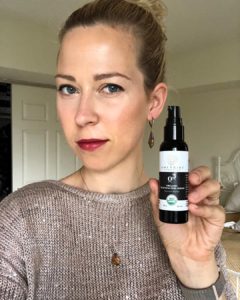 Since you are also a mom… How do you balance your personal and professional life?
My son is almost 3 years old and feel like I still haven't found "the balance". My son is always my priority, so I try to be fully present with him when we are together, and I end up working mostly at nights once he is asleep. At the same time, I involve him in a lot of things like packaging the products or sealing the shipping boxes. I want him to be part of this journey since he is the reason why Ametrine came to life.

If there was one piece of advice you could give to your children about running a successful business, what would it be?
I will give you two – dance like nobody 's watching and "everything is figureoutable" by Marie Forleo.
The first relates to being confident, true to yourself and just moving forward without listening to the negativity or judgement around. Follow your dreams and trust that it will happen no matter how many times you get knocked down.
I am a huge fan of Marie Forleo and learnt from her when I was in B School that everything is figureoutable. You will always find a way, no matter what challenge comes in your way.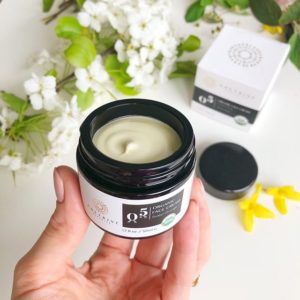 Do you have a favorite business tool and/or resource?
I believe in asking for help and outsourcing the topics that you prefer not to spend your time on. If you aren't the best at bookkeeping, then outsource someone who can keep you on track from the very beginning to avoid fixing the mistakes later.
There are many tools and sources where you could go for help. My go-to is Canva for simple graphic design projects and I also use 99Designs or Fiverr for brochures, logos, branding and more things that I'm not the best at. My advice is don't try to do it all yourself. Instead, focus on what you are good at and keep your creative energy going while outsourcing the subjects that you dread to do.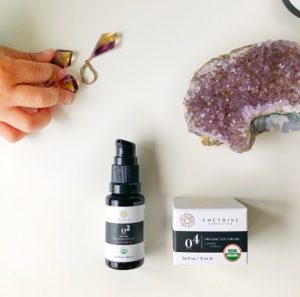 Is there anything you would do differently if you went back to when you were 20-22?
Probably not. There are some things I wish I paid more attention to like caring for my body more and be self-confident. But overall, I think that I wouldn't be here today if it wasn't for my early 20's. At that time, I was very fortunate to live and work in places like Switzerland, Dubai and Hong Kong. Without those experiences I don't think I would be as strong today. I am very grateful for every challenge and step of the way because that's how we as humans grow, learn and become wiser.
What do you read? How do you get your information?
I am a big fan of podcasts since it allows me to consume information on-the-go and I also get a news summary every morning from Daily Skimm. Some of my favorite podcasts are by Jenna Kutcher, The Iconns, Marie Forleo, Rachel Brathen, The Ladies Coach, Tony Robbins, Wellness Mama.
On a side note, if you're a busy mom entrepreneur, we think a great app the can help you stay up to date on the news and keep you informed while on the go (which we know all mom are always busy and on the go) is Morning Brew. Keep learning, stay entertained and informed for free with Morning Brew!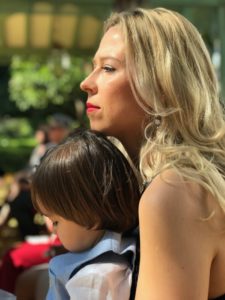 What is the hardest thing about being a mom entrepreneur? Is there any special life balance hack you can share?
I try to wake up before my son every morning around 5:30AM and spend at least 10-20 minutes for myself, stretching, doing yoga, filling out 5 Minute Journal and just investing this time in myself. This is the only alone time I get during the day and I feel way more patient, happier and content.
The hardest thing about being a mom entrepreneur is always running out of time and not having enough hands. Occasionally, I find myself experiencing mom-guilt but then I try to remind myself that I am doing my very best. One day all these little worries won't even matter and will be forgotten.
As one can see, Ieva is a busy woman! Yet, this does not mean it's impossible to be a mami entrepreneur yourself! Follow your passion, find what works for you and strive to be the best version of yourself! And you yourself can also be a mom entrepreneur just like Ieva!
Stay tuned for our Mami entrepreneur of next month! Are you interested in being featured? Check this page to learn how to become the next Mom Entrepreneur of the month!
Want to read more mom entrepreneur stories? Here is Katie Mays'!
If you're a mom entrepreneur looking for employees, Linkedin Jobs lets you reach candidates everywhere with any type of skill. What are you waiting for, start your small business today!
If you're looking for a great place to start your website or online store, Squarespace is a great place to do that! Or perhaps you want to get into email marketing, Constant Contact can help you with that! And if you have clients you work with or plan to work with, Acuity can help you pencil them all in with a click of a button!
Trendy Mami serves as a solicitor for Ellevest, Inc. Solicitor will receive compensation for referring you to Ellevest. Solicitor will be paid $10 when an individual becomes a client. You will not be charged any fee or incur any additional costs for being referred to Ellevest by the Solicitor. The Solicitor may promote and/or may advertise Ellevest's investment adviser services. Ellevest and the Solicitor are not under common ownership or otherwise related entities.