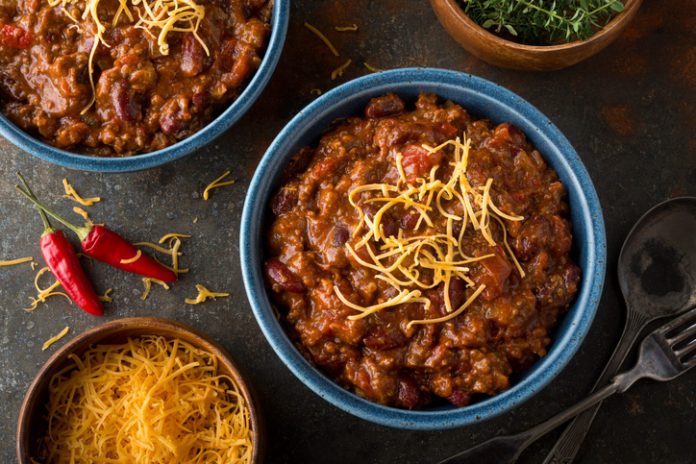 We hope you love the products we recommend! Just so you know, Trendy Mami may collect a share of sales or other compensation from the links on this page.
It's almost winter, which means it's time for hot food season. Soups, stews, and the like are all par for the course during this time of year.
My personal favorite is a bowl of piping hot chili topped with shredded cheese. Perfect for any family gathering over the holidays, even if it isn't barbecue season anymore. Thanks to My Recipes for this one.
Ingredients
1 1/2 pounds lean ground beef

1 onion, chopped

1 small green bell pepper, chopped

2 garlic cloves, minced

2 (16-ounce) cans red kidney beans, rinsed and drained

2 (14-1/2-ounce) cans diced tomatoes

2 to 3 tablespoons chili powder

1 teaspoon salt

1 teaspoon pepper

1 teaspoon ground cumin

Shredded cheese
Directions
Cook ground beef, onion, small green bell pepper, and garlic cloves in a large skillet over medium-high heat.

Stir until beef crumbles and is no longer pink; drain.

Place mixture in 5-quart slow cooker; stir in beans and remaining ingredients.

Cook on high for 3 to 4 hours or at low for 5 to 6 hours.

If you want to thicken this saucy chili, stir in finely crushed saltine crackers until the desired thickness is achieved.

Top with shredded cheese and serve.
Trying to stay warm? Hope this recipe will help!