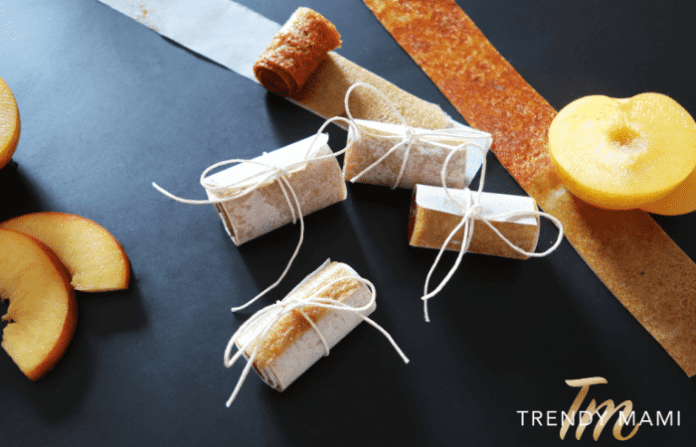 We hope you love the products we recommend! Just so you know, Trendy Mami may collect a share of sales or other compensation from the links on this page.
In this tutorial, we're showing you how to make your very own fruit leathers in your oven! If you're looking to incorporate more fruits (and veggies) into your diet, keep reading to learn how to make your own healthy lightweight snacks at home. Fruit leathers are super delicious and easy to make!
Take any fruit you have laying around (we'll be showing you a peach fruit leather recipe, mango fruit leather recipe, and plum fruit leather recipe), puree, sweeten (or not) and bake it into a nutritious, chewy, healthy, high-energy snack. If you don't have a lot of fruit just laying around, try fresh fruit sourced from Farm Fresh to You. Not only will you receive deliciously fresh fruit, but you will also be supporting a family farm. What's better than that? Now, let's get into this fruit leather recipe!
Fruit Leather Recipe
What You'll Need:
What To Do:
Preheat the oven to 170°F/75°C.
Blend the fruit together in a blender or Vitamix until well combined. You should have a puree like consistency.
Add the honey if the fruits aren't sweet enough or you like extra sweet treats.
Take your mixture and start spreading it out on the baking sheet protected with parchment or a baking mat. Make sure its dispersed evenly. We spread out our peach pulp first, then our plum, and lastly our mango. We did this to create a shaded fruit leather. However, you can totally just spread out each different fruit pulp separately and on their own baking sheet.
After all of your pulp is spread out evenly onto your baking sheet, take your spatula or spoon and blend the different fruit pulps together to get a better gradient effect if you're creating shaded fruit leather like us!
Bake for 4-6 hours at 170°F/75°C.
Once finished baking, layer your parchment paper on top of your fruit leather and let it cool completely.
Once cooled, flip your fruit leather upside down and then peel off the baking sheet.
Taking your kitchen scissors and proceed to cut away at the edges, getting rid of the excess parchment paper.
Once excess parchment paper is gone, cut your fruit leather into approx. 1″ straps and roll up.
Once all of your fruit leather straps are rolled, tie them off with some kitchen twine. Enjoy!
Important Note: Keep in mind that different fruits will require different baking times.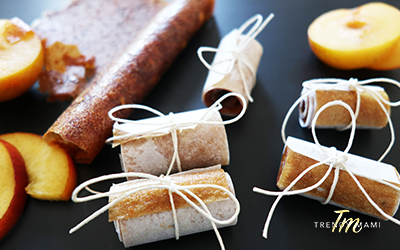 We hope you enjoyed our fruit leather recipe! Which one was your favorite? The peach fruit leather recipe, mango fruit leather recipe, or plum fruit leather recipe? Let us know!
If you enjoyed this article for some iso baking inspo, check out our other articles like our Tofu Recipes for Dinner – Video Included or our Healthy Homemade Popsicles Recipe.