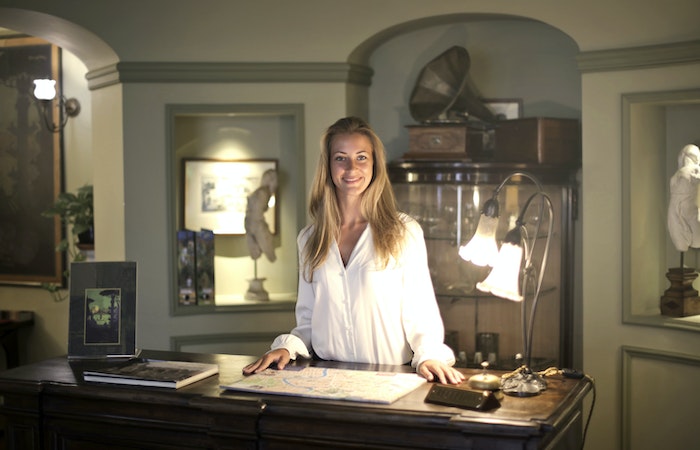 We hope you love the products we recommend! Just so you know, Trendy Mami may collect a share of sales or other compensation from the links on this page.
Are you on the hunt for part time receptionist jobs? Despite the pandemic, the service sector is making a strong comeback, with demand increasing by the day. Receptionists are the backbone of every organization and the forefront of every company, which makes them a treasured asset for employers.
In fact, the number of job positions is expected to grow by at least 4% by 2029. From large corporations and hotels to fitness centers and hospitals, every industry needs one. Combine that with the fact that you don't need higher education to become a receptionist, and you have the perfect opportunity to work in a booming sector.
To help you land the best part time receptionist jobs, we've rounded up the most sought-after positions along with salary expectations. Make sure to start your job hunt from a website like ZipRecruiter, with millions of opportunities worldwide. Create your profile, define your skills and start applying for your next job positions within a few clicks.
Best Part Time Receptionist Jobs to Apply for Today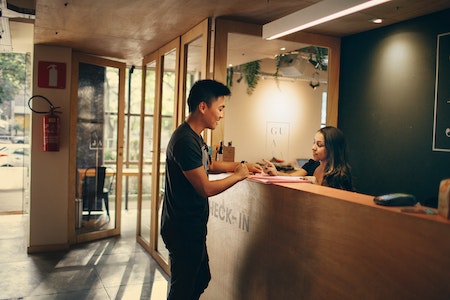 No matter what type of part time receptionist jobs you're looking to get, you can find them on ZipRecruiter. ZipRecruiter is the #1 job site in the United States, and there's a good reason why.
When you create a profile, ZipRecruiter lets you upload your resume and browse positions. But unlike some of its competitors, it doesn't stop there. Instead, it uses AI technology to match you with roles you're likely to hear back from. So, you won't have to waste your time applying for positions and only get radio silence in return!
You can also apply with only 1 click, which saves you time!
1. Hotel Receptionist
Kicking off our list of the top part time receptionist jobs with hotel receptionists. These professionals are the touchpoint between the hotel and the guests, responsible for daily organization. Their tasks include greeting and saying goodbye to guests, organizing reservations, answering phone calls, or solving problems.
Additionally, they send emails, answer questions, or deal with complaints. As a hotel receptionist, you'll need to be able to work under pressure and manage multiple tasks. Clear and polite communication, a problem-solving attitude, and composure are also indispensable skills. The average salary for hotel receptionists is around $28,012 per year.
2. Medical Receptionist
When doing your job research on ZipRecruiter, you'll notice that medical receptionists are in high demand. Whether in hospitals or private doctors' offices, medical receptionists are responsible for greeting patients and optimizing their experience. Additionally, they answer phone calls, schedule appointments, fill or retrieve patients' records, and collect payments.
To become a medical receptionist, you'll need to be good at multi-tasking, have customer service skills, and pay attention to detail. In addition, flexibility and organization are considered a plus. The salary range is between $34,390 to $41,063 per year, depending on education, certifications, and additional skills.
3. Business Receptionist
Next on our list of part time receptionist jobs are corporate receptionists. These professionals work with organizations to help them run smoothly. Their duties include welcoming visitors and announcing them properly, receiving and sorting emails, and answering or forwarding incoming calls.
In other words, they function as the first point of contact for a company, so they need to be pleasant and polite. In addition, to be successful hotel receptionists, they need to master customer service and learn to handle emergencies. Flexibility is also a vital quality since they're likely to be working on shifts. The average salary for a business receptionist is around $33,218 to $42,042 per year.
4. Phone Receptionist
As a phone receptionist, you'll be expected to answer all incoming calls to a business's primary number and perhaps forward them to the corresponding department. Moreover, you'll most likely need to take messages, answer questions, and solve problems. 
Usually, phone receptionists need to have a high level of knowledge about a business and its products in order to direct clients to the right solutions. Questions might come from customers but also vendors, suppliers, or job applicants. The average salary for phone receptionists is $32,522 per year.
5. Spa Receptionist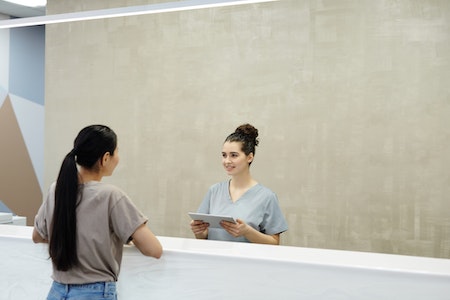 For our last suggestion for part time receptionist jobs, we have spa receptionists. Their role focuses on greeting guests and making them feel welcome. They are the face of the business; therefore, friendliness, politeness, and professionalism are must-have soft skills. Additionally, they might need to execute other tasks such as scheduling appointments, handling payments, or explaining spa services.
Usually, for these positions, candidates receive on-job training from their employers. However, you need to have solid communication skills and be able to multitask in order to become successful in such a competitive environment. The average salary for spa receptionists is $35,858 per year.
Time to Land Your Next Part Time Receptionist Jobs!
To sum up, if you're looking to start a career by landing part time receptionist jobs, countless opportunities can be found. As long as you're good with client interactions, have organizational skills, and have a flexible program, you can become a successful professional in no time. Hopefully, our guide will give you a head-start on making your applications for receptionist positions through ZipRecruiter. So take advantage of the high demand in the industry during the post-pandemic era and find the perfect job waiting for you!