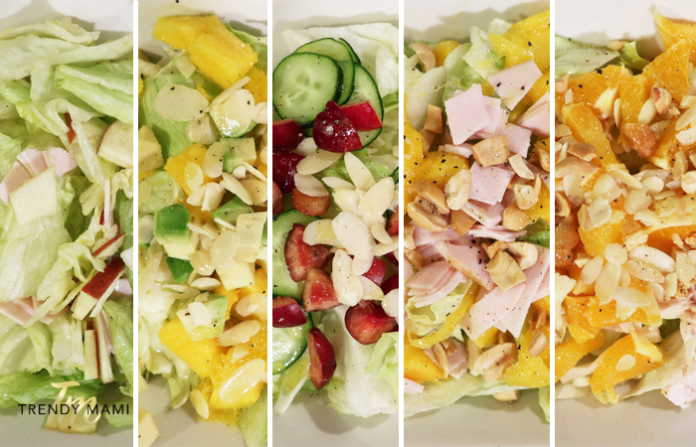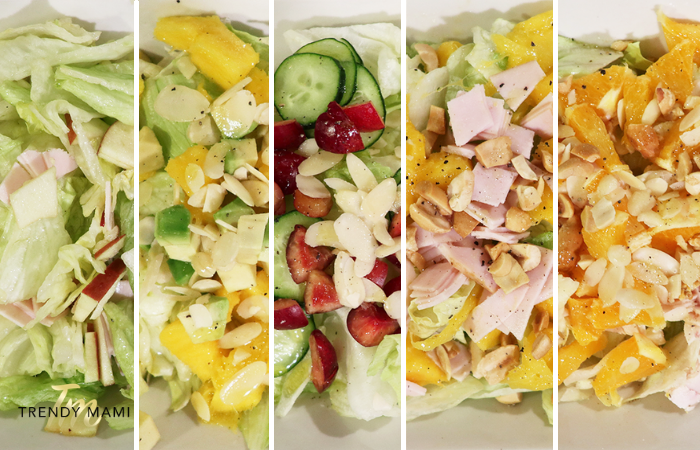 We hope you love the products we recommend! Just so you know, Trendy Mami may collect a share of sales or other compensation from the links on this page.
When it's burning up outside, the last thing you (probably) want is a big bowl of hot soup or a heavy pasta dish. No, a nice salad is something that definitely sounds so much more refreshing. It's quick and easy to make, there are a billion-and-one options to choose from and, it's also a healthy meal that will help to keep you cool and satisfied.
In honor of summer officially being in full swing, we've got five options for you to try, along with why we selected the ingredients that we did. As far as the lettuce in it goes, the choice is totally up to you. We will say that one of the least healthy is iceberg while the ones that are really good for you include spinach, romaine and kale.
Are you ready to treat your taste buds (and the rest of your body) to something summery and delicious?
We recommend buying all your produce from Thrive Market! Its not only convenient but they also provide organically farmed produce, our favorite!

5 Summer Salad Recipes
Mango Avocado Salad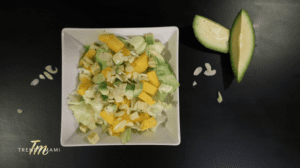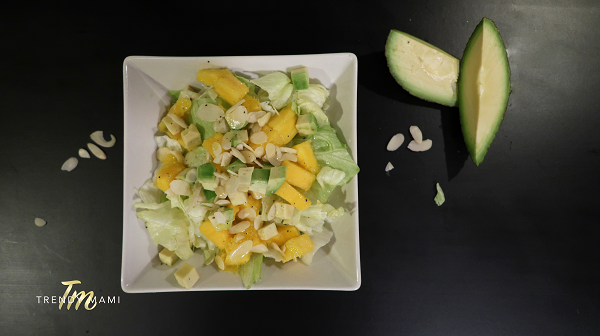 Mangoes are one of the most delicious "multi-vitamins" there is! From vitamins A, B5, C, E and K to copper, niacin and folate, mangoes have the ability to support your heart, digestive and eye health and give your hair and skin a beautiful glow. Avocadoes have lots of vitamins B5, B6, C, E, K and potassium (more than bananas).
They're also packed with monounsaturated fatty acids, loaded with fiber and can lower your cholesterol levels and even relieve arthritis-related symptoms. Almonds also contain quite a bit of Vitamin E; they've also got fiber, protein, manganese and magnesium in them. They'll do your body good because they can lower your blood pressure and cholesterol levels, boost bone and brain health and reduce hunger cravings too.
This salad is one of my favorites to throw some fresh salmon grilled salmon on! Omaha Steaks is a great place to get your fresh caught salmon! Also, check out Wild Alaskan Company for sustainably sourced fish that can be shipped right to your door! Oh and use PROMO CODE: TRENDY15 at checkout for $15 off your Wild Alaskan Box!
Mango

Avocado

Almond (sliced)

Lettuce
Cherry Cucumber Salad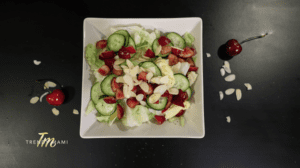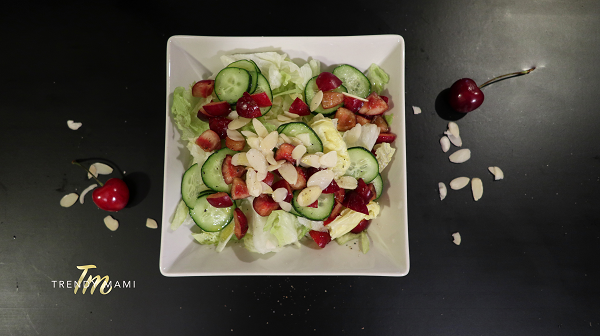 Bing cherries are perfect for summer salads because they are actually in season from May to August. They're a low-calorie food that has tons of antioxidants in them. Bing cherries also contain melatonin, potassium, magnesium and the amino acid L-tryptophan that will help you to relax (they are a perfect natural sleep agent if you eat them an hour before bed).
They are also packed with antioxidants, are able to relieve post-exercise pain, can protect against diabetes, reduce bodily inflammation and even curb menopause-related hot flashes (thanks to the natural estrogen that are in them). Cucumbers are made up of mostly water (which also makes them an awesome low-calorie food); still, they do have a good amount of vitamins C and K, as well as potassium, manganese and magnesium. The benefits of cucumbers include that they have antioxidants, they promote hydration and, the fiber in them can keep you regular.
Bing cherries

Cucumber

Almond

Lettuce
Looking for a meal plan? Check out Purple Carrot or Farm Fresh to You for your daily dose of veggies, lunches and dinners!
Turkey Mango Salad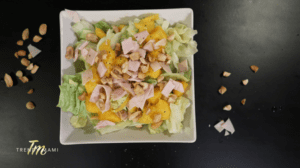 If you want to eat your way to healthy hair and skin, pine nuts can certainly help you out. They've got lots of vitamins E and K. Pine nuts also contain iron, thiamin, niacin and folate. If you need an energy boost, want to suppress your appetite, enhance your brain health, cut down your cancer risk or strengthen your bones, that's just one more reason to sprinkle some pine nuts over your salad.
Pine Nuts

Mango

Turkey breast

Lettuce
Chicken Orange Salad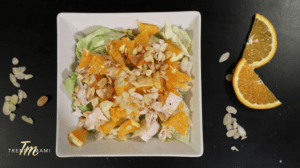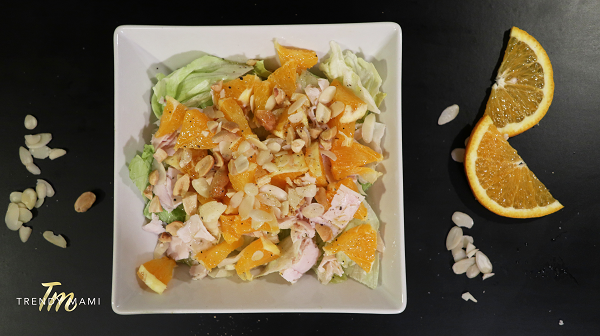 Oranges have tons and tons of antioxidants in them so that you can fight off free radicals and your immune system can stay in top shape. Oranges are also a good source of folate, potassium and citric acid (which can help to keep kidney stones at bay). Some research indicates that oranges can help to prevent anemia, control your blood sugar levels and even aid in preventing skin damage.
Chicken is another food that has lots of protein, vitamins B and D, potassium, calcium, iron, phosphorus and magnesium in it. It's the kind of food that keeps your body's cells and tissues healthy. It's also the kind of food that great for nail and oral health and, it's able to balance your cortisol (stress) hormone levels as well.
Orange

Almond

Lettuce

Chicken/Turkey breast
Turkey Apple Salad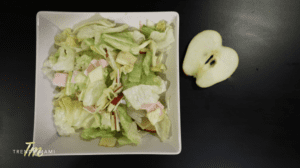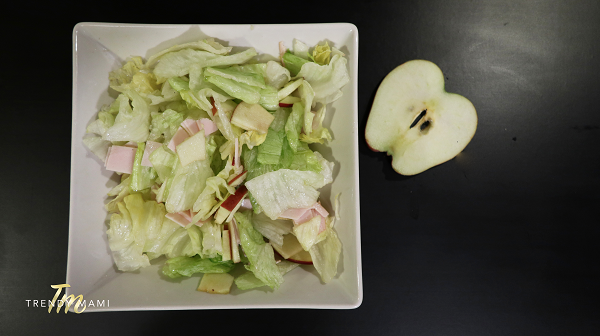 Turkey is a relatively lean meat that is pack with protein, potassium, selenium and zinc. Because of this, it's the kind of food that will strengthen your immunity, boost your metabolism and can even help you to shed a few pounds. Apples contain Vitamin C and K and fiber, along with polyphenols which are plant-based micronutrients.
Turkey breast

Apple
Lettuce
As far as salad dressing goes…
As you'll notice in the video, all of these salads are pretty delicious with a little bit of salt and pepper and/or olive oil. But if you'd like a little more taste than that, you can squeeze some fresh lemon, lime and/or orange juice onto them. Some other healthy and delicious dressing additions include apple cider vinegar, raw honey, fresh mint or plain Greek yogurt with some fresh herbs mixed in. Sounds pretty delightful, doesn't it? Enjoy your summer salads!
As these recipes include a lot of super fruits, learn more about with fruits you should be including in your healthy summer diet!