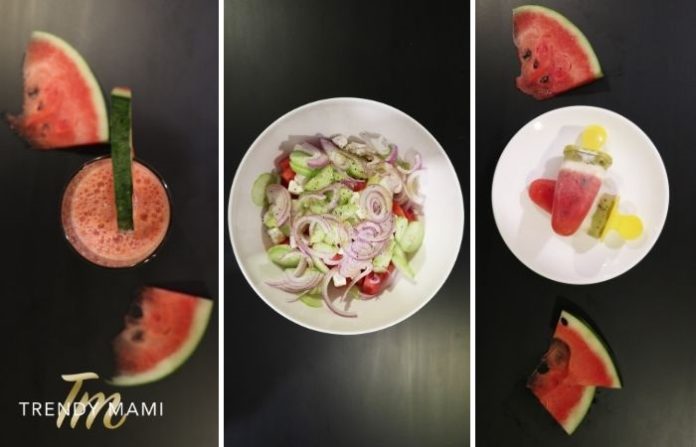 Honestly, watermelon just screams summer to me. Especially watermelon margaritas. Yum! However, if you need some kid-appropriate watermelon recipes, these 3 delicious and refreshing watermelon recipes will keep you and the kids cool in the scorching summer heat. Trust me, your taste buds will thank you. Be sure to watch our video for additional help with the recipes!
Make cooking easy with getting your ingredients from Amazon Fresh! Start your free trail today! This will especially help you make these watermelon recipes! Trust us!
1. Watermelon Popsicle
This watermelon popsicle recipe will certainly keep you and the youngins cool in the hot summer weather. Make a batch for you and the kids and it will definitely become their new favorite summer snack to beat the heat!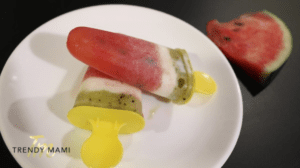 300 grs of watermelon (2 cups).
2 kiwi fruits.
1 tbsp of chocolate chips.
125 ml of white yogurt.
What To Do:
Step 1 – Cut and clean the watermelon pulp from the seeds, then toss into the mixer and blend until smooth.
Step 2 – Pour the mixture into popsicle stamps, leaving 2-3 cm of space.
Step 3 – Put the popsicle stamps into the freezer for an hour.
Step 4 – Take popsicle stamps out of the freezer and mix in chocolate chips.
Step 5 – Place back in the freezer for 2 hours.
Step 6 – Add the white yogurt to each stamp, then freeze for another hour.
Step 7 – Peel and cut the kiwi fruit and blend in the mixer, then add to the stamps.
Step 8 – Freeze for another 2 hours.
Helpful Tip: If you don't like the sourness of the kiwi fruit, add sugar with the kiwi fruit before blending.
2. Watermelon Salad (for 2-3 people)
Add this to your summer diet for a refreshing and tasty meal! The sweetness of the watermelon combined with the sourness of the onion and feta cheese makes this the most delicious summer meal. Whip this up and try it for yourself!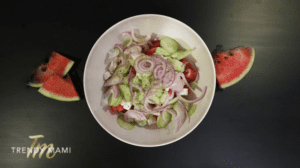 1 watermelon (3 cups).
½ a red onion.
1 cucumber.
200 gr of feta cheese (1 cup + ½ cup).
Olive oil.
Salt and pepper.
What To Do:
Step 1 – Cut up the watermelon and remove the seeds. Add the watermelon to a large mixing bowl.
Step 2 – Slice up the onion. Add the onion to your mixing bowl.
Step 3 – Slice up the cucumber. Add this to your mixing bowl also.
Step 4 – Cut up the feta cheese into small cubes and add to your mixing bowl.
Step 5 – Mix all of the ingredients together and serve with olive oil, salt and pepper.
Looking for more salad recipes? Learn how to make a few of our favorites here!
3. Watermelon Juice
This watermelon smoothie is the perfect sweet treat to enjoy this summer and fight the blistering heat. Blend up this mouth-watering smoothie for you and the whole family to enjoy!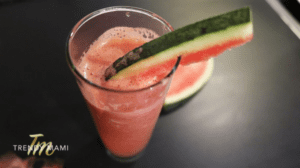 1 cup of frozen watermelon.
½ cup of cucumber (sliced).
½ a lime (juiced).
¾ cup of water.
What To Do:
Step 1 – Cut up your watermelon and remove the seeds, then place into the freezer overnight.
Step 2 – Take your frozen watermelon and add to your blender.
Step 3 – Slice up your cucumber and add to your blender also.
Step 4 – Get the juice from your lime and add to your blender.
Step 5 – Add water to your blender.
Step 6 – Blend together until smooth!
Step 7 – Finally, enjoy your tasty watermelon juice!
Benefits Of The Tasty Summer Fruit
Watermelon is a healthy and delicious food that has many beneficial properties! With only 46 calories per cup, this red fruit is also high in vitamin C, vitamin A and many healthy plant compounds. Here are a few top health benefits you'll receive if you consume this delicious fruit: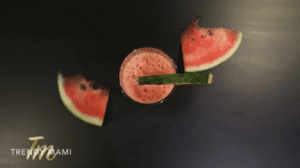 1. Provides Ultimate Hydration
As you probably guessed from this fruits name, watermelon is 92% water. What does this mean? It provides ultimate hydration because of its high-water content. The high-water content will also help your body feel full with minimal calories. Yay!
2. Contains Plenty Of Nutrients And Beneficial Plant Compounds
Watermelon is full of much needed nutrients and beneficial plant compounds such as: Vitamin C, vitamin A, potassium, magnesium, vitamins B1, B5 and B6. Watermelon is also high in carotenoids, including beta-carotene and lycopene. It also contains citrulline, an important amino acid.
3. Has Compounds That May Help Prevent Cancer
Researchers have looked closely at lycopene as well as other individual plant compounds in watermelon to study their anti-cancer effects. Lycopene intake is commonly associated with a lower risk of some types of cancer, however, study results are mixed. The link between lycopene and cancers of the digestive system prove to be the strongest so far. Lycopene appears to lower the cancer risk by lowering insulin-like growth factor, which is a protein involved in cell division. High insulin-like growth factor levels are linked to cancer.
We hope you enjoy our 3 delicious and refreshing watermelon recipes, as well as reading up on the benefits on the amazing fruit!