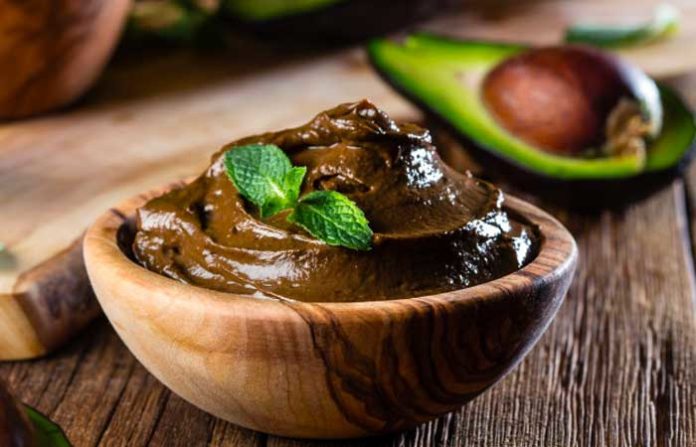 We hope you love the products we recommend! Just so you know, Trendy Mami may collect a share of sales or other compensation from the links on this page.
Looking for a sugar free dessert that's healthy, flavorful, and free from refined and processed sugars? Try one of these easy-to-make recipes and treat yourself to a delicious sugar free dessert today!
Dessert is arguably one of the best courses of a meal, although most recipes are loaded with refined and processed sugars that can be detrimental to your health (and waistline). If you're looking to cut back on your sugar intake without sacrificing your favorite sweet treats, then whipping up sugar free dessert might be your best bet.
.Just because these scrumptious desserts are sugar free, doesn't mean they lack flavor. Here are three of our favorite sugar free dessert recipes that are guaranteed to delight your tastebuds!
Sugar Free Chocolate Avocado Mousse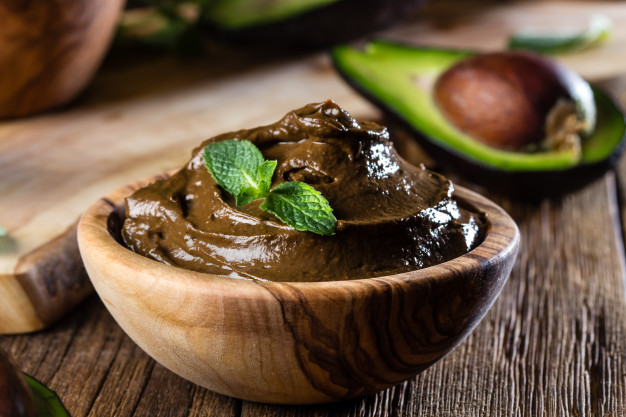 If you're looking for an easy-to-make sugar free dessert, then look no further than this chocolate avocado mousse. Made with banana and avocado, this no sugar dessert is rich and creamy while also being packed full of healthy nutrients like potassium, magnesium, and vitamin C.
Ingredients:
2 ripe bananas
Two ripe avocados
2 tbs nut butter (hazelnut or almond works best)
½ cup raw cacao powder
2 tbs coconut milk
2 cups raspberries for garnish
¼ cup cacao nibs for garnish
Instructions:
Chop the bananas into small chunks and place them into a blender.
Scoop the avocado and place in the blender with the banana.
Add the nut butter, cacao powder, and coconut milk into the blender and mix until everything is smooth. You should have a thick, pudding-like consistency that is free of banana or avocado lumps.
Pour the blended mixture into a bowl and chill in the fridge for 30 minutes. You want the mouse to be firm but jiggly.
When you're ready to serve, sprinkle the raspberries and cacao nibs (Thrive Market's organic nibs are vegan, paleo, and ethically sourced) on top of the mousse.
Sugar Free Date and Nut Balls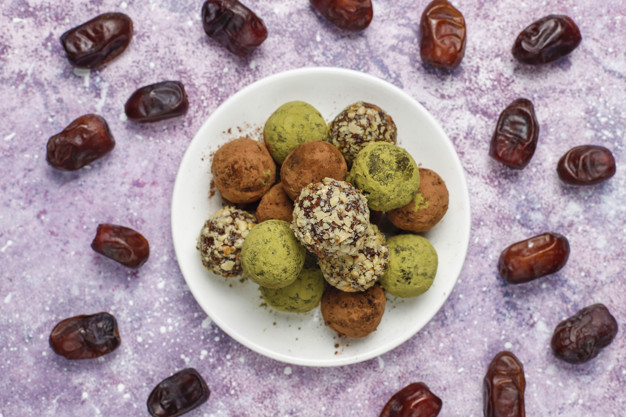 We're huge fans of no-bake desserts, which is why healthy date and nut balls are one of our favorite sugar free dessert recipes. It's sweetened only using honey, chopped dates, and coconut (all of which you can order from Instacart), which means you won't have to feel guilting when indulging your sweet tooth!
Ingredients:
1 cup walnuts
2/3 cup cashews
2/3 cup almonds
½ cup oats
2/3 cup dried apricots
1 cup pitted dates
2 tbs cocao powder
1 tsp cinnamon
2 tbs honey
1 cup coconut
Instructions:
In a pan, heat the walnuts, cashews, and almonds over medium-high heat for approximately 2-3 minutes or until lightly toasted.
Place the nuts in a food processor or blender and mix until the nuts are finely chopped. You don't have to blend them completely into a powder – it's fine to have them in small chunks for this sugar free dessert.
Chop the apricots and dates into small pieces, then add to the food processor with the nuts. Also, add the cocoa powder, cinnamon, and honey. Blend together until mixed (the mixture should have a thick paste-like consistency.)
This no sugar dessert requires a little hand-work! Dump the mixture into a bowl and scoop out a golf-ball-sized portion with your hand. Roll the mixture to form a smooth, round shape, then set aside on a tray lined with baking paper.
Continue making the balls until all the mixture is used. This recipe should make approximately 15 date and nut balls.
Roll the balls in the loose coconut until they are thoroughly covered.
Place the balls in the fridge and chill for 30 minutes.
Sugar Free Apple Tart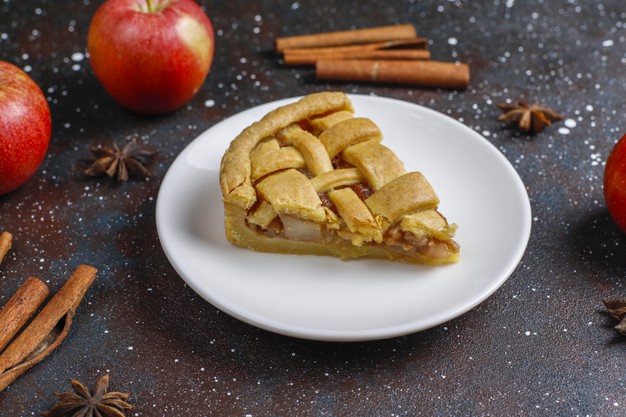 There's nothing quite as iconic as a good old-fashioned apple tart. This sugar free dessert has tons of flavor and doesn't require any added sugar, thanks to the naturally sweet sugars in the apples and applesauce. Red or green apples will work.
Ingredients:
Premade pastry crust
4 cups peeled and sliced apple slices (thin)
5 tsp cinnamon
2 tbs lemon juice
¼ cup unsweetened apple sauce
1 tbs cornstarch
Instructions:
Preheat the oven to 350 degrees Fahrenheit.
Place the pastry crust into a pre-greased pan. For this sugar free dessert recipe, we recommend a 9-inch round pan. Stretch the pastry over the edges of the pan in order to create a crust for the tart.
Mix the sliced apples, cinnamon, lemon juice, apple sauce, and cornstarch together in a large bowl. Make sure all the apples are evenly covered with the mixture.
Layer the sliced apples onto the pastry crust in a spiral pattern. Start on the outer side of the pan and work your way towards the middle.
Place the pan in the oven and bake for 35 to 40 minutes. The edges of the pastry should be a nice golden brown.
Remove from the oven and serve warm, or let it rest and serve when cooled.
If you're looking for other delicious recipes to satisfy your sweet tooth, then we also recommend making your own immunity-boosting smoothies.  You can also buy an ice cream maker to make sugar-free ice creams and sorbets!