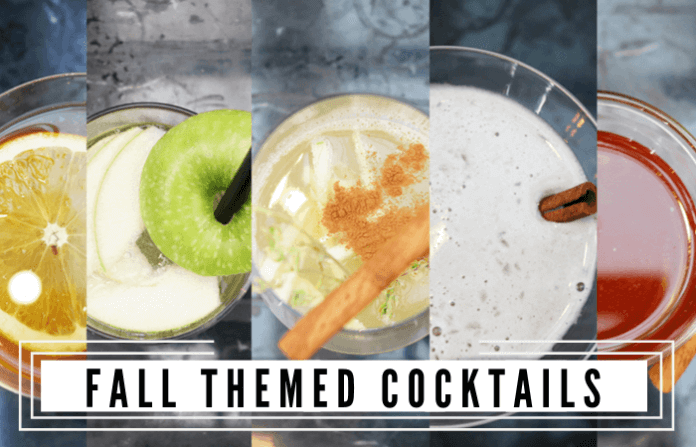 We hope you love the products we recommend! Just so you know, Trendy Mami may collect a share of sales or other compensation from the links on this page.
Bring on the fall season. It's officially time to put away those short shorts, dig out your sweaters and start wearing your fave booties over those cute flats you've worn relentlessly the past few months. As you honor the leaves changing color, don't forget to spice up your drinks properly, too. Add some cider to your sangria, some pumpkin spice to your latte and some apple to your martini. These 5 fall themed cocktail recipes we've collected are to die for and will certainly brighten your fall get togethers, bring some warmth to your last outdoor dinner parties and sweeten your nights by the fire. With one of these in your hand, you'll know that fall has arrived. Be sure to watch our video tutorial if you need a little extra help.
1. White Fall Sangria – Fall Cocktails
Wine? Limoncello? Sweet apple? Sign me up! If you like sweet and sour, and a good sangria, you will love this fall themed cocktail!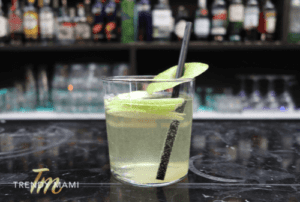 What You'll Need:
What To Do:
Step 1 – In a tumbler, pour your Moscato wine, lemon liqueur (limoncello), sugar, lemon juice.
Step 2 – Add equal slices of apple and pear and finish off with soda.
Step 3 – Let it rest for 30 mins-1hr and then garnish with lemon zest or apple slice.
Step 4 – Serve and enjoy!
2. Apple & Gin – Fall Cocktails
Slightly sweet, tart and smooth with a fruity apple taste, this apple and gin cocktail is filled to the brim with cozy, warm fall flavors. Easy to whip up and downright delicious, this cocktail is perfect for all of your fall soirees!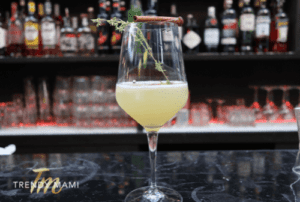 What You'll Need:
What To Do:
Step 1 – Make the honey simple syrup by adding the hot water and honey to a mason jar and shake vigorously until the honey dissolves. Let it cool down.
Step 2 – For the cocktail, combine gin, apple juice, honey syrup in a cocktail shaker with ice.
Step 3 – Shake vigorously until chilled.
Step 4 – Dash some cinnamon on top, add the thyme and a cinnamon stick to garnish.
Step 5 – Serve and enjoy!
Note: You can use rum instead of gin and add a bit of lemon/lime juice for a citric taste.
3. Cinnamon Sour – Fall Cocktails
In this tasty twist on a whiskey sour, the cinnamon and homemade syrup adds a spicy warmth to the cocktail. Perfect for all your fall needs!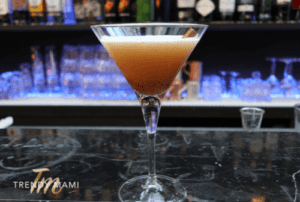 What You'll Need:
What To Do:
Step 1 – Add all of your ingredients to a cocktail shaker then shake.
Step 2 – Use a strainer to filter, then place a cinnamon stick in the glass and pour the cocktail.
Step 3 – Serve and enjoy!
4. Orange Leaf – Fall Cocktails
Love a good ol' G&T? You will love this G&T then. Gin and tea that is. This is a perfect cocktail to drink in the fall, as the mixture of lemon ginger tea and gin will keep you nice and toasty on a cold autumn night.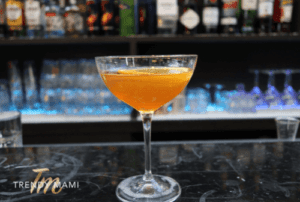 What You'll Need:
What To Do:
Step 1 – Steep tea bag for 10 secs (depending how strong you want the tea flavor) and then remove tea bag.
Step 2 – Add in remaining ingredients and stir.
Step 3 – Garnish with orange slice.
Step 4 – Serve and enjoy!
Note: Earl Grey Tea has a strong flavor, so you might want to remove almost right away to avoid bitterness.
5. Chimney Cinnamon – Fall Cocktails
Tequila, orange and cinnamon. If this sounds like the perfect cocktail to you, then keep on reading! You're in for a treat.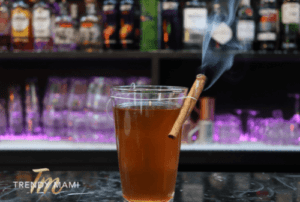 What You'll Need:
What To Do:
Step 1 – Pour the ingredients in a high tumbler and stir.
Step 2 – Garnish with a smoking cinnamon stick.
Step 3 – Serve and enjoy!
Note: Make sure the cinnamon infusion has cooled down a bit (you can serve warm, as well as cold, although warm tastes much better!)
We hope you enjoyed our article on these 5 fall themed delicious cocktail recipes and hope they bring some warmth to your fall festivities! Stay tuned for more fun fall themed articles.
If you're looking for other cocktails, check out our patriotic cocktails! And if you want a few great appetizers to go with your party cocktails, give these a try! Or even not just appetizers, but perhaps a turkey recipes with some gravy or pumpkin pie recipe? Yes! Yum!