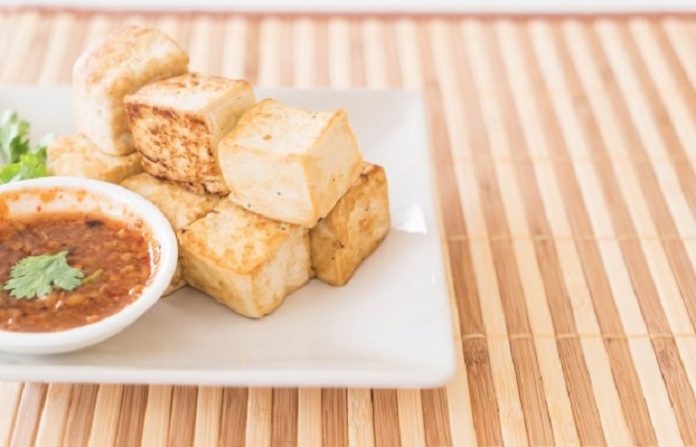 We hope you love the products we recommend! Just so you know, Trendy Mami may collect a share of sales or other compensation from the links on this page.
Thinking of going vegan or vegetarian or just wondering about the health benefits of tofu? Well, you've come to the right place! In this article, we're going to share all of the stuff that you need to know about tofu, like what it is, the health benefits of tofu, different ways to use it in your recipes, and a delicious recipe for you to try. Keep on reading!
Before you do, you might want to Postmates yourself some Tofu, because we are sure you will want to eat all the tofu you can after reading this article! Okay, now enjoy the article!
So, first, what is tofu?
Tofu, or otherwise known as bean curd, is a popular food extracted from soya. It's made by curdling fresh soya milk, then pressing it into a solid block and lastly cooling it – very much like how traditional dairy cheese is produced by curdling and solidifying milk. The liquid is discarded, and the curds are pressed to form a cohesive bond. It's an essential ingredient in Thai and Chinese cookery, that can be cooked in various ways to alter its texture from smooth and soft to crisp and crunchy.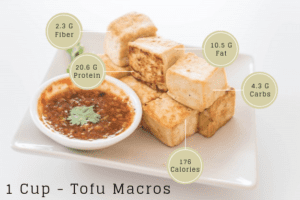 Tofu is an excellent source of protein and contains all nine essential amino acids. It's also an extremely valuable plant source of iron and calcium and the minerals manganese, selenium and phosphorous. Additionally, tofu is a good source of magnesium, copper, zinc and vitamin B1. Wow, right?!
Tofu is a beneficial food to include in your diet, from a nutritional and a health point of view. It's thought to provide many of the same health benefits as soya beans.
Can you cook tofu in different ways to use in your recipes?
You can cook tofu in many different ways for your recipes! Firstly, you can keep your tofu raw. If your recipe calls for raw tofu, just be cautious when shopping for your tofu. Shelf-stable tofu is safer to eat raw rather than refrigerated. If opting for raw tofu, we recommend silken tofu.
Additionally, you can steam your tofu. Steaming tofu is an excellent way to make it safe for eating in a recipe that doesn't call for cooking your tofu. Steaming your tofu will ensure any potential bacteria is killed off and also make it easier to digest. You can also saute your tofu. Sauteing or stir-frying tofu is the ultimate way of adding flavor and cooking tofu quickly. You can also fry up your tofu! Frying tofu will give it a crispy texture, which is great for those who are reluctant to eat tofu.
Another way of using tofu in your recipes is baking it. Baking tofu can give you two different flavorful results. The first is a less-oily, crispy alternative to frying tofu, whilst the second makes a delicious protein-rich entree. You'll either want to Google crispy baked tofu or tofu-steaks, depending on which you prefer. Keep on reading for a tasty tofu recipe that you can try out!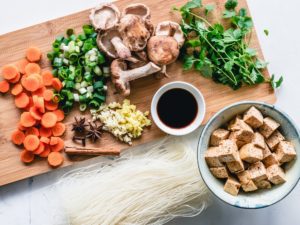 Honey Tofu And Veggie Stir Fry
What You'll Need:
For the stir fry:
1 1/2 cup uncooked brown rice
2 tablespoons extra virgin olive oil
14 ounces extra firm tofu (be sure to get extra firm)
1 1/2 cups chopped mushrooms
2 cups shredded carrots
2 green onions, minced
cilantro (as much as you like)
For the honey ginger stir fry sauce:
What To Do:
Sauce: Puree all the sauce ingredients together in a food processor until smooth. Set aside for later.
Tofu: Cook the rice according to the package directions.
Cut the tofu into slices and press with a paper towel to remove excess moisture. Wait a few minutes and press again – there's lots of water in there!
Cut the tofu slices into small cubes.
Heat the oil in a large nonstick pan over medium heat. When the oil is shiny, add the tofu and about 1/4 cup of the stir fry sauce (watch out because the sauce and oil will spatter a tiny bit – have a cover ready or just skip the sauce at this point).
Pan-fry the tofu until golden brown. Remove from the pan and drain on paper towel lined plates.
Veggies: Return the pan to the heat and add the mushrooms and carrots with 1/4 cup stir fry sauce. Toss all together.
Serve the veggies and tofu over the cooked rice, and cover with more sauce to taste. Sprinkle with the green onions and cilantro for garnish.
If you're looking for other great vegan or vegetarian meals, check these out. They can even be delivered right to your door!
We hope you enjoyed our article on all that you need to know about tofu and hope you give our delicious Honey Tofu And Veggie Stir Fry recipe a go! If you enjoyed this article, you may also enjoy our recent article on the Health Benefits of Chickpeas/Garbanzo Beans & Bonus Recipe! Or even one on the Impossible Burger vs. Beyond Burger review! Or last but definitely not least, Buddha Bowls! Yum!