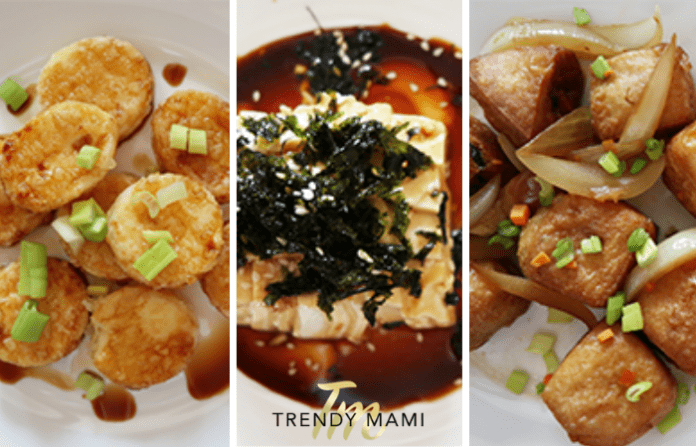 We hope you love the products we recommend! Just so you know, Trendy Mami may collect a share of sales or other compensation from the links on this page.
If you're looking to cut some meat out of your diet this year, keep reading! Below, we'll highlight tofu recipes best for replacing meat without losing any flavor or variety. Tofu has many health benefits including being a good source of protein and it contains all nine essential amino acids. It's also a valuable plant source of iron and calcium and the minerals manganese and phosphorous. In addition to this, it also contains magnesium, copper, zinc and vitamin B1. So basically, it contains a lot of the vitamins and minerals we need for healthy body function.
We know, tofu has a bad rap for its mild taste, but hear us out! When tofu is prepared correctly and paired with tasty ingredients it can compete with any other protein at the dinner table. Fresh produce is one of those tasty ingredients and it's super easy to them delivered to your door by Farm Fresh To You. We have found 3 types of easy tofu recipes for dinner that'll have you skipping the meaty mains forever. Here's 3 types of vegetarian tofu recipes easy to make and how to prep them. Enjoy!
Tofu Recipes for Dinner
Japanese Egg TofuIngredients:
64 ounce package of egg tofu (1 package)
½ cup of cornstarch
1 tbsp of vegetable oil
1/8 tsp of brown sugar
1 tbsp of soy sauce
1 tsp of vinegar (any will do)
¼ tsp of brown sugar
1 tbsp of scallion rings, green part only
Instructions:
Cut up the egg tofu into small round pieces.
Place your cornstarch on a plate or surface where you can coat your egg tofu.
After thoroughly coating your egg tofu, in a pan add your vegetable oil and bring to a high heat.
Place your egg tofu pieces into the pan and fry the tops and bottoms, 1-2 minutes on each side.
Whilst frying, sprinkle some brown sugar on your tofu to give a caramelized surface.
To make the sauce, mix soy sauce, vinegar and brown sugar.
Garnish your egg tofu with some scallion rings.
Serve and enjoy this tofu recipes for dinner or as an appetizer!
Fried Tofu Puffs
Ingredients:
8-10 cubes of fried tofu puffs
2 tbsp of vegetable oil
Pinch of ginger (optional)
⅔ cup of carrot (½ carrot)
½ cup of Chinese mushrooms (3 mushrooms)
2 leaves of Chinese cabbage
Pinch of Himalayan salt
2 tsp of soy sauce
½ medium sized onion
1 tbsp of rice wine
½ tbsp of scallion rings, green part only
Instructions:
In a wok/pan, add 1 tbsp of vegetable oil.
Add sprinkle of ginger to wok/pan (optional).
Chop your mushrooms and carrot into fine cubes.
Toss your carrot and mushroom along with the cabbage (if you have some precooked) into your wok/pan.
Add some soy sauce and stir. Cover with a lid and let it cook on medium heat for about 1-2 minutes.
Remove from the heat and let it cool for 5-10 minutes.
With the help of scissors, cut the fried tofu puffs from one side.
Then, proceed to stuff your fried tofu puffs with the filling. Use a small spoon or your fingers for this.
In a wok, add 1 tbsp of vegetable oil before tossing in the onion. Stir for a minute and then add a pinch of salt and the stuffed fried tofu puffs.
Mix and then cover with a lid, let it cook for 2 minutes.
Cover and let it cook for 2 more minutes.
Garnish your fried tofu puffs with some scallion rings.
Serve and enjoy!
Tofu Pudding
Contrary to what you may think, this is one of many tofu recipes for dinner!
Ingredients:
Instructions:
Cut your tofu pudding into thin pieces.
Add your soy sauce and sesame oil over your tofu pudding.
Next, add your crispy seaweed on top of your tofu pudding.
Add a pinch of sesame seeds to your tofu pudding (optional).
Serve and enjoy!
You can find a whole bunch of the ingredients for all these recipes online from Thrive Market. You can even take advantage of free shipping on your first order over 25$ to grab all the ingredients for the Tofu Pudding dish and more!
We hope you enjoyed these 3 easy tofu recipes for dinner! If you do try out these tofu recipes for dinner, you may also want to try out our buddha bowl recipes or our tasty egg recipes! Hungryroot is another great way to incorporate tofu into your diet by ordering healthy groceries and following along with their directions to put the dishes together! If you're just looking to eat healthier, try out Noom and check them out in our Noom Review.