We hope you love the products we recommend! Just so you know, Trendy Mami may collect a share of sales or other compensations from the links on this page.
–
Want to create the best Advent calendar 2022 offers?
Even though we're creating an Advent calendar for this year, the origin dates back to the 19th century. They were used to celebrate Advent, a four-week period starting in December and lasting until Christmas Eve. Advent calendars originally started with simple chalk lines. Now, they've evolved to be more creative. Nowadays, you can find Advent calendars of all shapes and sizes, including chocolate calendars, toy calendars, and many more!
For this tutorial, we'll be showing you how to create a felt stocking Advent calendar for teens (or anyone!). You can hang it anywhere you'd like (on the wall, on the Christmas tree, etc.) and fill it with a variety of fun goodies. It's a simple and easy project that is guaranteed to bring festive joy into any household!
How to Make the Best Advent Calendar 2022 Offers
Materials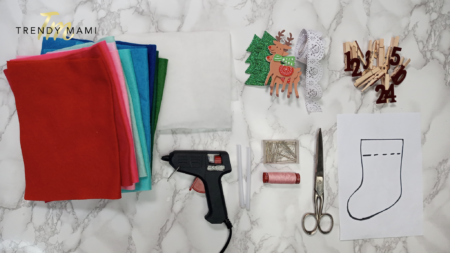 Felt (white and other various colors)
Christmas stickers
Numbered clips
Hot glue gun and glue
A stocking template
Hanging wooden rod structure (you can buy one or make one yourself – instructions are below)
Little things you want to fill in the stockings (candies, presents, printed quotes, etc.)
Instructions to Make an Advent Calendar 2022:
Make sure your downloadable stocking template is cut out (you can print one or draw one yourself).
Using the template, trace and cut 24 stockings from the different colored felt. Each stocking uses two pieces of felt, so you'll need to cut 48 pieces in total. And don't throw away the felt scraps! We'll use these a bit later.
Take the white felt and cut out 24 small rectangles. This will be the white part on top of the stocking.
Using your sewing machine, sew both sides of the stocking together.
Take the needles from your sewing kit and pin the white rectangles to the top of the stocking. As a tip, place them perpendicular to the stitching line so the machine's needle will skip them while you are sewing.
Cut off any extra thread.
Now it's time to get creative! You can decorate the front of your stockings however you like. Here are a few ideas to get you started:
Use stickers to decorate the front of the stockings.
Take your scrap pieces of felt and cut out the stripes. You can use your glue to attach the stripes to the front of the stockings.
Make geometric shapes from the scrap pieces. Think stars, bunting, or circles!
Create your own fun patterns and shapes! Be creative and decorate the stockings with whatever you like.
Completing the Stockings
After your stockings are finished, we can now put together the Advent calendar. Take your numbered clips and attach one to each stocking.
Now, attach the clips and stockings to the twine strands on your wooden rod structure.
Add your gifts, hang up your Advent calendar, and enjoy the festive holiday season!
Instructions to Make the Wooden Rod Structure: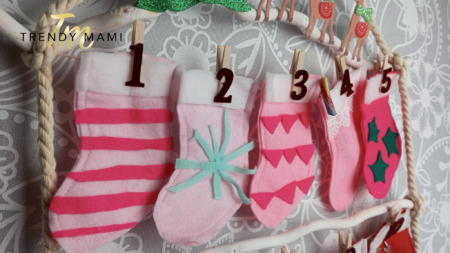 For this project, you'll need wooden rods or dowels (five pieces, 40-45 cm in length), twin twine (five pieces, 50 cm in length), and rope (10 mm x 3 mm).
The middle of the rope will be where you will hang the Advent calendar. Take one side of the rope and make a knot around one of the rods.
Tie knots on the rest of the rods, leaving 15-20 cm between each knot.
Repeat on the other side of the rope.
Now take the twine and tie it parallel to each rod. This is where you'll attach the numbered clips.
Time to Get in the Christmas Spirit!
Doesn't this Advent Calendar 2022 tutorial get you into the Christmas spirit? If you're looking for more DIY holiday projects, then we have you covered. Learn how to make your own Christmas cards, orange peel ornaments, or festive-smelling centerpieces right here on Trendy Mami!