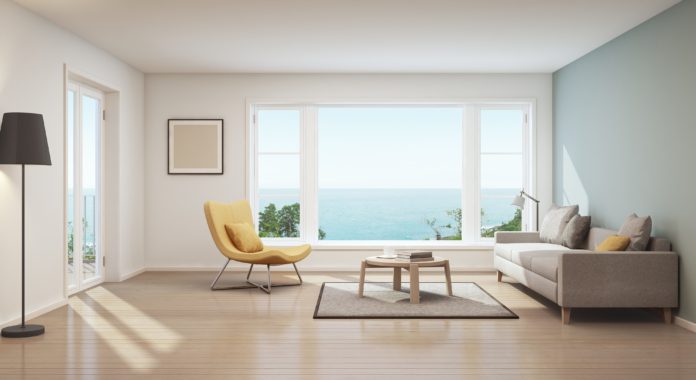 We hope you love the products we recommend! Just so you know, Trendy Mami may collect a share of sales or other compensation from the links on this page.
If you're a renter, you probably know the pains of finding renter friendly décor. After all, you don't want to make a mess or risk your landlord keeping your security deposit when you move. But thankfully, there are so many ways to add personality and style to your home, even if you're living there temporarily.
7 Renter Friendly Décor Ideas 
Nowadays, it's easy to find removable wallpaper, nail-free wall art, and even playful décor items to suit every taste. So, get ready to transform your boring space into the apartment of your dreams using these renter friendly décor ideas.
No-Nail Art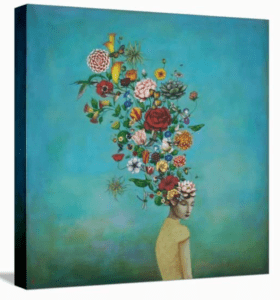 Generally speaking, landlords hate having renters nail holes into their walls. But living with plain white walls is just so boring! Thankfully, there are a few ways to brighten up your apartment with no-nail art. Just take a look at Mixtiles. They turn your favorite photos into stunning wall art that sticks to any surface. No holes or wall damage necessary!
If you're allowed to nail into your walls, then you have more options in terms of décor. Spruce up your home with canvas prints, framed art, or a gallery wall!
Accent Rugs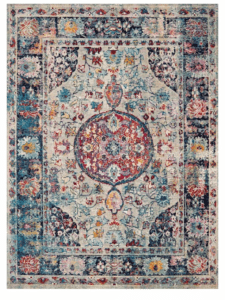 When most renters think of renter friendly décor, they often forget about their flooring. An accent rug can change the entire appearance of a room and can make the space brighter, larger, or just more like home! Opt for a sophisticated vintage-style rug or a cozy boho accent piece from At Home.
String Lights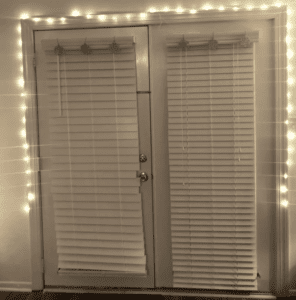 String lighting is a great way to add style to your renter friendly décor. Not only can it look like a piece of art, but it also adds a nice atmosphere! Target has fairy lights that are super easy to install, especially considering they only require a couple of batteries to run. However, we also love the look of plug-in lantern string lights too. They transform your entire room into a warm and welcoming space.
Throw Pillows and Blankets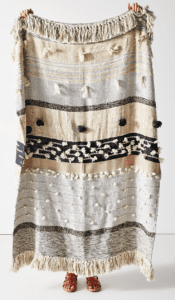 It's amazing how much a single throw pillow or blanket can change the style of a room. They add texture, color, and vibrancy that instantly catches your eye. Plus, they come in all shapes and patterns to match the style of your home. From boho blankets to minimalist pillows, you'll have no problem finding something pretty to toss on your bed or couch at Anthropologie.
Removable Wallpaper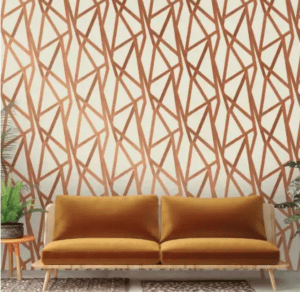 Looking to make a big statement in your apartment? Then choose to decorate with removable wallpaper! There are so many types of peel-and-stick patterns and styles to choose from. This bronze geometric wallpaper is a bold look that will glam up any room. Or stick with something softer like this feminine floral pattern.
Removable wallpaper is easy to apply and remove. Best of all, it doesn't leave any sticky residue or marks, making it a design-friendly option for most renters.
Tabletop Accents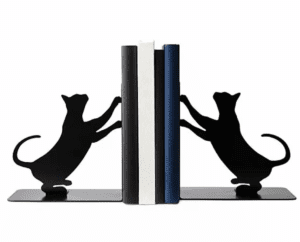 When it comes to decorating, don't forget the small tabletop accents. They're a great way to show off your personality while adding more character to your apartment, and you can find some accents on Uncommon Goods. This could be a pair of cute bookends, a fun lamp, or playful succulent planters. And if you ever get bored, you can just move the accents around to switch up your room's design!
Window Catchers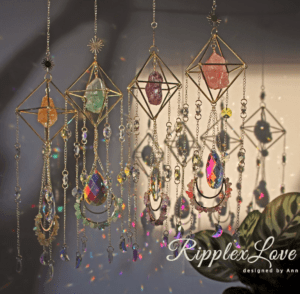 Add a bit of shimmer and sparkle with some fun window catchers! Not only do they function as wall art, but they add glimmer and color when placed in sunlight. These natural gemstone suncatchers by RipplexLove from Etsy can be made using your favorite crystal, like citrine, amethyst, or aquamarine. And if you're more into florals, then there's a window catcher for you too! Check out these botanical resin catchers and choose one that matches your style for renter friendly décor.
More Home Décor Ideas
Don't worry if you're moving into a rental home or apartment. There are plenty of renter friendly décor items you can add to make your space feel like home. If you're feeling extra crafty, then you can also make your own décor too! Take a peek at our hanging macrame wall art tutorial and our boho planter DIY. Have fun decorating and creating a home that is truly yours!