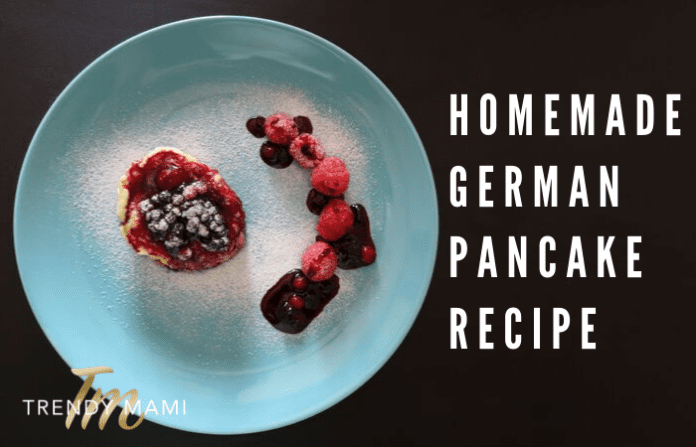 We hope you love the products we recommend! Just so you know, Trendy Mami may collect a share of sales or other compensation from the links on this page.
If you haven't tried German pancakes before, you're missing out! If you don't know what German pancakes are, German pancakes, otherwise known as Dutch Baby pancakes, are baked pancakes made out of eggs, milk, flour and vanilla. These pancakes are baked in a metal or cast-iron pan, puff up in the oven and then fall as they cool. Our delicious recipe will make 15-20 mini pancakes, you might want to double the batch however, because they're that good!
Just because these German pancakes are pancakes, doesn't mean they're completely unhealthy. Sure, they have quite a lot of sugar, however, the ingredients used in the mixture such as eggs and the berry compote topping can provide quite a few amazing health benefits.
In fact, eggs are one of the most nutritious foods on the planet. One whole egg contains all of the nutrients required to turn a single cell into a baby chicken. What?! Crazy right! Eggs provide our bodies with a good amount of Vitamin A, Folate, Vitamin B5, Vitamin B12, Vitamin B2, Vitamin D, Vitamin E, Calcium and much more! An egg is also only 77 calories, with 6 grams of protein and 5 grams of healthy fats. Eggs are pretty much the perfect food. They contain a little bit of almost every nutrient our bodies need.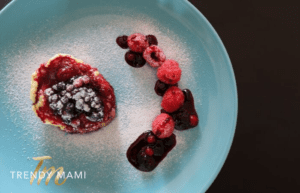 As for berries, they are delicious, nutritious, and provide plenty of impressive health benefits. Berries are packed with antioxidants, which help keep free radicals under control. Free radicals are unstable molecules that're beneficial in small amounts, however, can harm your cells when their numbers get too high, causing oxidative stress.
Berries are a great source of antioxidants, which means that in addition to protecting your cells, these plant compounds may also reduce disease risk. On top of their amazing antioxidant properties, berries contain many vitamins and minerals our bodies need, for a very low-calorie count! In fact, berries, especially strawberries, are high in vitamin C.
For example, 1 cup of strawberries provides a whopping 150% of the RDI for vitamin C. So put down that orange juice and grab a handful of strawberries instead! With the exception of vitamin C, all berries are pretty similar in terms of their vitamin and mineral content. Other vitamins and minerals that berries provide include Manganese, Vitamin K1, Copper, Folate and much more!
Okay, okay, enough of the health benefits these pancakes can provide. Check out the recipe below and enjoy your very own homemade German pancakes.
Homemade German Pancakes:
6 eggs
1 cup milk
1/4 cup butter, melted
1/2 tsp salt
1 tsp vanilla
1 cup flour
1 orange zest
½ lemon zest (optional)
1 cup frozen berries
2 tbsp sugar
½ lemon juice
We highly recommend getting your ingredients from Amazon Fresh! It's just convenient and stress free! Especially if you're a busy mom like me, it will make your morning that much easier! You can start your free trial here! Trust me, you will love it!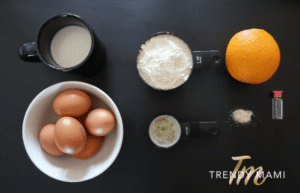 What To Do:
Step 1 – Pre-heat your oven to 400°F.
Step 2 – Beat the eggs, then add melted butter and milk to the eggs.
Step 3 – Add salt and vanilla extract to your mixture.
Step 4 – Add flour and mix your mixture till it's well-combined.
Step 5 – Grate in your orange and lemon zest.
Step 6 – Cover your muffin tin or tray with a thin layer of butter and put in the oven for a few minutes. However, if you don't have a muffin tin or tray, you can also use foil muffin tins.
Step 7 – In a pot, cook the berries with lemon and sugar for 5-7 minutes.
Step 8 – Take your muffin tray, or foil muffin tins, out of the oven and pour in the mixture (0,4 inches).
Step 9 – Bake for 15 minutes, you will see toward the end, your German pancakes will rise.
Step 10 – Add your berry topping and serve.
Step 11 – Enjoy!
We hope you enjoyed this article, teaching you how to make your very own homemade German pancakes, and decide to try them out in your own kitchen! If you did enjoy this article, you may also enjoy reading a couple of our other articles, including DIY Homemade Recipe for Strawberry Chia Seed Jam and 4 Healthy Smoothie Recipes That Are to Die For – Video Included. We are always posting delicious and (mostly) healthy recipes, so stay tuned!
Oh and if you have yet to hear about Sun Basket, go on over and give them a look. They have so many recipes for breakfast, lunch and even dinner. They are sure to meet your families needs!