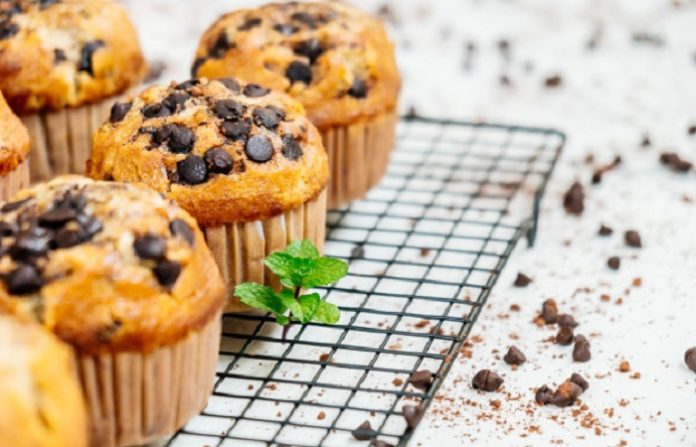 We hope you love the products we recommend! Just so you know, Trendy Mami may collect a share of sales or other compensation from the links on this page.
I am sure we all love to eat chocolate and even some of you out there may be chocolatiers. Chocolate is a great pick-me-up whenever I am down. I'm sure many of us may love high quality dark chocolate—at least 70% of cocoa content. It makes you feel like you're on top of the world, and get this. You even get to reap the many health benefits it provides.
Let's take a 100-gram bar of dark chocolate with 70-85% cocoa content and examine its health benefits. It is one of the richest sources of antioxidants as it is manufactured from the seed of the cocoa tree. Research even states that dark chocolate has more antioxidant activity, polyphenols and flavanols in comparison with any other fruits tested, which included blueberries and acai berries. It contains a substantial amount of fiber, iron, magnesium, copper, manganese, potassium, phosphorus, zinc and selenium. It is however, not free of calories despite its dense nutrient content. You won't eat this bar of chocolate in one gulp as it contains some sugar and a whopping 600 calories. Hence, why many people eat it in moderation.
Its richness in powerful antioxidants like polyphenols, flavanols and catechins, disarm free radicals and protect your body from damage.
The flavanols in dark chocolate stimulates the lining of the arteries to produce nitric oxide which relaxes the arteries, lowering the resistance to blood flow, hence reducing hypertension. The cocoa compound in dark chocolate also lowers LDL (Bad cholesterols) and improves HDL (Good cholesterols) thus, reducing damage to cells and tissues in the body and lowers bad cholesterol. It is proven to increase insulin sensitivity, therefore, protect the body from heart disease and diabetes.
On a side note, just before we get into it, if you're looking to impove your internal health, check out Jetson, a great place for all your probiotic needs!
Having mentioned so many benefits above, we shall delve into some tasty dark chocolate ideas or recipe to brighten your day.
1. Healthy Hot Chocolate Squares
What about starting with some healthy hot chocolate squares? I am sure we all love a cup of hot chocolate. What about tasting it? Apart from the health nutrients found in dark chocolate, we will reap the medicinal benefits found in raw honey. The coconut oil is packed with healthy fats and the gelatin is good for your hair and nails.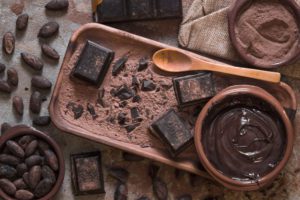 Ingredients:
1 1/4 cup boiling water

3 tbsp gelatin

1/2 cup cold full fat coconut cream

1/2 cup crushed dark chocolate or cocoa powder 

1 cup coconut oil

1/3 cup raw honey 

1 Tbsp vanilla

Pinch sea salt

Additional coconut oil for greasing baking dish

Note: For an authentic chocolatey hot chocolate square, replace the coconut cream with cold water and increase the dark chocolate or cocoa powder to 1 cup. 
Directions:
Step 1 – Grease a glass baking dish with coconut oil and set aside.
Step 2 – In a small sauce pan, boil 1 1/4 cups water and transfer the hot water into a high powered blender, then add the gelatin and cold coconut cream. Leave for a few minutes so that the gelatin can absorb the water and form a gel.
Step 3 – Then, add all the other ingredients to the blender and blend until liquefied.
Step 4 – Pour into the greased baking dish. Then, place into the fridge until it sets (this will take a few hours).
Step 5 – Remove from fridge and slice into cubes. Store them in a zip lock bag and it can last up to a week in the refrigerator. There you have it!
If you're not into making your own, be sure to check out See's Candies and buy some from there! They will be just as good!
2. Gluten Free Almond Butter and Chocolate Chip Cookies
This recipe needs only six ingredients and it can be used as bonding time and have fun with your kids. It is suitable for vegans too!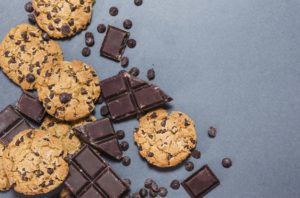 Ingredients:
Directions:
Step 1 – Preheat oven to 350 degrees F (180 degrees C) and adjust rack to middle position.
Step 2 – Then, mix all wet ingredients.
Step 3 – Separately, whisk together all dry ingredients except for the chocolate chips.
Step 4 – Pour dry ingredients into wet ingredients and mix until incorporated.
Step 5 – Add chocolate chips and mix till incorporated. 
Step 6 – Line baking tray with parchment paper.
Step 7 – Shape cookie dough with a 1 1 /2-inch cookie scoop or roll into balls with your hands. Then, flatten each ball to ensure even baking.
Step 8 – Place into oven and bake for 5 minutes, turn baking tray around, then bake for another 3 minutes.
Step 9 – When the cookies turn slightly brown, remove and leave to cool then store in an airtight container. Enjoy!
3. Chocolate Oatmeal Flaxseed Muffins
This recipe is packed with loads of antioxidants and minerals and will be a great booster for breakfast for your kids before school. Oh and it yields 1 dozen muffins.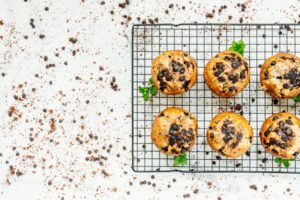 Ingredients
Directions:
Step 1 – Preheat oven to 350 degrees F (180 degrees C).
Step 2 – Grease a muffin tin or line with baking cups.
Step 3 – In a large mixing bowl, whisk together the flours, flax meal, oats, brown sugar, espresso powder, baking powder, baking soda, and salt.
Step 4 – Then, add the egg, vegetable oil, and milk, mixing until the batter is evenly incorporated.
Step 5 – Stir in the chocolate chips.
Step 6 – Divide batter evenly between baking cups, filling each 3/4 full. Then, Scatter a few oats on top.
Step 8 – Bake for 18-22 minutes, or until a toothpick inserted into the center comes out clean.
Step 9 – Serve with a small pat of butter or spread of peanut butter.
4. Gluten Free Hidden Spinach Chocolate Bundt Cake
This recipe contains iron which is essential for the production of red blood cells. The spinach gives extra crunchiness which kids will enjoy. You may cook this recipe using a steamer, pressure cooker, slow cooker or oven. It is very versatile.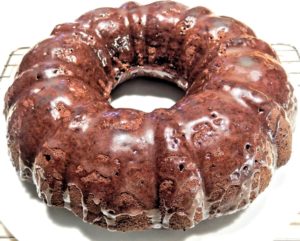 Wet ingredients:
5 eggs

2 cups fresh baby spinach 

5 1/2 tbsp organic honey

4 tsp melted unsalted butter

1 tsp vanilla extract 

1/3 cup unsweetened milk or plant based milk
Dry ingredients:
1/4 cup coconut flour 

1/2 cup tapioca flour 

1/3 cup cocoa powder 

1 tsp baking soda

1/2 tsp sea salt

2 tbsp sugar 

1 1/2 cups dark chocolate chips (can add more if you would like)
Directions:
Step 1 – Baking in oven, preheat oven to 180°C
Step 2 – Steaming or cooking in a pressure cooker or slow cooker, pour 240ml water into the main pot. 
Step 3 – In a large bowl, whisk all the dry ingredients together. Blend wet ingredients in a blender or food processor till smooth. Pour wet ingredients slowly into the dry ingredients and combine. Pour batter into greased mini Bundt pans, then sprinkle chocolate chips over.
Step 4 – Using a steamer, pressure cooker or slow cooker, place the Bundt pans onto the steaming rack, and cover with foil to avoid condensation dripping onto the cakes. 
Cook:
In a pressure cooker, steam for about 25 minutes

In a slow cooker, steam for 1 hour on high or until cooked through.
In an oven, bake for about 10 minutes, turning the tray halfway though.
Step 5 – Cool for about 10 minutes and remove cakes from the Bundt pans. Serve warm. 
4. Almond Butter Dark Chocolate Mousse
This is the easiest idea because the prep time is short and it's packed with nutrients which the body requires. It will be a very refreshing drink on a hot day or after a strenuous workout.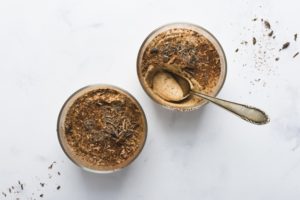 Ingredients
1 can coconut cream
1/4 cup organic maple syrup
2 tsp almond butter

1/4 cup dark chocolate (at least 70%)

2 tsp coconut oil

1/4 cup raw cacao powder
Directions: 
Step 1 – Combine coconut cream, syrup and raw cacao in a bowl.
Step 2 – Heat chocolate and oil in a saucepan over stove and stir until smooth; pour into coconut cream mixture and stir.
Step 3 – Pour into two separate cups and place in the refrigerator for at least 30 minutes (but ideally 2 hours), allowing mixture to become a mousse-like consistency.
Step 4 – Pour some almond butter over mousse before serving. Enjoy!
I've made all the above recipes or ideas and they were a hit with my elderly folk and young nieces and nephews. You may not be adventurous or have the time to cook or bake every one of these but try at least one and let us know how it goes with you. Stay happy and healthy.
Looking for other awesome recipes, Sun Basket has great healthy meal plans just for you! Check out Sun Basket and sign yourself up today, trust us, you will love it!
Check out our other healthy foods here, we have a few awesome recipes for you, one for chia seed jam, butternut squash pancakes, or even some good old grilled salmon!