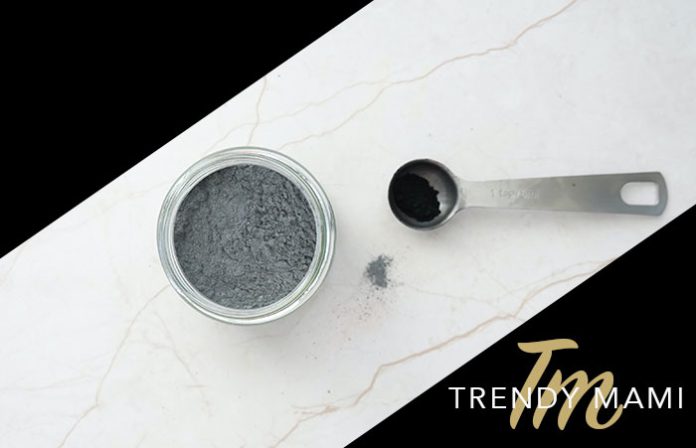 We hope you love the products we recommend! Just so you know, Trendy Mami may collect a share of sales or other compensation from the links on this page.
Save your hair from over-shampooing and washing with this DIY dry shampoo tutorial! It'll make your hair stronger and healthier while removing any grease, oil, and product buildup.
If you're washing your hair every day (or even every other day), you might be surprised that find out that excess product could actually be damaging those luscious locks of yours. While shampoo is made to remove oil and dirt, using too much of it can strip your hair of its natural oils, making your scalp dry and your hair greasy or lifeless. That's why this DIY dry shampoo is a lifesaver – it removes oil, grease, and excess buildup to give you long-lasting, salon-style hair any time of the day.
While this homemade dry shampoo does make your hair less oily, it's not a replacement for a deep cleanse. However, it can be used after a sweaty workout or on days where you're simply too lazy to do your entire shampoo, conditioner, and blowout routine. And best of all, dry shampoo will make your hair stronger and healthier in the long run!
Materials:
Note: In this tutorial, we are using an anti-stress essential oil, which is a mixture of Limonene, geraniol, and citral. However, you can use whichever aroma you like best (lavender is another excellent choice for beautiful smelling hair).
Optional for Dark/Brown Hair:
Note: In this tutorial, we will use charcoal to create a dry shampoo for dark hair. This makes a dark powder that will blend better with those darker shades or tones.
Other Materials:
Bowl
Jar with a lid
Spoon

Instructions:
In the bowl, pour the ¼ cup of cornstarch, 1 tbsp of baking soda, 2 tbsp of kaolin clay.
Add 5-10 drops of the essential oil of your choice to the dry mixtures. If you want something with less smell, then add less. If you prefer a stronger scent to your homemade dry shampoo, then feel free to add more. In this DIY dry shampoo video, we are using essential oil specifically for anti-stress (a combination of Limonene, geraniol, and citral). However, you can add any type of essence or aroma that you prefer.
Using a spoon, mix the powder and essential oils until everything is blended together.
If you are making DIY dry shampoo for dark hair, then you will want to add charcoal powder. This will darken the color of the homemade dry shampoo so you won't see the powder when it's in your hair. If your hair is a lighter brown, you can probably just add 1 tsp of powder. Those with darker hair may want to add another tsp of powder for a darker shampoo. If charcoal powder is not available, you can also use cocoa powder (just make sure it's unsweetened
Mix the powder together with a spoon.
Once the DIY shampoo is thoroughly mixed to your desired shade or color, then transfer to a jar or any other container of your choice.

 
How to Use DIY Dry Shampoo:
When you need a quick freshening up, then you can apply the dry shampoo to your roots. Take a makeup brush (we think a large blush brush works best for coverage) and lightly dip it into the jar with the dry shampoo.
Get rid of excess powder by tapping the brush in a sink or the edge of the jar.
Lightly tap the brush on the crown of your head, along the hairline, or on your part. You can lift up different sections of your hair and tap or brush the powder towards the root for maximum effect.
Let the dry shampoo sit for at least 30 seconds to 1 minute to soak up all the oils of your hair or scalp. It needs time to absorb before you brush it out.
Using your fingers, lightly massage the dry shampoo into your hair. You can also use a brush to comb and evenly distribute the powder throughout the strands.

 

By now, your hair should feel light and less oily, just as if it was washing that morning!
Conclusions
Why purchase expensive and strong-smelling dry shampoo at the store when you can make it with just a few simple ingredients in the comfort of your home? This homemade dry shampoo tutorial is the best way to keep your hair oil-free while also preventing damage that can arise from washing it too frequently. 
Once you've mastered the DIY dry shampoo game, then you can try our DIY laundry detergent tutorial or our DIY body soap tutorial. If you're looking for more hygiene tips, check out our tips for preventing skin damage while showering.