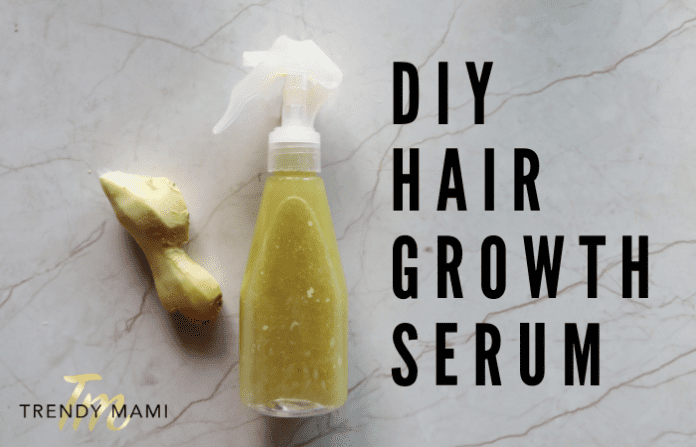 This natural DIY hair growth serum video tutorial is for someone whose been dreaming of longer, luscious and silky locks, keep on reading. We think a lot of you will be able to relate to missing that beautiful long hair that you chopped off a few years ago. "It's no big deal, it'll grow back!" But now you're stuck wondering, 'how long until my fricking hair grows back?!' We've all been there. It's true that for many people it's a struggle to grow their hair, be it genetics, age, illness, medication, poor diet, hormones or over-styling. We are here to help, have a look at our DIY hair growth serum video tutorial and make your own today.
DIY Hair Growth Serum Recipe
What You'll Need for Your DIY Hair Growth Serum: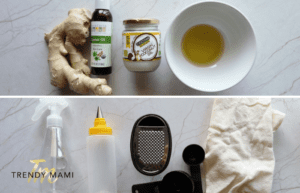 What To Do for Your DIY Hair Growth Serum:
Step 1 – Finely grate your ginger into the bowl.
Step 2 – Place your finely grated ginger roots into cheesecloth and squeeze the juice out of them into the bowl.
Step 3 – Add the olive oil, castor/argan oil and coconut oil together to the bowl.
Step 4 – Mix the oils and ginger roots juice together in the bowl.
Step 5 – Transfer all of your mixture into a spray bottle.
Step 6 – Spray the DIY hair growth serum to the roots of your unwashed hair and massage in.
Step 7 – Cover your hair up and let the serum sit in your hair for at least 30 minutes.
Step 8 – Wash your hair as usual, making sure to get all of the serum out.
Important Notes for Hair Growth Serum DIY:
You can replace the oils with just one oil of your choice as long as the juice amount equals to the oil amount.
If you have a juicer, it will save you a lot of time to get the juice out of the ginger roots. It took us almost an hour to grate the ginger roots and get the juice out of them.
We've chosen to add castor oil because it's well known for its hair growth abilities and coconut oil to add a nicer scent to the serum and to add hydration to the hair.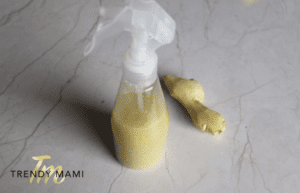 How Does Ginger Help With Hair Growth?
Ginger will help with hair growth by preventing hair loss. A fresh ginger root has magnesium, potassium, phosphorous, and vitamins that nourishes your hair follicles, making them strong and preventing hair loss.
Want to get rid of Dandruff?
Ginger will also help with hair growth by helping to control dandruff. Dandruff and hair loss usually go hand-in-hand. This happens because the dead skin cells clog up your hair follicles, leading to hair fall out. Ginger has strong antimicrobial properties that help control dandruff and curb hair loss.
Tackling Dryness?
Ginger will aid with hair growth by tackling dryness. Dryness leads to hair becoming brittle, which in turn, leads to breakage. Ginger acts as a natural conditioner, fighting dryness by restoring moisture to the hair.
What about blood flow in the scalp?
Ginger will help with hair growth by improving blood flow in the scalp. Ginger's active ingredients, gingerol, help to relax blood vessels and therefore improving the circulation of blood. This improves the nourishment of the hair follicles, guaranteeing faster hair growth.
Ginger will aid with hair growth by nourishing the hair with healthy, fatty acids. Ginger contains chains of fatty acids like linoleic acid which nourishes your hair, ensuring it stays healthy and strong.
Whilst all of these properties of ginger make it an excellent hair growth ingredient, there is often some confusion when it comes to what form of ginger to use in hair growth remedy recipes. Using ginger in its powdered form might be the most convenient option, however, fresh ginger root provides more essential nutrients to the hair follicles, making it beneficial for hair care.
If you want to learn more about the incredible benefits of ginger, check out our ginger article!
We hope this DIY hair growth serum, full of all natural and healthy ingredients, help you to reach the long and luscious locks of your dreams. Be sure to check out Trendy Mami's other DIY health and beauty articles, such as Treat Your Face to a DIY Turmeric Mask and DIY Lip Balm with SPF, Perfect for Avoiding Chapped Lips – Video Included. Hopefully these articles will make you feel inspired to use more DIY health and beauty products, which we assure you will save you lots of money in the long run and help you to become more eco-friendly.