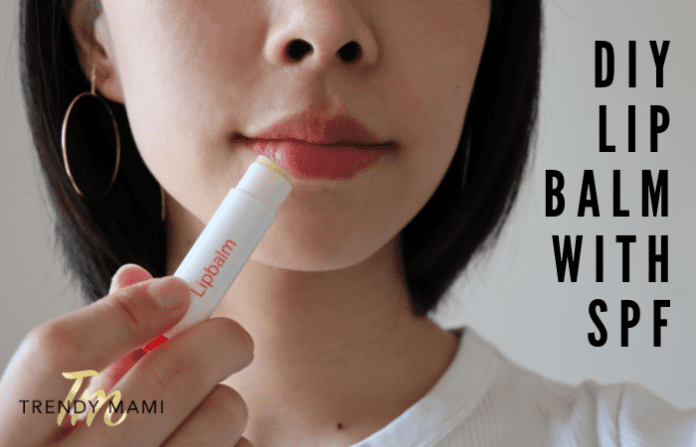 Sun protection is super important. You always need to protect your exposed skin and regularly wearing sunscreen, especially when the sun's rays are the strongest between 10 AM and 4 PM, will ensure your skin stays protected. You need to have SPF protection all year round, yes that's right, even in the winter! Even though there are less direct UV rays in the winter, there's still significant reflection of these rays which can still easily cause sunburn and increase your risk of cancer and therefore, this DIY Lip Balm with SPF will be extremely helpful!
Remembering to protect your skin is great, but our lips also need protection! I know right, who would've thought? The skin on our lips is extremely thin, making them more prone to damage; from the sun, extreme heat, wind, etc. Sun exposure destroys collagen (a protein that fills the lips) over time, eventually making lips thinner and weaker. SPF lip balm will ensure our skin and collagen is protected. Check out my DIY lip balm with SPF tutorial below and see how you can protect those precious lips of yours all year round. Say bye-bye to chapped and dry lips forever!
DIY Lip Balm with SPF
What You'll Need:

What To Do:
Step 1 – Melt beeswax, cocoa butter and coconut oil (Learn the benefits here) together over a bain-marie or in the microwave.
Step 2 – Then, add olive oil, raspberry seed oil and 6-10 drops of your favorite essential oil (learn the benefits here) to your bowl with your mixture (if you want to let your babies use it, make sure to pick a safe essential oil for them too).
Step 3 – Mix everything together.
Step 4 – Then, use a dropper to fill the old lipstick/lip balm tubes.
Step 5 – Lastly, let your lip balms dry/solidify (5-10 mins room temperature).
Tip:
If you want to make a tinted lip balm, add a piece of your favorite colored lipstick to your bowl before you mix everything together. I tried to use food coloring as Google suggested, but that was an epic fail! Use lipstick instead.
Notes:
If the mixture solidifies before you finish filling up the tubes, you can warm it up again (using bain-marie or microwave).
It takes 2-5 mins to become solid.
If you don't like the taste of wax on your lips, you can add a bit more of the cocoa butter and less of the beeswax. Be sure not to overturn the proportions.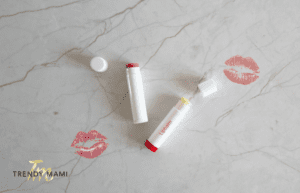 This DIY lip balm with SPF is great to use all year round, and with a few adjustments (using kid-friendly essential oils), it's perfect for your kids too! It gets its SPF properties from these amazing ingredients:
Olive Oil
Olive oil provides an SPF level of 7, which isn't as high as it's other counter parts, but great for SPF protection when combined with the other ingredients! Olive oil can provide plenty of benefits for the lips such as no added chemicals, softness, suppleness, superior hydration and immense relief from cracked and chapped lips.
Coconut oil provides an SPF level of 8, which like olive oil, isn't very high. But used with the other ingredients, this ingredient is amazing at combatting sun damage and contains antioxidants that help protect the lips from harmful radiation from the sun.

Meanwhile, Beeswax provides a whopping SPF level of 15! This ingredient definitely takes the cake for protecting our vulnerable lips from those harsh UV rays. Beeswax is also an excellent ingredient for its waterproofing ability. Come rain, hail or shine, your lip balm will stay put! This substance is very moisturizing due to its natural emulsifiers, which help retain moisture in the skin. This is especially helpful for dry and chapped lips. Beeswax can also help prevent infections and cold sores which is another added benefit of this magical ingredient.
Raspberry seed oil offers UVA + UVB protection, with a 28-50 SPF protection against UVB rays and 8 SPF against UVA rays. I do not suggest using red raspberry seed oil alone due to its low UVA coverage, however, paired with the other ingredients, this special ingredient is pure magic at protecting your lips from sun damage. Red raspberry seed oil has many other benefits other than SPF protection, such as anti-inflammatory properties and good sources of vitamin E and vitamin A.
I hope you enjoyed reading my article on how to make your very own DIY lip balm with SPF. Be sure to check out Trendy Mami's other DIY articles – Edible Eyeshadow for Kids – Video Tutorial Included! and Your Kids Will LOVE this DIY Edible Nail Polish Recipe! They are great reads and fun DIY activities for you and the kids!
Lastly, if you're looking for other skin care products that will help you protect and treat your skin with care, Allure Beauty Box is your answer! They have a variety of high end products that will surely help you take good care of your skin!