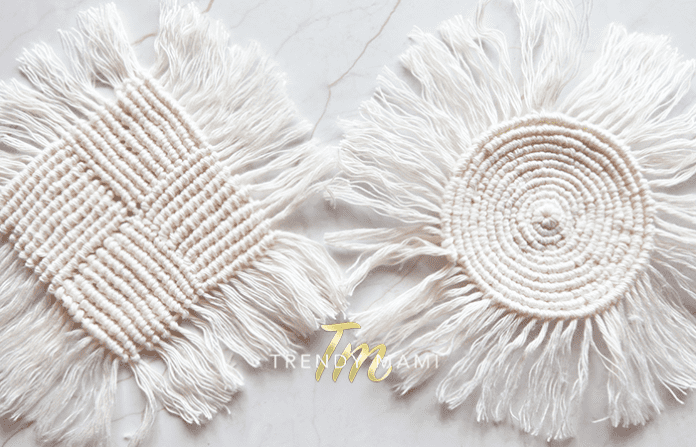 We hope you love the products we recommend! Just so you know, Trendy Mami may collect a share of sales or other compensation from the links on this page.
Are you looking for a boho addition for your coffee table or desk, one that requires no sewing whatsoever? Then, you're in luck! Enter our DIY Macrame Coasters! Moreover, these bad boys are super affordable to make, and although time consuming, the end result is well worth it. Most of the items needed for this DIY can easily be found at the Dollar Tree for cheap. So, give your place a boho chic adjustment with these DIY Macrame Coasters, that can be made two different ways. Be sure to check out our video tutorial for an extra helping hand. Let's get started!
DIY Macrame Coasters
1. Round Coaster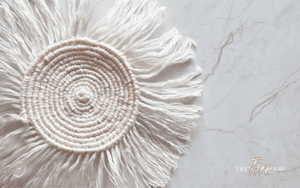 Materials:

If you are struggling to find some of these materials, be sure to try Joann's as they have a huge selection of arts and crafts materials as well.
24 cords: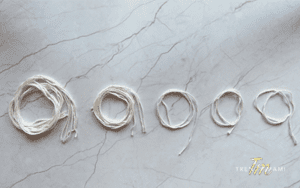 150cm cord (holding cord)
75cm x 11 cords
60cm x 6 cords
50cm x 9 cords
45cm x 4 cords
40cm x 5 cords
Instructions:
First, make a loop near the end of a 150cm cord.
Then, fold one of the 75cm cords in half and place under the loop of the 150cm cord, then make a cow hitch knot by bringing the ends to the hole we just created. Repeat this step 3 more times.
Next, pull the end of the 150cm cord to tighten the loop.
Use a rubber band to mark the first string you're going to wave to keep a track of each round.
Then, bring your holding cord to the right of the first string, make a number four with the first string over the holding cord and pull the end through the loop created. Repeat this one more time to create a double half hitch knot.
Repeat the same steps for the next string and so forth until you finish the first round.
Continue, repeating these steps until you have achieved 11 rounds.

Important Notes:
When starting new rounds, you may notice some gaps between the last string and the first string. To fix this, you can add more cords to fill in the space.
The cord lengths don't have to be precise, so if you are 1 inch short it's totally fine.
Additional Instructions:
Round 1: No additional cord
Round 2: 75cm cord after 3rd string + 75cm cord after 7th string
Round 3: 75cm before 1st string + 75 cm after 8th string
Round 4: 75cm cord after 7th string + 75cm cord after 17th string
Round 5: 60cm cord after 3rd string + after 10th string, + after 16th string and after 17th string
Round 6: 60cm string after 2nd string, + after 7th string
Round 7: 50cm string after 6th string
Round 8: 50cm string after 2nd string, + after 20th string, +after 24th string, +after 26th string, + after 30th string
Round 9: 50cm string before 1st string, + after 19th string, + after 43rd string
Round 10: 45cm string after 4th string, + after 16th string, + after 20th string, + after 49th string
Round 11: 30cm string after 2nd string, + after 6th string, + after 29th string, + after 35th string, + after 43rd string

2. Square Coaster
Materials:
100cm x 20 cords
2 cardboard sticks (3cm width)
Instructions:
Follow the exact same steps as above, the only difference is instead of using 16 cords, you use 20 (5×5 cords for each square).
In conclusion, we hope you enjoyed this creative DIY Macrame Coasters tutorial and are pleased with the new boho vibe these coasters create! If you find that you don't have time to make your own decor, you can always purchase amazing pieces from Zazzle or Etsy.
Home decor is an area where you can save money because a lot of it can be DIY. Moreover, it's also a great hobby as well. For more, check out our DIY chunky knit blanket tutorial. The blanket makes a cute couch throwover and keeps you warm as well. In addition, we have a great DIY headboard tutorial that will spice up your bedroom. Get to it!