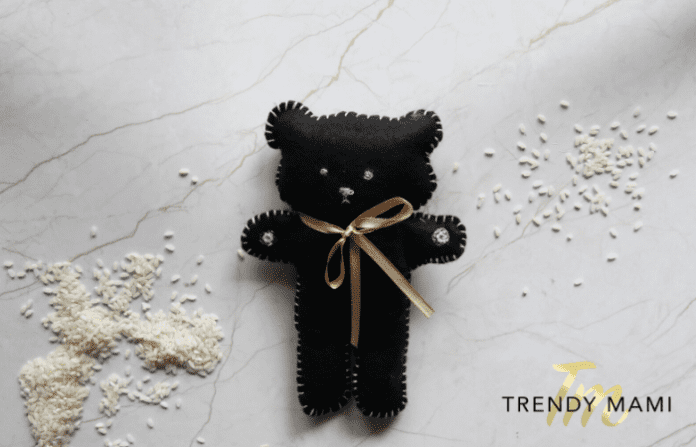 We hope you love the products we recommend! Just so you know, Trendy Mami may collect a share of sales or other compensation from the links on this page.
Many use heating pads to help ease aches and pains and to reduce stiffness in the muscles and joints. This is one way to provide heat therapy, or thermotherapy. However, instead of using electric heat pads, electric blankets or hot water bottles to ease your aches and pains, why not make this super cute DIY teddy bear warming bag? The kids will love this one!
They go by a few different names; bed buddies, heat bags, rice or magic bags, corn cozies–but they're pretty much all the same thing.
Warming bags can be great for when you're in labor. To explain, place these warming bags on your back and they will ease the excruciating positions you might have to endure to get your baby out safely. They are also magnificent for cold nights so that you save on that electric bill this time of year. Just heat them up and place them at your feet under the sheets and have a good night's sleep. These warming bags are also great for when you have a horrid cold or flu. They will ease your achy muscles and keep you nice and toasty. These bad boys will also be a life saver when it's that time of the month and the menstrual cramps start to kick in.
If you'd like to learn how to make your very own teddy bear warming bag, you'll find our tutorial below along with a few helpful tips. Be sure to watch our video tutorial if you need a little extra help making this DIY warming bag. Psssst, these also make great Christmas stocking fillers for friends and family!
DIY Teddy Bear Warming Bag
What You'll Need:
A great place to get all your materials is Joann's! They are just the perfect store for this kind of project!
What To Do:
Step 1 – Fold the fabric once and transfer the shape of your teddy bear (cardboard cut-out) on the fabric with a marker.
Note: If you want to try a different pattern out, check out all our patterns here and download them!
Step 2 – Use a basting or tacking stitch technique to mirror the pattern onto the second layer of fabric.
Step 3 – Sew both pieces of fabric together, using a back stitch technique, leaving an opening for the rice to go into. Cut your fabric out accordingly. Then thread a needle through your fabric, to make it easier to turn inside out. Turn inside out.
Step 4 – Create a cone with a piece of paper (make sure to tape it) or use a big funnel to put the rice into your DIY teddy bear warming bag (using the opening that we left earlier).
Tip 1: There's no need to over fill your warming bear, consider it less than 1 inch thick.
Step 5 – Once you've put the rice into your warming bag, close the opening of the fabric using a blanket stitch technique this time.
Step 6 – Take 2 felt sheets, layer them one on top of the other and place your teddy bear warming bag down and draw the shape of it on the felt sheet.
Tip 2: Keep it 1cm away from the bear's edges
Step 7 – Cut the felt sheets following the shape. Then, place your warming bag between the felt sheets and sew them together, using an overcast stitch technique.
Tip 3: You can start to sew the head without the warming bag but make sure to place it between the sheets after you cross the ears.
Step 8 – Use a marker and draw the face and palms, then embroider them.
Step 9 – Voila! Your very own DIY teddy bear warming bag! Perfect for you to enjoy or as a thoughtful stocking filler this Christmas holiday.
If you're looking for some great stories for bedtime, check these out! There are so many to choose from! Some even customizable!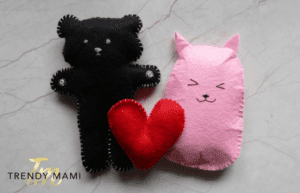 We hope you enjoyed our article on how to make your very own cute and cozy DIY teddy bear warming bag, perfect to enjoy over the chilly Christmas season. If you did enjoy reading, here are some of our other crafty DIY articles that you may enjoy: Cheap and Simple DIY Headboard – Video Included, DIY Hair Growth Serum – Video Tutorial Included and DIY Edible Lipstick for Kids – Video Tutorial Included.