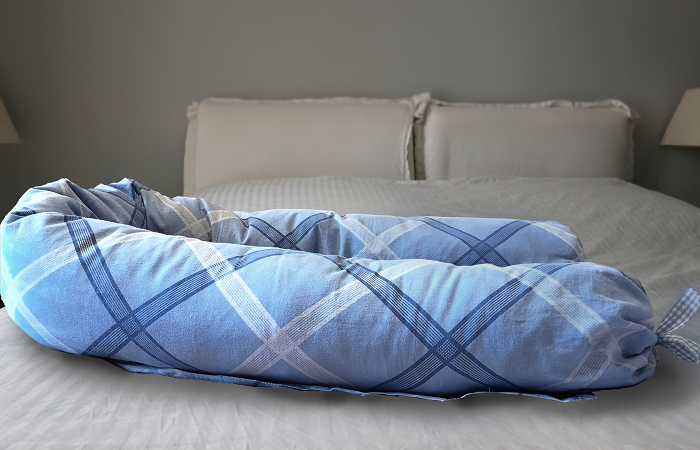 We hope you love the products we recommend! Just so you know, Trendy Mami may collect a share of sales or other compensation from the links on this page.
If you are expecting and in need of a pregnancy pillow, today I'll be telling you how to make it yourself with materials you likely already have. This will be a simple and eco-friendly alternative to buying your pregnancy pillow new, and it'll be saving you money! This pregnancy pillow can double as a baby lounger in just a few extra steps, as well.
To start your pillow, here are the materials you will need: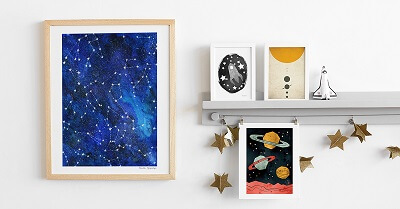 For the baby lounger, you will also need:
So Let's Get Started!
Step 1
For the first step, you'll want to know the length of the sleeping bag as it will be inserted into the pillowcase you will soon create. Cut a stripe from the bedsheet that is 40cm x 190cm (or your sleeping bag length). Be sure to leave some margin room as shown in the image below.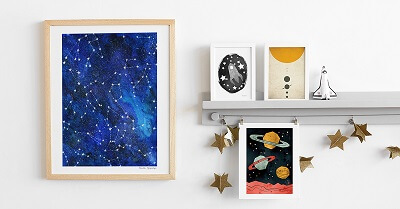 This is stripe A, which will be set aside for now.

The dotted lines indicate the cutting line, and the 7 dashes are for eyelets in a later step.
Step 2
For the next piece of fabric, stripe B, you'll cut a width of 10cm and a length with a few cm less as in step 1 – in this case, 180cm. Remember again to leave a bit of margin (shown below).

Step 3
This step will be creating the space for drawstrings. Grab stripe A and on the 40cm sides, fold the edges over (around 2 inches) and pin each side for right now.
Step 4
The eyelets shown in step 1 now need to be marked along the length of stripe A. Then go ahead and sew the eyelets where you have marked.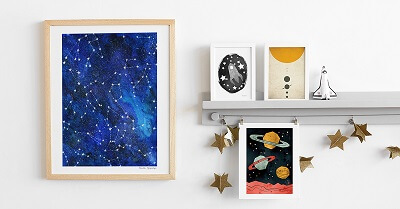 Step 5
Next, grab stripe B and sew it to stripe A along the longer edges. Be sure to do this with the rear side/inside of the fabric outwards. Check out video for help!
Also, don't forget about the drawstrings on stripe A as we don't want stripe B to get in the way. This means you'll need to place the starting point of stripe B directly below the drawstring line (shown below).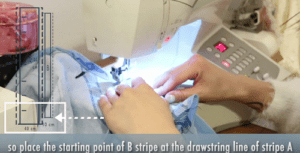 Step 6
Now you can sew the drawstring line you have pinned on stripe A. Check to be sure that the drawstring will be above stripe B.
While sewing the drawstring line on stripe A, continue onto stripe B, sewing the edges over to create a finished hem.
Step 7
Sew together the other two edges of both stripes in order to create one single piece. Again, remember to do this with the inside facing outwards.
Then reverse the pillowcase to the right side.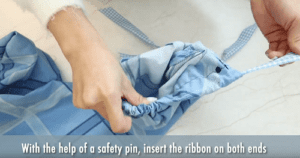 Step 8
Now, take some old ribbon and run it through each end of the pillowcase, completing your drawstrings. You can attach a safety pin to the end of the ribbon and then push it through this way.
If you do not have any ribbon, an old shoestring or rope could work instead. If all else fails, cut the bed sheet into ribbon-sized strips.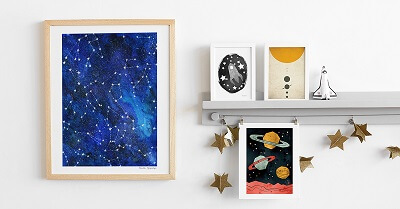 Step 9
For the last step, roll up your sleeping bag and insert it into the pillowcase long wise. Pull the drawstrings closed, and you are set!
Now you have yourself a comfortable pregnancy pillow, and you did not have to spend any extra money on it. Because you re-purposed old materials, it also acts as a more earth-friendly alternative to buying it brand new. Who doesn't want to help the planet a little while helping ourselves? If you can't help today and need to buy some materials! Totally okay, at least you can help a little by using some materials you have at home.
Please keep in mind, this includes only part 1 of a 2-part project if you are looking to use this pillow for a baby lounger. In case you do not wish to make the baby lounger, you will not need step 4 listed previously.
Already have your sewing machine out? Looking for another DIY? How about making some felt food for your kids! Check out our video here or our article for more info here! We all know kids love playing with food!