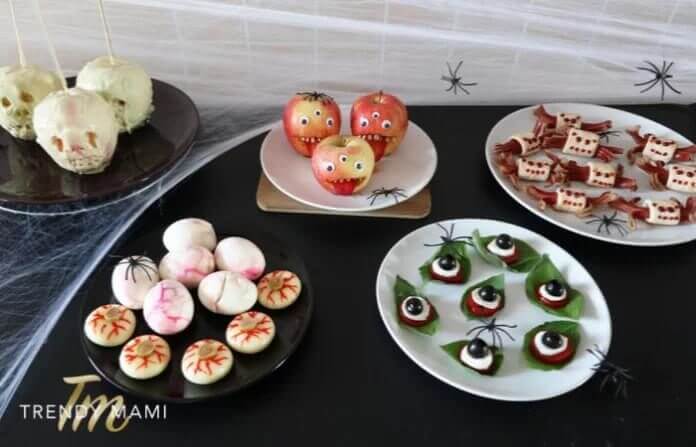 We hope you love the products we recommend! Just so you know, Trendy Mami may collect a share of sales or other compensation from the links on this page.
When someone says the words "healthy" and "Halloween" in the same sentence, you think they're playing a sick joke. Because what is the first thing that comes to mind when you hear these words? It's probably:
The old woman on the street who handed out raisins or apples to trick-or-treaters.
That sad, sugar-free chocolate that tastes like paper.
Eating celery sticks in the corner of the costume party while everyone else goes for seconds of the pumpkin cheesecake because you're on a diet.
None of these options scream Halloween or fun to us. So if you're the person trying not to totally blow your fitness goals on the spookiest night of the year (and you're sick of healthy 'treats'), you can still get in on the holiday-appropriate foods. Try these festive and healthy Halloween treat recipes, that are keto/paleo friendly! Watch our video tutorial for a little extra help if you need it.
If you are in need of some spooky decorations to match your spooky treats, check out Windy City Novelties. And if you are looking for more costume ideas to match your theme this year, great places to look are Halloweencostumes.com, Halloween Spot and even Halloween Express! You are sure to find everything you need to make this years Halloween spooky!
1. Halloween Snack – Rotten Eggs
Don't be put off by the look of these bad boys, they are creepily delicious! With a treat that combines both Easter and the grossness of Halloween, what's not to love?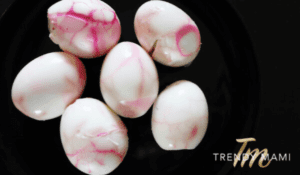 What You'll Need:
What To Do:
Step 1 – Boil the eggs.
Step 2 – Crack the shells slightly (once cooled).
Step 3 – Add a few drops of yellow, pink and black food coloring to a water bowl and let the eggs sit for 1 hour.
Step 4 – Peel the shells off and serve!
2. Halloween Treat – Melting Skulls
What's better than a tasty, juicy apple? A tasty, juicy apple smothered in white chocolate. I know what treat is going to be my absolute favorite this year. Tip: If you want to make this treat extra healthy and are worried about the sugar in the white chocolate, use dark chocolate instead!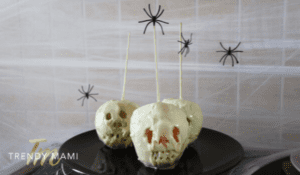 What You'll Need:
What To Do:
Step 1 – Carve faces into your apples.
Step 2 – Melt the white chocolate.
Step 3 – Put a skewer stick into each apple, then dip the apples into the melted chocolate and let them rest till they harden (room temperature).
Step 4 – Serve!
3. Halloween Treat – Apple Monsters
These crazy apple monsters will have all of the kids craving healthy Halloween treats this year! They won't be able to get enough of their silly faces.
What You'll Need:
Green and red apples
Strawberries
What To Do:
Step 1 – Carve an open mouth onto each apple.
Step 2 – Spread barley malt on the bottom.
Step 3 – Add a slice of strawberry for the tongue.
Step 4 – Stick the sunflower seeds on the upper lip to look like teeth.
Step 5 – Add googly eyes (candy if you can find it or plastic will do).
Step 6 – Serve!
4. Halloween Snack – Spider Sausage
Are creepy crawlies your thing? Make these tasty spider sausages that will have every one shaking in fear. Look at all of those eyes!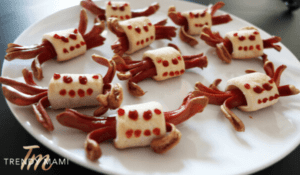 What You'll Need:
Gluten free puff pastry
Chicken Vienna sausages
What To Do:
Step 1 – Make 3 cuts on each end of your sausages.
Step 2 – Cut 2-inch strips of puff pastry and wrap it around your sausages.
Step 3 – Baste the pastry with olive oil.
Step 4 – Bake at 425 degrees Fahrenheit for 15 mins.
Step 5 – Use ketchup to create spider eyes. (You may need to transfer ketchup into a piping bag or bottle first for precises eyes)
Step 6 – Serve!
5. Halloween Snack – Creepy Eyes
You'll feel like you're being watched with these delicious treats around!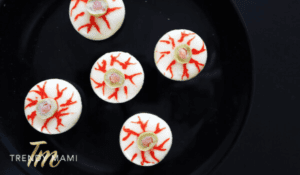 What You'll Need:
What To Do:
Step 1 – Peel off the shell of the cheese.
Step 2 – Use a toothpick to draw the blood lines with the red food coloring onto the cheese.
Step 3 – Place the sliced green olive in the center.
Step 4 – Serve!
6. Halloween Snack – Bloody Eyes
What screams Halloween more than bloody eyes? …. Still waiting! Nothing! These delicious bloody eyes made from mozzarella, basil, tomato and black olives will definitely be a party favorite!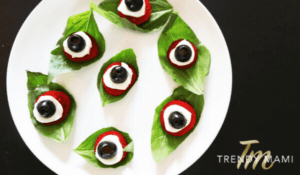 What You'll Need:
Basil
Cherry tomato
Mozzarella
Black olives
What To Do:
Step 1 – Wash and dry the basil leaves
Step 2 – Slice the tomato and mozzarella into small pieces
Step 3 – Cut the olives in half
Step 4 – Layer your ingredients in that order (basil leaf, sliced tomato, mozzarella and black olives)
Step 5 – Serve!
We hope you enjoyed our Halloween treat recipes that will surely meet your paleo/keto needs!
Now that you have your Halloween treats and snacks all set to go, maybe its time to figure out a Halloween costume if you haven't already? Check out these awesome costumes! There are so many to choose from!
If you're stumped for Halloween costumes for your little ones this year, be sure to check out our other Halloween themed articles, such as Unbeatable DIY 'Stranger Things' Halloween Costumes – Video Included and DIY Halloween Costume Ideas for Your Little One! Video Tutorial Included!