We hope you love the products we recommend! Just so you know, Trendy Mami may collect a share of sales or other compensations from the links on this page.
–
If you have acne-prone skin, you might benefit from knowing how to make soap from scratch. This way, you can make a chemical-free soap with ingredients you know are good for you.
How to Make Soap From Scratch
In this tutorial, we'll show you how to make your own soap with aloe gel, tea tree oil, and dried flowers. Not only does this soap use natural ingredients, but it's also effective in giving your skin a deep cleanse. Tea tree oil has anti-inflammatory properties and reduces redness, swelling, and even acne scarring. And aloe gel can also prevent breakouts due to its antibacterial and antioxidant ingredients.
Plus, how adorable are the beautiful, dried flowers inside the soap bars? They're so pretty you'll have a hard time convincing yourself to use them each morning!
Materials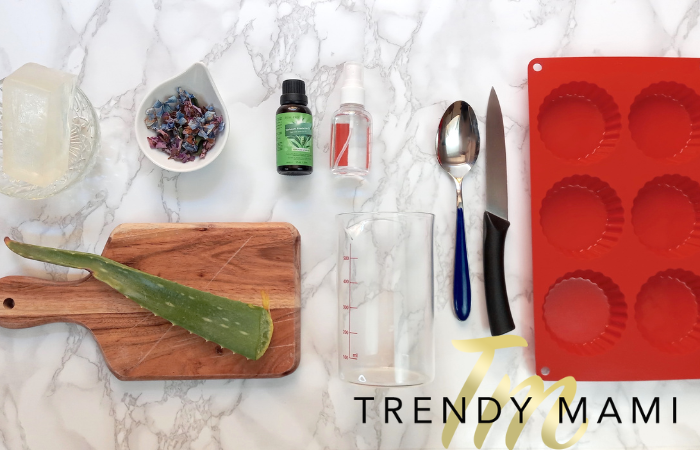 Instructions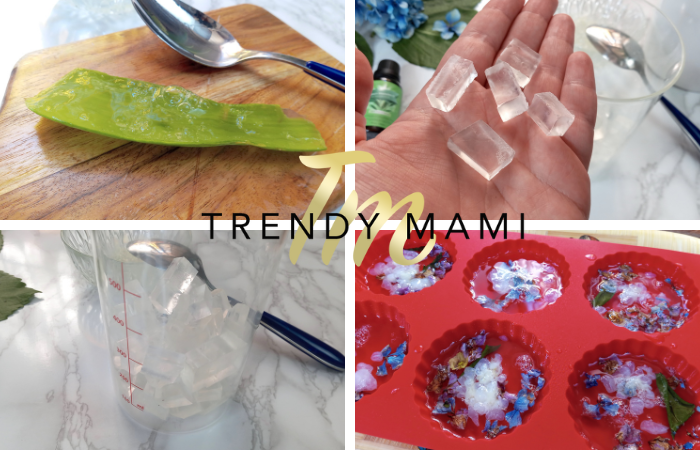 Our first step is to extract the aloe gel from the plant. You can skip this step if you are using pre-made aloe gel for your soap. Cut off a large leaf from the aloe plant. Rub the open side on a paper towel to remove any plant secretions.
With your knife, cut off the tip and prickly edges of the plant. Then make a thin slice underneath the plant skin.
Remove the skin and use a spoon to scoop out the 100% gel into a bowl.
If you want a smoother consistency, you can chop up the gel on your cutting board. You can also mix it in a blender if you don't want your soap to have chunks.
In your bowl, add two drops of Tea tree essential oil to the gel. Stir with a spoon until it is mixed. Set the bowl aside.
Now take your soap base and place it on the cutting board. If it's large, cut the soap into small chunks.
Place the soap chunks into a measuring glass jar. Microwave the soap for 2 to 3 minutes until it is melted.
Add the aloe gel into the soap base. Stir to mix and remove any bubbles. Set aside.
Place your silicone mold onto a board (this helps to keep the mold in place while you pour in the soap.
Sprinkle or decorate the base of your silicone mold of choice with dried flowers.
Slowly pour the soap base into each mold container.
Take your alcohol spray and lightly mist the top of each piece of soap. This helps get rid of bubbles as the soap hardens.
Now, all you have to do is wait! The soap should be completely hard in a few hours. Once they are ready, you can pop them out of the mold and use them to cleanse your skin!
More Skincare Ideas
A great skincare routine can give your skin a youthful, healthy glow – even if you're prone to acne breakouts! Now that you know how to make soap from scratch, you won't ever have to subject your skin to store-bought chemicals. After all, there are some major benefits to making your own soap. It's cheap to make and will leave you feeling refreshed each morning and night.
If you're interested in more DIY beauty projects, we have some tutorials you might want to check out. We'll teach you how to make your own dry shampoo and dark spot and acne scar skin cream. Treat your skin well, and you'll be happy and beautiful for decades to come!