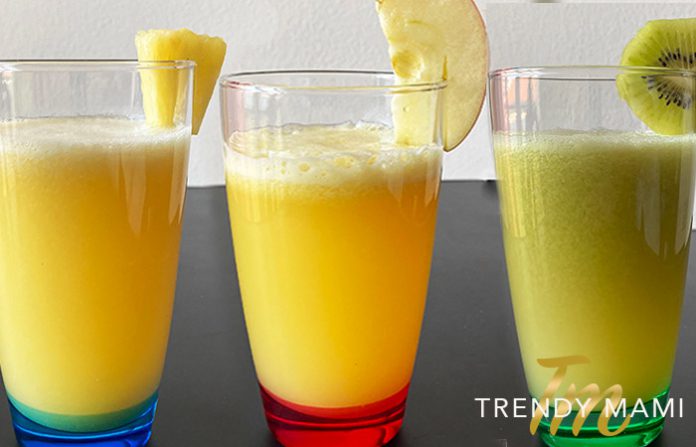 We hope you love the products we recommend! Just so you know, Trendy Mami may collect a share of sales or other compensation from the links on this page.
Packed full of vitamins, enzymes, and other nutrients your body craves, these three immunity boost drink recipes are guaranteed to be just as delicious as they are healthy.
Juicing is one of the easiest ways to consume nutrients and vitamins that are essential to any healthy diet. Although it's not intended to replace entire meals, an immune boost drink is an excellent way to get that extra boost of energy and nutrition (while also using up any expiring fruits and veggies you may have in your fridge).
In this article, we'll walk you through how to make three of our favorite immunity booster juice recipes – Tropical Wellness, Apple Dah, and Kiwi Boost. Each one is guaranteed to be delicious, refreshingly, and most importantly, healthy for your body!
Special Tip: If you don't have a juicer yet, or you're looking for a better one, we personally love the Omega Juicer, it's pricey but it's extremely powerful and built to last a long time.
Tropical Wellness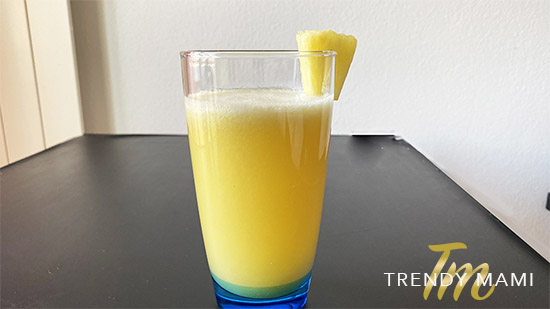 Bring the taste of the tropics to your kitchen with the Tropical Wellness immunity boost drink. This refreshing juice is made primarily with succulent sweet pineapple, although you'll get strong notes of crisp pear and citrus fruits. We've also thrown in some banana to make the drink extra creamy – like a fruit-based milkshake!
Tropical Wellness is rich in vitamin C (tissue repair, collagen formation) and potassium (muscle contraction, blood pressure regulation). The fruits also have a natural source of enzymes and minerals, which help with digestion and nutrient absorption.
Ingredients:
2 cups (300g) pineapple
1 pear
½ banana
½ lime
Mint (optional)
Instructions:
For this immunity boost drink, we will start with 2 cups of chopped or sliced pineapple. We recommend using fresh pineapple, although canned pineapple will also work well in a pinch.
Cut the pear into slices (remove the stems and seeds) and place in a juicer.
Peel a banana and place half of it in the juicer.
Using a knife, peel one lime and place half of it in the juicer. For this immune boost recipe, we recommend using the whole fruit and not just the juice from the lime.
Feel free to toss in a few mint leaves to make your juice more refreshing.
Juice and enjoy!
Apple Dah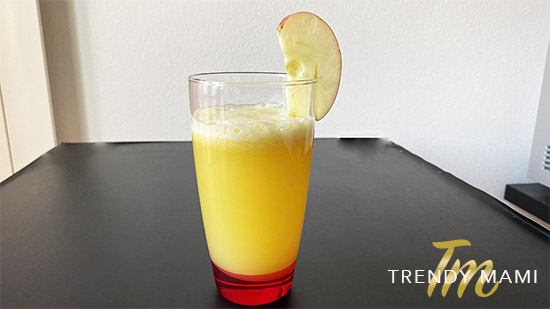 A modern spin on a childhood favorite, the Apple Dah immunity boost juice recipe is a revitalizing drink that'll give you a great jump start to your morning. It doesn't matter what type of apples you use, although we are fond of Red Delicious or Gala apples. If you prefer something more on the tart side, you can use Pink Lady or Granny Smith apples instead.
Then we add the fresh juice from a lemon, which gives the juice a kick of citrus along with the apple. This combination is rich in potassium (muscle contraction, blood pressure regulation), magnesium (muscle regulation, nerve function), and calcium (bone and blood health). In addition, this immunity boost drink is high in vitamin A, C, and K, three important vitamins that are necessary for growth and digestion.
Ingredients:
Instructions:
Peel and cut three apples into small slices that can fit inside your juicer. Make sure to remove any stems or seeds from the core.
Using a knife, peel one lemon, and place it in the juicer. In this video, we are using the whole fruit without the skin, although you can also just squeeze the lemon juice directly into the juice (make sure to remove the seeds!).
Juice and enjoy!
Kiwi Boost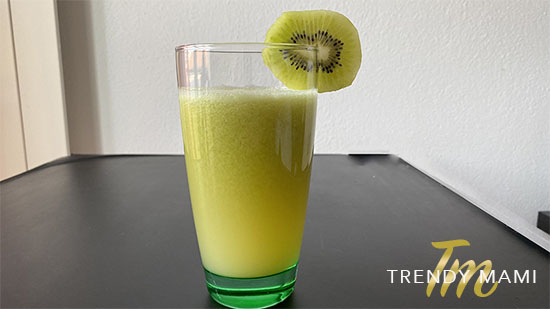 Made with only three simple ingredients, the Kiwi Boost is one of our favorite and easiest immunity booster juice recipes. It uses the tart and tangy flavors of the tropical kiwi fruit as its base while also have fresh, floral notes from sliced pear and apple. You can always play with flavors by experimenting with different types of apples (Granny Smith, Red Delicious, and Gala apples are our favorite to use in this recipe).
Kiwi Boost is rich in potassium, a mineral that helps promote muscle control in your circulatory system, which helps your heart rate stay healthy and consistent. This recipe is also a high source of vitamin C (tissue repair, collagen formation) and vitamin K (bone metabolism, blood clot prevention).
Ingredients:
Instructions:
Start by peeling the skin off two kiwis. If your juicer has a large opening, you can keep the kiwis whole (otherwise, you might need to cut or dice them to fit). Place the kiwis into the juicer.
Slice one pear and remove any seeds and stems from the core. Place the pear into the juicer as well.
Now cut one apple into slices. You don't have to remove the skin, although we recommend leaving out the core and seeds.
Juice and enjoy!
These are just a few of our favorite juicing recipes to make, although we also recommend trying this nutrient-packed celery juice recipe if you're trying to add more greens into your diet. And if you don't have a juicer at home – don't worry. You can also get the same great benefits from bottled juices or whole fruits.