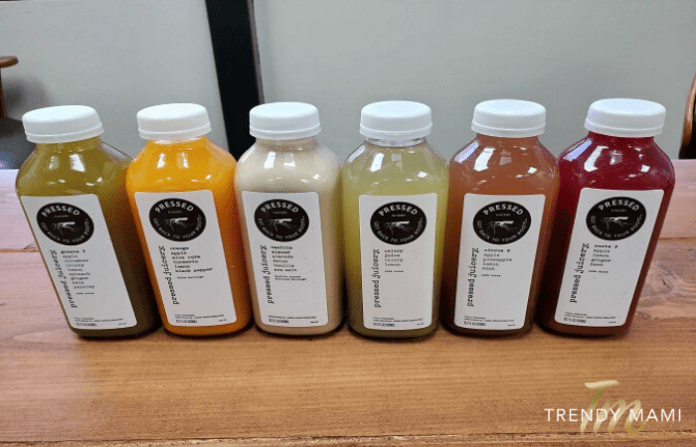 We hope you love the products we recommend! Just so you know, Trendy Mami may collect a share of sales or other compensation from the links on this page.
Whether you're on a cleanse, a gym junkie looking for antioxidants, or just perusing your beverage options at the corner coffee shop. Chances are you've heard of cold-pressed juice. Cold-pressed juice has caught the attention of health-conscious people everywhere looking to get their greens in a quick, drinkable form. If you're one of these people, then you must know about Pressed Juicery! Keep reading for our Pressed Juicery review.
Oh and best of all, we have a PROMO CODE for you! Use PROMO CODE: ROOTS-TOP-10 at checkout and save 10% off your order!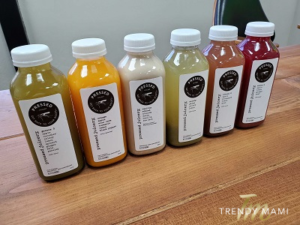 Pressed Juicery has set the bar for cold-pressed juice by abiding to a simple, guiding principle – nutrition should be delicious, affordable and accessible to everyone. Pressed Juicery provides millions of happy customers with healthy juice sourced from California's Central Valley. Whether it's cold-pressed juice, plant-based soft serves, or power-packed shots, Pressed Juicery has it going on!
Customers can easily get their Pressed Juicery goods. Thanks to their 75+ stores across the U.S., local delivery and nationwide shipping.

Their Cleanse range offers a Full Day Juice Fast (6 juices a day) with their cleanse for beginners. We opt for the most popular juice cleanse (Cleanse 2) and gave it a try ourselves. You can try cleansing with their most popular juices and cleanse aswell.
However, if you choose to do a Half Day Juice Fast (4 juices + 1 shot), you can choose from their Detox cleanse, Vitamin C cleanse or Wellness cleanse.
Cleanse 2 includes a variety of juices such as Greens 2, Citrus 2, Greens 3, Roots 3, Citrus 1 and Vanilla Almond! Keep reading to hear more on what we thought of this cleanse!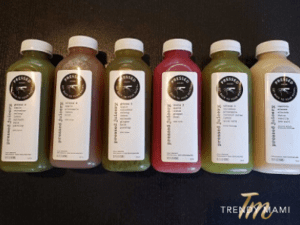 Pressed Juicery have also introduced The Daily Bundles, which include 6 juices or shots curated to elevate your daily routine and encourage healthy habits. They have 8 Daily Bundles to choose from, so whatever health boost you're looking for, rest assured. Pressed Juicery has it.
You can choose from their singular juices from $6.75, their wellness shots for $3.50, frozen yogurts from $6, cleanse and full day juice fast bundles from $34.50, and half day juice fast packages from $25.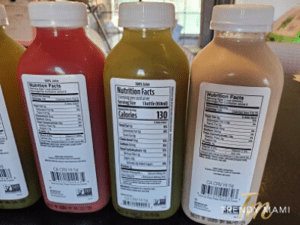 Pressing fruit or vegetables releases the juice, whereas normal juice extraction usually involves blades. The thought process is that the blades create heat when extracting the juice, which destroys the nutrients within the food. The main nutrient that comes from juice is vitamin C and it's sensitive to both heat and light. This is why cold-pressed juice is viewed as being healthier, compared to regular juice.
Another clear benefit of cold-pressed juice is that the juices are typically wholly made from fruit and vegetables, and are free from added sugars and preservatives.
Cold-pressed juices also tend to come with plenty of vegetables. Whereas store-bought juices are usually made up of fruit and miss the added benefits of vegetables, in terms of vitamins, minerals and antioxidants.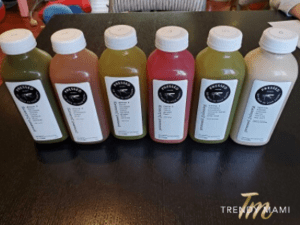 Pressed Juicery gives you the finest cold-pressed juices through their use of the highest quality juice press that exists. As opposed to a normal "centrifugal" juicer, which takes a whole fruit or vegetable and squeezes out the juice, Pressed Juicery uses HPP. HPP stands for High Pressure Processing. HPP is one of the approved FDA-required methods for juicing. Pressed Juicery utilizes HPP because it has the highest nutrient density and minimally impacts vitamins, antioxidants and nutrition. HPP takes a bottle of juice through a cold chamber of water and applies large pressure to it. High enough to inactivate potential harmful pathogens. So, basically, it's the shiz.

Care about the environment? Great, Pressed Juicery are with you all the way! Their juicing facility is located very close to the independent farmers who grow their produce. Therefore, they maintain a low carbon footprint by minimizing the transportation time from farm to bottle to you. How great is that! They also recycle their byproduct from their juices which gets sent out for compost. Approximately 90-95% of waste from the company gets recycled. We're in love!
Pressed Juicery also prides themselves on breaking the 'dieter mentality', AKA obsessing over the number on the scale and counting calories. They don't want their consumers thinking of their cleanse programs as a weight reduction diet. They want consumers to understand that their drinks, including their fresh-pressed vegetable and fruit juices, give consumers increased water intake, soulful energy, and optimal nourishment. With that being said, calorie consumption is still very important in maintaining overall health. Therefore, you can refer to Pressed Juicery's website for their nutrition details.
Our Review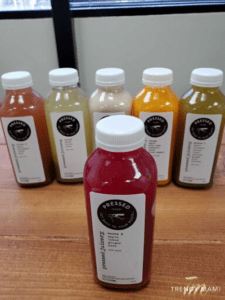 We were able to try out several flavors. Some of our favorites included Greens 3, Citrus 1, and and Vanilla Almond. Greens 3 is our favorite of the green juices as it has less of a "green" taste and is easier to drink. Citrus 1 is a great option that kids can drink, it has a very mild taste that is perfect for a morning drink or after a workout. Lastly, Vanilla Almond is a great option because it is delicious and filling. It would also make a great milk substitute as well.
Want to purchase from a company who cares about it's consumers, what they feed their body, and their environmental impact? Pressed Juicery will not disappoint!
Use PROMO CODE: ROOTS-TRENDYMAMI-10 at checkout and save 10% off your order!
We hope you enjoyed reading our Pressed Juicery review and check them out for yourself and your juicing needs shipped right to your door!
Looking for some tasty food to pair with your juices? Check out these best places to get food delivered right to your door! Or perhaps love supporting companies that are doing good, check out Wild Alaskan Company, a sustainably-sourced seafood company! We even reviewed them here!