We hope you love the products we recommend! Just so you know, Trendy Mami may collect a share of sales or other compensation from the links on this page.
With veganism on the rise, we're happy to provide as many healthy recipes as possible. And when it comes to the kinds of foods that are truly good for your body, zucchini and quinoa will forever top the list!
Zucchini is great because it's a low-calorie food that is loaded with vitamins B6, C, K, riboflavin, folate and, of course, water. It's also rich in antioxidants which makes it a veggie that fights aging and weight gain, improves digestion and boosts your energy levels. As a bonus, the beta-carotene that is also in zucchini keeps your eyes healthy and strong too.
As far as quinoa goes, it's a grain (kind of with the texture of grits) that about as close to a perfect food as you can get. It's got calcium, fiber, potassium, iron, Vitamin E, magnesium, zinc, protein—and that's just for starters! Not only that, but quinoa also has the plant compounds quercetin and kaempferol in it; together, they work to keep cancer and symptoms that are associated with depression at bay.
Gee, with all of the nutrients that zucchini and quinoa have to offer, how could you resist the opportunity to make a dish that incorporates the both of them in the most delicious—and relatively easy—way?
Quinoa & Cheese Zucchini Fritters
What You'll Need:
2 cups of grated zucchini

½ teaspoon of salt

1 cup (250 ml) of water

½ cup of quinoa

1 egg

3 garlic cloves, minced

½ teaspoon of dried oregano

1 cup of fresh grated Parmigiano-Reggiano cheese

1 cup of bread or Panko breadcrumbs

Fresh ground pepper

Salt

3 tablespoons of olive oil
Optional Stuff:
Yogurt

Sour cream

Soy sauce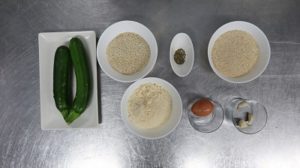 Step One:
First, I take my zucchinis and shred them (it's pretty easy to do with a grater). Then I sprinkle a little salt and pepper on them for taste, put the shredded zucchini into a colander and let it sit for around 10 minutes or so.
Step Two:
In a non-stick frying pan (with a burner on medium heat), I put the quinoa and some water into it and bring everything to a boil. Then I reduce the heat and cover the pan for 8-10 minutes.
Step Three:
Once the quinoa is cooked, I take it off the burner, put everything it into a bowl and let it cool for about 10 minutes.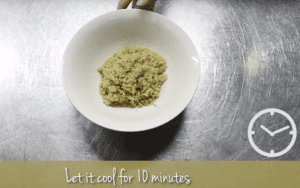 Step Four:
When the temperature has cooled down a bit, I then transfer the quinoa into a different glass bowl so that I can add all of the other ingredients to it (I typically prefer to use a whisk to mix everything together. I find it to be much easier that way).
Step Five:
Now it's time to make some small balls from the "batter"; around the size of a silver dollar each is pretty good. Then, with my whisk, I flatten them (think the thickness of a salmon croquette). Now I've got some (uncooked) fritters).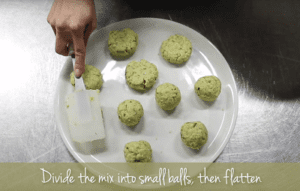 Step Six:
I wash my non-stick frying pan, turn my burner back to medium, pour some olive oil into the pan and put the fritters into it. I wait until one side is golden and crispy, then I flip them all over to their other side (it kind of depends on the stove, but usually, this only takes 3-4 minutes—on each side—tops).
Step Seven:
Finally, it's time to transfer all of my fritters onto a serving plate and put a little plain yogurt, sour cream, soy sauce (or all three) on the side for dipping. It really is delicious for non-meat and meat eaters alike.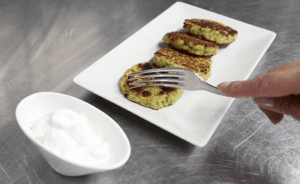 And just like that, your fritters are complete! Sprinkle some cilantro (a great superfood) on top and enjoy!
Looking for some other recipes with zucchini? What about some Zucchini pasta! Check it out! It's definitely one of our favorites!