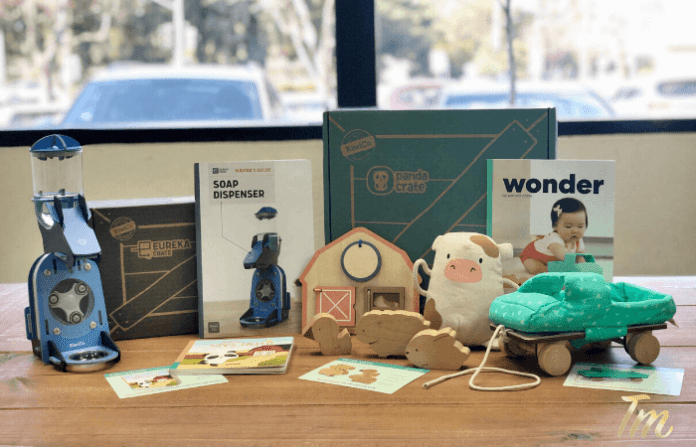 We hope you love the products we recommend! Just so you know, Trendy Mami may collect a share of sales or other compensation from the links on this page.
If you don't already know us, then you might not know how much we love KiwiCo products. We have tested them out in the past and are super happy to do it once more! Don't worry, this time it's a difference box. We opt for the Panda Crate and Eureka Crate. Both of which are extremely different, read on to find out how different they are!
If its your first time hearing about KiwiCo, we recommend checking out our first review here for a little background on what KiwiCo is and what they offer!
Planning to order KiwiCo? Use PROMO CODE: SHARE30 at checkout for 30% OFF your KiwiCo box!
Just before we get to into it, if you're looking to create a learning program for your kiddo, we highly recommend checking out Homer. They have expert designed learning products just for your kids!
Crates We Tested:
We were extremely excited to test out this crate. With this crate, KiwiCo not only keeps your mind active while trying to troubleshoot through the building process but also makes sure that the product you are creating can be used even after the fun building process. I don't know about you but we are all for creative projects that will be used once built and won't just sit around the house collecting dust.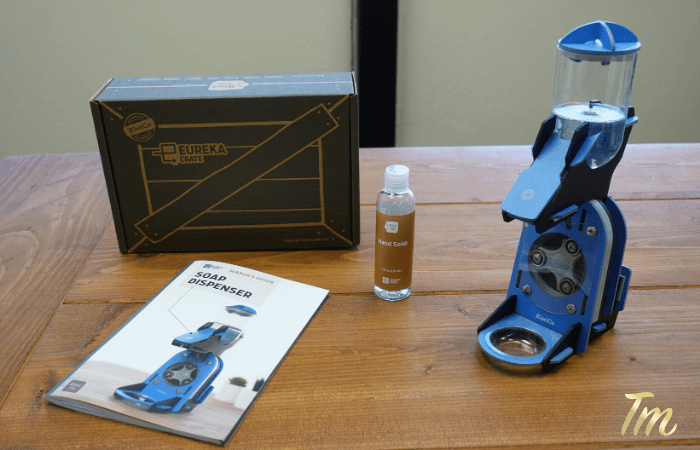 About the Eureka Crate Project:
The Eureka Crate we received was a fun soap dispenser DIY. The box came with:
Instructions
Materials for build
Soap
Batteries
Yes I know, shocker, for once batteries ARE included. The best part about these engineering projects that KiwiCo comes up with and tests many times is that there is actually a huge educational factor to it. KiwiCo guides you to building the project but also explains the mechanical aspects on how the soap dispenser (or project in general) works along the way. they even go into greater detail to explain just exactly how much soap should be used when washing your hands? Do you know how much? We sure didn't until this project.
Is the Eureka Crate Fun/Challenging?
This Eureka Create Soap Dispenser project was rewarding, fun and challenging all at the same time. With the few mistakes we made along the way, taking us a few steps back, we were still able to finish the project in just under 2 hours! So, if you're looking for a fun weekend activity, this crate is your answer!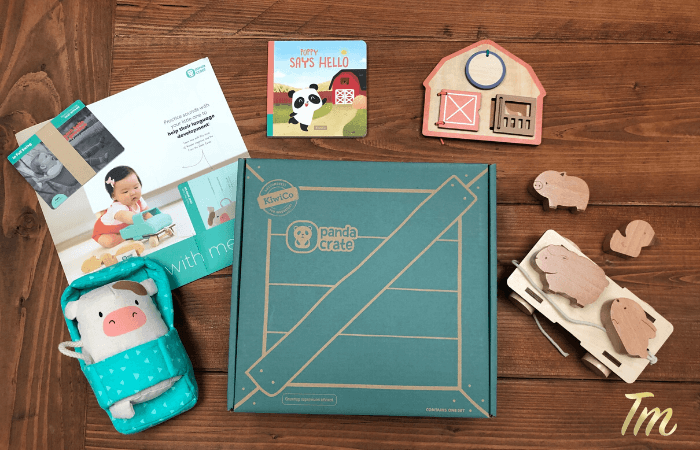 We have tested the Panda Crate once before and were super happy to test it again! Check out our first review here!
The Panda Crates and all other crates at KiwiCo change monthly. The first Panda Crate we testes was all panda themed, this second crate was a cute farm theme. The box came with:
Farm themed materials (Animals, Barn, Truck)
Board book
Beyond the crate cards
About the Panda Crate:
The Panda Crate barn was a fun peek-a-boo barn that your little kiddo can open the doors to and find farm animals in. Panda Crate is an awesome way to get your little kiddos engaged. The board book has a variety of educational aspects to it, from learning numbers and counting animals to learning farm animal sounds all in one book.
With both the Panda creates we have tested, we can truly say that KiwiCo works hard to help parents develop their kids minds. Plus, they new toys and books are always great, especially when they are educational.
If you're still contemplating getting a crate for either yourself or you little ones, we say you give it a try. It sure can't hurt, if anything you will come out on top with new fun toys or perhaps even a new soap dispenser you would probably already buy from the store either way.
Or perhaps you are looking for a friend, KiwiCo can be a great gift option for many. So go on and order a box for your DIY loving friends!
Now that you have your kiddos covered, how about your pets? Give your pet some love and toys from The Dapper Dog Box or Bark Box for Super Chewers and keep everyone busy in the house during this time!
If you're looking for more awesome activities for your kids, check these out! And if youre looking for another fun build it yourself or DIY for your kids, give DIY Felt Food a try!