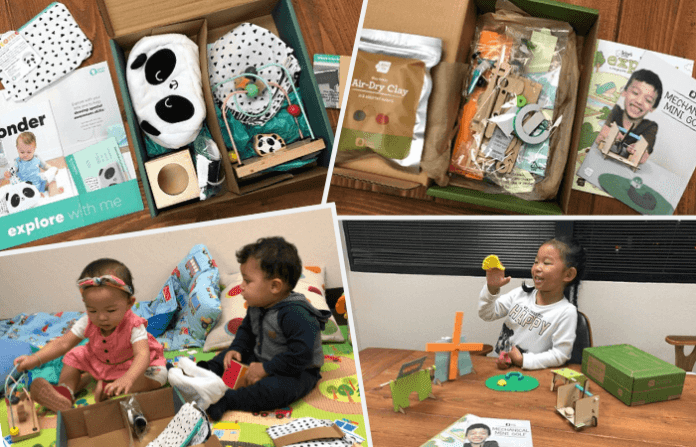 We hope you love the products we recommend! Just so you know, Trendy Mami may collect a share of sales or other compensation from the links on this page.
Are you a busy parent like us? Then you must take a second and read all about KiwiCo, trust us, it will save you time and money down the road! We all know many parents have a constant battle with keeping their kids away from the TV yet keeping them entertained all at the same time! Well, KiwiCo is a great company that has perfected this! They can keep your kids busy for hours, read on to find out how (we made a video, you can find it below!)!
Now you may be thinking, what exactly is KiwiCo and what do they do? Yes, we were wondering the same till we found them ourselves! KiwiCo is a company that builds and designs educational toys. Depending on the age group of your child, the toys can either be pre-built or it is a do it yourself building experience with awesome step by step instructions! With each age group, the activities progressively get more challenging which is great for anyone who loves a little challenge every now and then. So, let get straight to it and talk about our experience using KiwiCo!
We Tried Out Two Crates: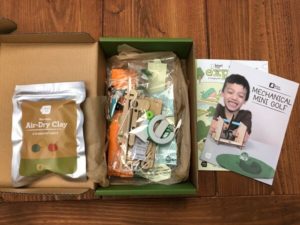 The KiwiCo Crate included:
Materials to build Mechanical Mini Golf activity
Step by step instructions
Magazine
This activity was awesome! It was just challenging, yet easy enough for our 5-year-old. We were presently surprised how easy the kids followed the step by step instructions for the activity.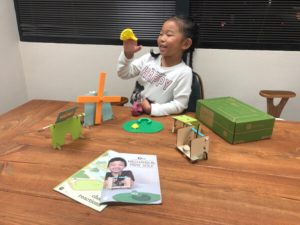 We all know parents are busy running around the house doing other things, which is why this activity was perfect. Not much help from parents is needed for this fun build, meaning you have all that extra time to do that leftover laundry or extra clean up you need to get done!
As for the magazine, get this, they included more fun activities for your kids. The activities are created with everyday house items you probably already have lying around. Your kids can really get creative with this part and once they learn a few games from KiwiCo, they will never be bored again!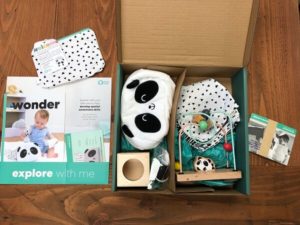 The Panda Crate included:
3 toys/games
1 book
Activity cards
This crate is loaded with all kinds of goodies for your baby. Oh, and great news, this box is one that your kids can grow up with while they learn how to play with these toys. We may also say that if you have a newborn it might be a bit hard to play with these toys, but it doesn't mean they can't learn! The variety of toys in this box can help your baby explore directionality, hand-eye coordination and even object permanence!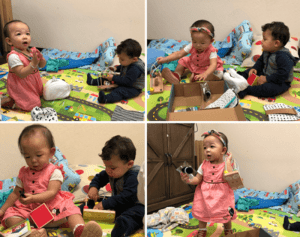 Our little ones (about 1-year-olds) had a blast with these toys and let's be real, you know it's a good toy when it ultimately ends up in your kids mouth! But that's the great thing about these toys, they are baby friendly on all ends. They even enjoyed reading the book that was in the box, we all know new books every once in a while are great to add to your overflowing collection!
Lastly, KiwiCo even include a few flash cards with activities on them. These activities are explained on the flash cards and  make light of different ways parents can play with their babies using things they already have lying around the house!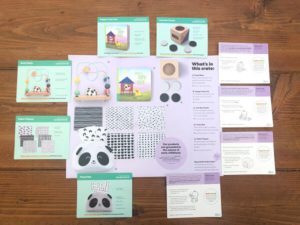 KiwiCo is a subscription box therefore, you have 4 options to choose from:
Monthly Boxes (1 each month)
3 Months (includes 3 boxes)
6 Months (includes 6 boxes)
12 Months (includes 12 boxes)
For a limited time, KiwiCo has a Black Friday Deal going on! You can get 60% off on your first month with the CODE: EARLY – Go on over a try out a box yourself for a fraction of the cost!
On all other days, depending on the age of you or your child (or whomever the box is for), and the number of shipments you choose, prices can vary anywhere from $15.50 to $29.95 per box! The low end of the price range is for the younger age groups. Meanwhile, the higher end is for more abstract boxes for the older age groups.
If you really think about it, any retail store toy would cost at least $30, and that's probably on the low end of toys. KiwiCo does a great job of keeping costs to a minimum while maintaining the quality of products. They are even more education focused then some retail toys. With KiwiCo, your kids can think through and build their activity for the month. This will keep them learning and engaged while playing with their toy! I don't know about you, but I would say that's a win on all ends.
Gift a friend KiwiCo!
When it comes to getting KiwiCo, you don't have to just get it for you or your family. I'm sure your friends would love it too! KiwiCo has a gift option where you can send a box to a friend and KiwiCo will ship it to their house. If you know your friend already likes KiwiCo, you can even get them a gift card so they can choose which box they would like to try next!
Is KiwiCo Worth It?
After trying it ourselves and having the ability to test out a few boxes, we were pleasantly surprised with how much thought the company puts into each box. They not only include the activity you pay for which is a given, but they go above and beyond to include more activities you can do with everyday items around the house!
All in all, if you're looking for a fun yet educational way to keep your kid's minds thinking and keep them busy, KiwiCo is your answer. We were able to see how KiwiCo works, firsthand and our kids loved it! The kids not only built it, which we all know building something brings great satisfaction and you appreciate it that much more, but they also used to learn and play. In fact, our little ones were obsessed with their new toys! They can't wait for the next box to come!
What are you waiting for, go on over to KiwiCo, pick out the box and shipping frequency that best fits your needs and get to building! Your kids will be obsessed too, trust us!
If you're looking for more awesome activities for your kids, check these out! And if youre looking for another fun build it yourself or DIY for your kids, give DIY Felt Food a try!