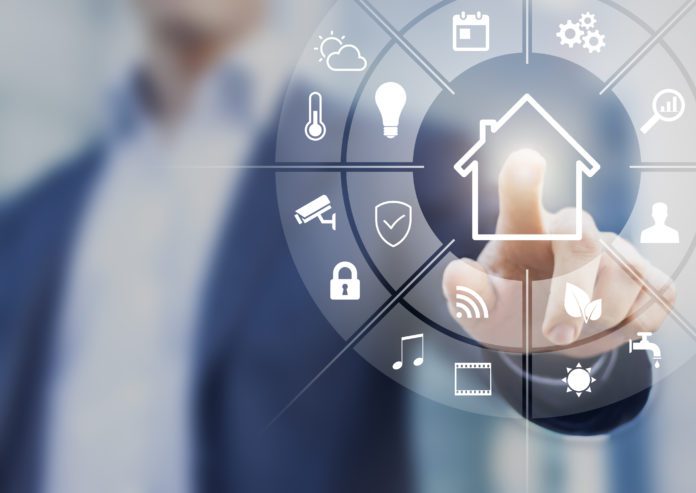 We hope you love the products we recommend! Just so you know, Trendy Mami may collect a share of sales or other compensation from the links on this page.
Some might call it lazy, but some of the best smart devices out there are downright genius. Forgot to unplug the iron? A smart device can fix that. Is your house too cold? Run out of diapers? Just ask Alexa for more. Your smart thermostat can take care of that before you even get into the room.  That's not indolent — that's innovative.
If you're tired of working hard and want to work smart instead, then you're ready to take the leap from average home to smart home. Here's a list of the six best smart little gadgets that will make a big improvement to your home.
Oh and be sure to check out Wikibuy for some deals on summer gadgets!
Echo Dot, your home assistant
The hub of a smart home must contain two things: a smartphone and a smart speaker. Amazon's Echo Dot is part of Amazon's flagship smart speaker family. Behind Dot is Alexa, the speaker's smart assistant, who you can summon to do your bidding by calling her name. Alexa, the intelligent system behind Echo, is capable of everything from playing music to news briefs, and of course, controlling any Alexa-enabled device in your home. FIND IT HERE
Echo Spot — Your assistant with a screen
Spot is the latest addition to the Echo family. It can do everything its siblings can do, but unlike its big sisters, Spot comes with a screen. Not only can you control the thermostat with Spot, but you can also video chat with your family across the country. BUY IT HERE
There are times you don't want to answer the door. I understand. There's no way I'm going to respond to a door-to-door salesperson either. Wouldn't it be great if you could find out who's at the door without walking to it? The Ring Wi-Fi-enabled doorbell is just the solution. Once someone rings your Ring, you'll get a push notification on your phone, whereupon the doorbell's camera will be activated. You'll instantly be able to see who's at the door with the Ring app. BUY IT HERE
So it's late at night and you're about to lie down in bed when you realize you forgot to turn off the light. So annoying! With the TP-Link smart Wi-Fi plug, you can connect any device to the plug and control it from anywhere using the Kasa app. It also works with Alexa, so you can tell your light to turn off. OK, so maybe you're thinking to yourself, "I'm not that lazy." But this device does more than turn light switches on and off. If you want to preheat your toaster oven, you can do that with this plug. If you're worried if you left the iron on after you left for work, then you can switch the plug off remotely. No more worrying if you're going to burn something! FIND IT HERE
Tired of guessing if your thermostat is on or off? Or tired of adjusting it in the first place? Nest's learning thermostat can solve all of that. Plus, it's compatible with Alexa. Command your thermostat with either the Nest app or with Alexa to keep your home at the perfect temperature year round. Do you like the temperature to be exactly 75F in the winter? Nest will catch on within a week, and it will learn to program itself to your favorite temperature. Talk about learning. FIND IT HERE
I suffer from seasonal allergies, so I'd love to take this smart air purifier for a spin. This purifier comes with an essential oil diffuser and mist control to fill your home with any scent you choose. This gadget can run up to 10 hours uninterrupted. When you download the eWeLink app, you can control everything from mist volume, power settings, and even color. Compatible with Alexa. FIND IT HERE
Do you have a smart device? What do you like about it? Leave a comment below!