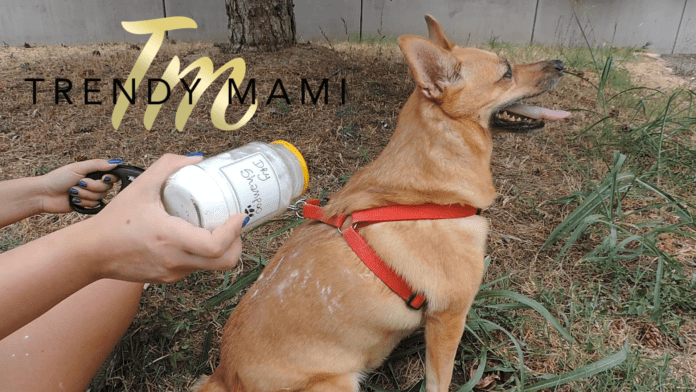 We hope you love the products we recommend! Just so you know, Trendy Mami may collect a share of sales or other compensation from the links on this page.
This waterless dog shampoo is perfect for when your four-legged friend gets a little dirty. It's made with just three simple ingredients: cornstarch, baking soda, and essential oils. The cornstarch and baking soda absorb oil and dirt, while the oil will leave your pup smelling fresh and clean. And we'll even show you how to make a homemade shaker jar so you can easily wash your dog on the go!
Most dogs hate bath time, and we hate getting our bathrooms or backyards all wet and muddy! But this dry shampoo for dogs is a great alternative. While it can never replace a bath, it can temporarily remove dirt and debris. Plus, it deodorizes to get rid of that funky dog smell!
How to Make Waterless Dog Shampoo
Materials for Waterless Dog Shampoo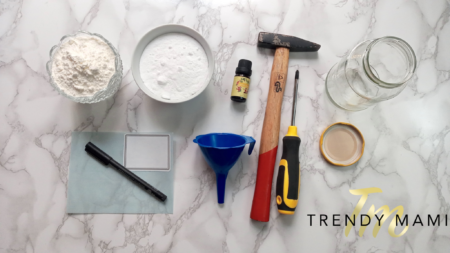 Lemongrass essential oil
Hammer
Screwdriver
Label
Marker
Funnel
Instructions for Making Dry Shampoo for Dogs
The first step is to prepare our jar, which will hold our waterless dog shampoo. Start by writing a label for the dry shampoo. Then, peel off the label sticker and place it on the mason jar.
We are now going to poke holes in the mason jar lid so we can shake out the dry shampoo when needed. Take the lid and place the end of the screwdriver on top of it. Make sure your lid is on something sturdy that you don't mind getting dented or damaged!
With the hammer, gently tap on the handle of the screwdriver to make small holes in the lid. Try to make 5 or 6 holes. Set aside.
Now, place the funnel inside the empty jar. Use a spoon to scoop in the corn starch. Then, spoon the baking soda into the funnel. You can mix the two ingredients together while it's pouring into the jar.
Add roughly 10 drops of the lemongrass essential oil to the dry shampoo. Feel free to drop it onto the spoon first to help you measure.
Screw the lid onto the jar tightly.
Cover the holes with the palm of your hand and give the jar a good shake! This should blend all the ingredients together. Now you have the perfect waterless dog shampoo shaker!
We recommend applying the shampoo outside, as the powder can get messy if done inside. To use, gently shake the jar with the powder over your dog, starting at its neck. Make sure to avoid their eyes and face! Then, rub the powder into their fur with your fingers or with a brush. Your pup should now be clean and fresh smelling (if only they could stay this way forever)!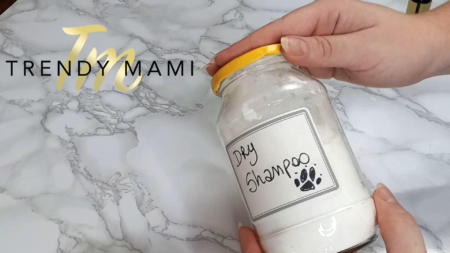 Enjoy Your Clean Pup!
We know that you and your fur baby will appreciate how easy it is to use waterless dog shampoo. And if you're looking for more DIY dog tutorials, check out these projects! We'll show you how to make homemade dog treats and a simple paracord dog collar. And for when Fido gets a little itchy, we have a DIY flea repellent that's easy to whip up. Remember, your pup deserves nothing but the best!