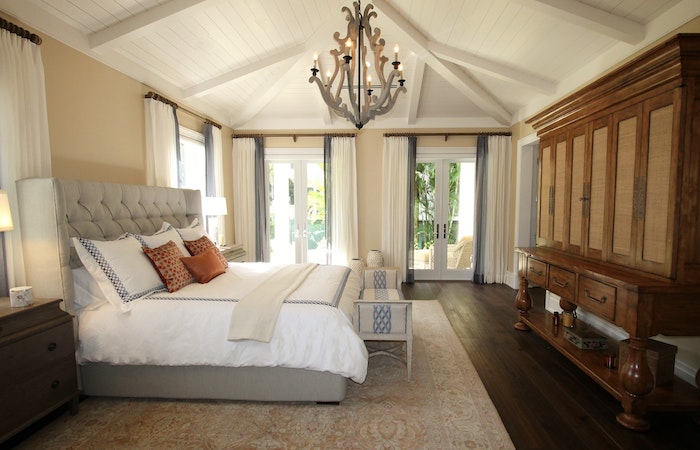 We hope you love the products we recommend! Just so you know, Trendy Mami may collect a share of sales or other compensation from the links on this page.
There's no better feeling than snuggling in your winter bedding after a long day while watching your favorite Netflix show. Choosing warm blankets for winter is not only cuddly but also elevates your bedroom's aesthetics, turning it into a cozy corner.
As the temperatures gradually drop, we're all tempted to spend a bit more time in bed. Whether taking breakfast in bed on a cold Sunday morning, enjoying an afternoon nap, or reading your favorite book under the sheets, it's one of winter's many pleasures. The goal is to choose winter bedding that'll make your living space even more inviting and comfortable by switching from the airy summer sheets.
So, the next time you crawl into bed, it'll be like a reward for a long day. Whether you like ultra-soft blankets, breathable fabrics, or thick layers, there are hundreds of options to consider. In this article, we've rounded up the best warm blankets for winter, assessing both construction and appearance. Let's dive in!
5 Top Winter Bedding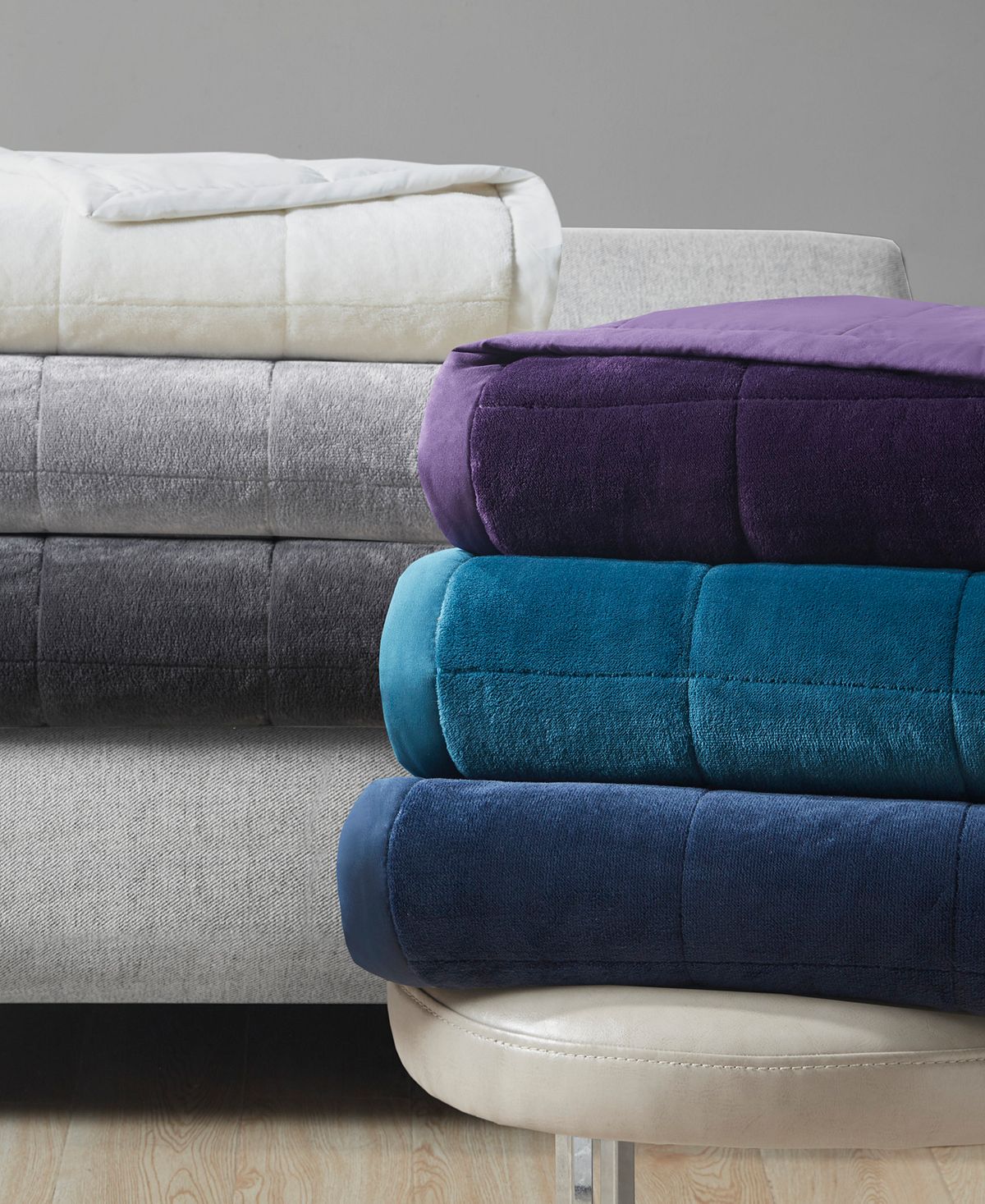 If you're looking for lush comfort, you should definitely wrap yourself in this soft Coleman reversible blanket. It features a soft, plush face that reverses into a solid microfiber, giving an incredibly rich look and feel. Perfect for layering in your bed or using on its own, it'll provide warmth and comfort for any season. It comes in three colors: charcoal, teal, and purple for all tastes and spaces. Additionally, the material is machine washable for easy care. Overall, this blanket adds casual comfort to your house and will ensure you always wake up on the right side of the bed.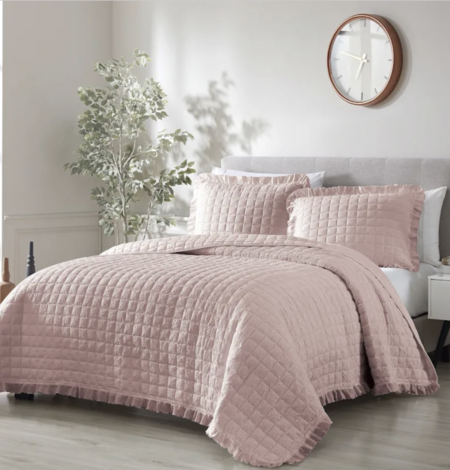 This 3-piece pink crush stitch quilt set is a match made in heaven for those loving good old quilted luxury. Featuring an intricate blush pink design, it'll add a soft comfort to your space. Luxuriously warm, it's perfect for cold winter months without becoming overwhelming due to its lightweight material. Its stitching looks sharp and sophisticated, keeping the filling evenly distributed. We promise you it'll keep you warm and breathable, even if you're a restless sleeper.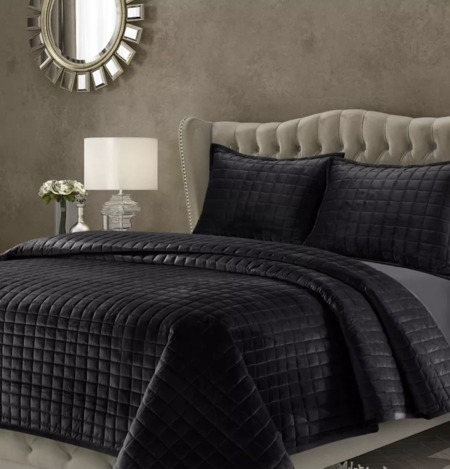 Next on our list of the best winter bedding is this gorgeous Florence velvet oversized quilt set, one of the most popular options among grid-like stitching blankets. Crafted from supreme quality polyester and a beautiful velvety, luxurious touch, it'll give your space a contemporary appeal. This gorgeous quilt set comes in various soft and bold hues, such as purple, black, navy blue, silver gray, and emerald green. If you adore being all warm and fuzzy without getting the night sweats, you just found your warm blanket for winter.
Sleep at ease with this winter bedding designed to eliminate electromagnetic emissions. Designed with soft, flexible wires and ultra-soft microlight plush fabric, it'll ensure your comfort. This miracle of a blanket features a 10-hour auto shut-off and has 20 different temperature settings allowing you to customize your temperature. You'll also love that it reverses into a soft Berber that adds extra warmth and loft. Additionally, it's machine washable for easy home care. Choose from 7 colors and rest easy knowing that you won't wake up all sweaty. Win-win!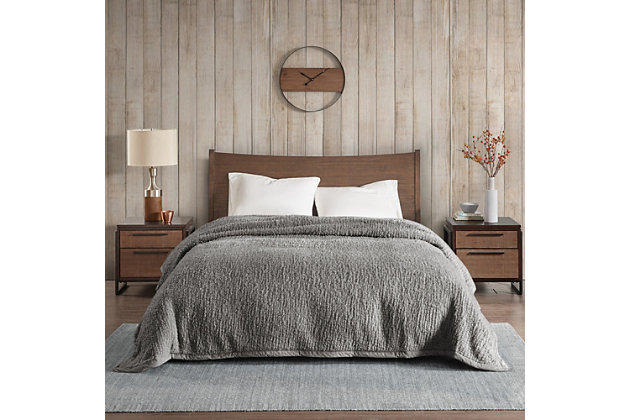 Our list of warm blankets for winter would not be complete without this gorgeous Burlington Twin Berber Blanket that combines quality with a chic look. Although designed for your bed, you'll also love throwing it on your sofa to enjoy the cozy soft feeling all day long. Its rich solid hue with a velvet binding creates a stylish transitional look that'll make the perfect layer on your bed. Impressively cozy, it's ideal for couples to share. Reviewers were impressed with how well the blanket holds up in the wash without shrinking or changing appearance. Choose from 5 colors and sleep carefree.
Ready for Your Cozy Winter?
When shopping for blankets, it's essential to look for material, durability, weight, size, and care. Curling up in bed this winter is a luxurious experience you won't want to miss. Whether you're looking for a complete bedding overhaul or simply adding a few more layers to your comfy bed, there are hundreds of winter bedding options. Hopefully, our list will inspire you to make your next purchase. We wish you the warmest winter nights! To stay the warmest, we recommend these sweaters and jackets!