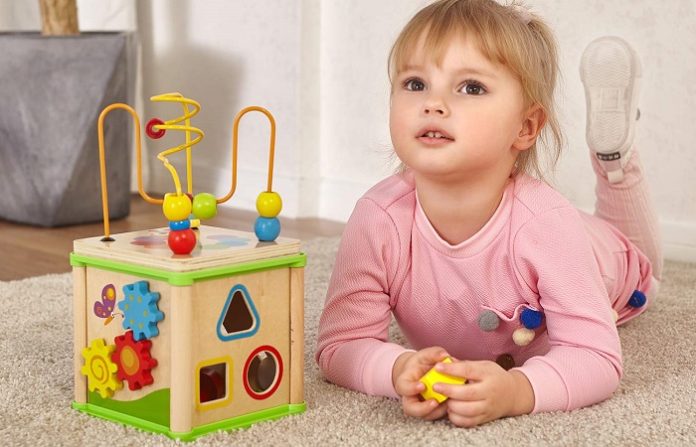 We hope you love the products we recommend! Just so you know, Trendy Mami may collect a share of sales or other compensation from the links on this page.
No matter what, kids will always love playing and learning through puzzles. They're an eternal favorite. Every type of puzzle is guaranteed to challenge the mind, even whilst kids think they're just enjoying playtime with an exciting toy. It's a sneaky way to help your child learn and develop different types of skills that they will eventually come across again when they start schooling.
Kiwi Co is a great source for puzzles and other fun learning activities. They even have specialized projects for kids under 2 and all other ages! Go check them out, I know my kids love them!
Read on for 10 perfect puzzles that will get your kids thinking! Recommended for kids under 2 years old.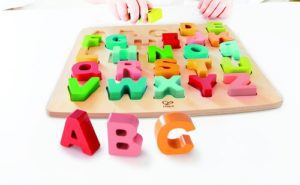 This classic alphabet puzzle, with chunky pieces which are perfect for small hands, is perfect for your little one. This puzzle will help improve their cognitive skills; allowing them to increase their visual spacial awareness and develop an understanding of the alphabet letters at a young age. Help your child learn the alphabet and figure out where the letters go on the board!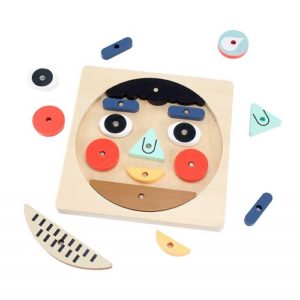 These Scootive wooden puzzles are durable, eco-friendly, and able to withstand toddlers' playtime. These shape and color assorting puzzles are made of safe material that is non-toxic, harmless and has no taste. These puzzles will promote creative thinking and will help your child develop appropriate skills, such as fine motor development, cognitive development of color, cognitive ability, sensory skills and practical ability.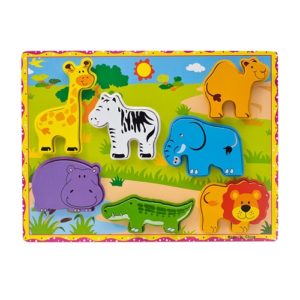 The animals and bright colors in this jungle-themed chunky puzzle, by Lewo, will provide lots of excitement and learning for your toddler. This sturdy wooden puzzle board and pieces stand upright for your toddlers' playtime. The puzzle promotes hand-eye coordination, fine motor skills and creative expression, making it the perfect educational toy for your young one.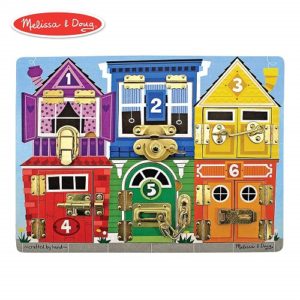 The Melissa & Doug Wooden Latches Board is an latch-themed puzzle that's easy to grasp and features bright colors along with illustrations of a few charming houses all with different latches. This puzzle is ideal for encouraging visual perception skills and develops fine motor skills.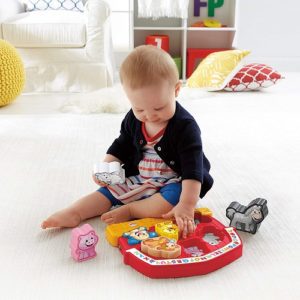 This fun laugh and learn animal puzzle teaches your toddler ABCs, animal names, sounds and colors, all in one! When your baby correctly matches and places an animal piece in its slot, they're rewarded with animal names and sounds — with each animal having its own unique song! Learning where and how the animals fit into the puzzle base encourages development of hand-eye coordination, thinking & problem-solving skills.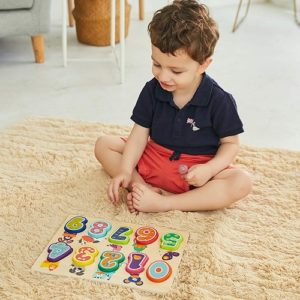 This helpful puzzle will help your child develop logic, mathematical, and spatial reasoning abilities. This puzzle is made out of sturdy wooden material, with smooth edges and water-based non-toxic paint. This puzzle makes learning numbers and mathematics fun and exciting!
This Apecks puzzle will prove to be a fun and challenging activity for your little one! This puzzle will help them learn how to sort and match with different colors and shapes. These bright, interactive eggs will improve hand dexterity, color recognition and fine motor skills whilst engaging little minds. Made out of top-quality child-safe materials, this toddler toy will last a lifetime. When it's time to end playtime and pack up, the sturdy plastic case will prove to be extremely convenient for quick and easy storage.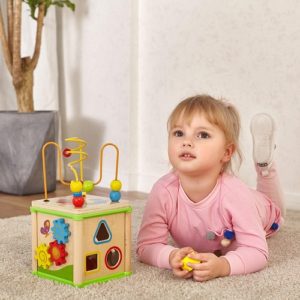 This wooden activity cube is a fun puzzle for your toddler to play with whilst developing their cognitive and creative skills. With 5 different activities in one, your child can choose from shape sorting, spinning gears, sliding inserts, a teaching clock and a 3D bead maze. The bead maze located on the top is removable and can be used separately. This multi-functional educational puzzle will attract your toddler's attention for hours, as they rotate from one side to another.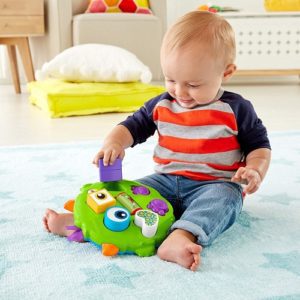 This Fisher-Price monster puzzle will keep your child occupied all day long! It features 4 removable shapes for puzzle play, a spin roller with 3 silly faces to enjoy, feet that toggle up and down and fun textures for your baby to explore. This little monster encourages big thinking as your baby matches and sorts the shapes to their correct position.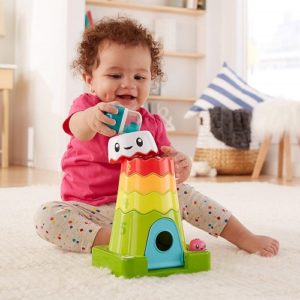 This stack and slide mountain puzzle provides two ways to play for your toddler's playtime: Stack & build and/or drop & slide! With colorful, numbered rings for stacking and building, and fun sounds and music, your child won't want to put this toy down. Simply press the light-up purple pal for phrases & songs about counting & colors. Learning has never been more fun; with your little one developing problem-solving skills through learning how to stack the rings to build the mountain.
We hope you enjoyed reading up on our 10 recommended puzzles that will get your kids thinking. Learning doesn't have to be boring; these puzzles highlight that!
If your kids enjoy learning and reading, not just all the amazing puzzles above. Then we highly recommend giving Put Me In The Story a look! They have a variety of books for all ages and areas of interest! They are super educational too!
Want to get your little ones reading? Here's how you can do it!