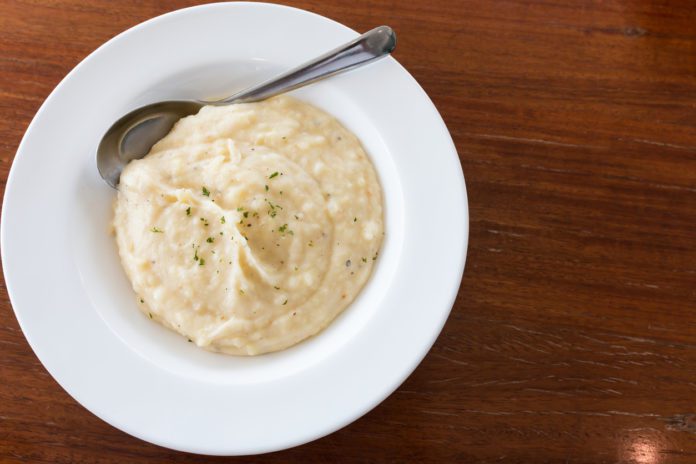 We hope you love the products we recommend! Just so you know, Trendy Mami may collect a share of sales or other compensation from the links on this page.
So you have your turkey. You have your gravy. What's missing? Could it be any more obvious? Mashed potatoes are a staple at any holiday dinner. Besides, what were you going to do with all that gravy?
Here's a simple recipe for creamy garlic mashed potatoes you can have with your turkey gravy, or — if you're not into gravy — all by itself. Thanks to Food Network for this recipe.
Ingredients
3 ½ lbs. Russet potatoes

2 tablespoons kosher salt

2 cups half and half

6 cloves garlic, crushed

6 ounces grated parmesan cheese

Mashed Potato: Directions
Peel and dice the potatoes.

Place potatoes in a saucepan. Cover with water and add salt. Bring the potatoes to a rolling boil. Cook until potatoes fall apart when poked with a fork.

Heat the half and half and garlic in a saucepan over medium heat until simmering. Remove from heat and set aside.

Remove the potatoes from the heat and drain off the water. Mash and add the garlic-cream mixture and parmesan; stir to combine. Let stand for 5 minutes so that mixture thickens. Serve.
Now that the weather is getting chilly, order your ingredients via Instacart to have them delivered to your door.
Thanks to this creamy mashed potato recipe, you too can enjoy some potatoes with your meal this holiday season — or year round!
Loved this article! Check out our articles on turkey recipe, holiday appetizers, pumpkin almond cake and even more mouthwatering desserts!