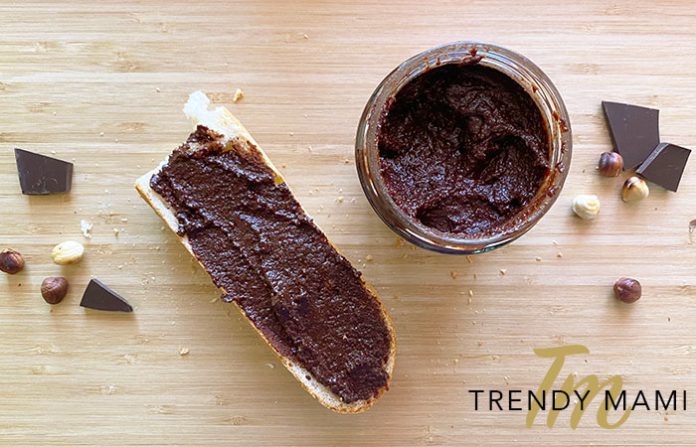 We hope you love the products we recommend! Just so you know, Trendy Mami may collect a share of sales or other compensation from the links on this page.
For the ultimate decadent snack that's both gluten-free and vegan, make this easy four-ingredient homemade chocolate hazelnut spread recipe. Each of the four ingredients for this tasty desert can be found at Sam's Club. Use it to sweeten up bread, waffles, pancakes, fruit, and much more! 
With the perfect blend of smooth, creamy chocolate and rich, decadent hazelnuts, this chocolate hazelnut spread recipe will have your mouth watering before you even take your first bite. This drool-worthy spread can be used on a variety of foods, like bread, waffles, apples, cakes, and cookies. However, it's so delicious that you'll probably have to keep yourself from just licking it straight off the spoon!
This easy-to-make chocolate hazelnut spread recipe only calls for four simple ingredients – dark chocolate, brown sugar, almond milk, and hazelnuts! And you won't have to worry about the high sugar content, synthetic flavors, and processed oils that other big brand hazelnut spreads come loaded with. Best of all, it's vegan and gluten-free, so you can enjoy this guilt-free snack whenever you like.
Homemade Chocolate Hazelnut Spread Recipe
Ingredients:
If you want a bittersweet spread, use dark chocolate with at least 70% cocoa. This is what we choose to use for this tutorial. If you prefer a hazelnut spread that is on the sweeter side, you can use a bar of dark chocolate with 50% cocoa.
2 to 3 tbs of brown sugar
½ cup or 120 ml of almond milk
¾ cup or 100 gr of toasted hazelnuts, hazelnut flour, or hazelnut butter
If you aren't able to find toasted hazelnut in the store, you can make your own with normal hazelnuts. All you have to do is heat up the hazelnuts in a non-stick pan for approximately 5 minutes. You will know they are ready because the skins will start to peel.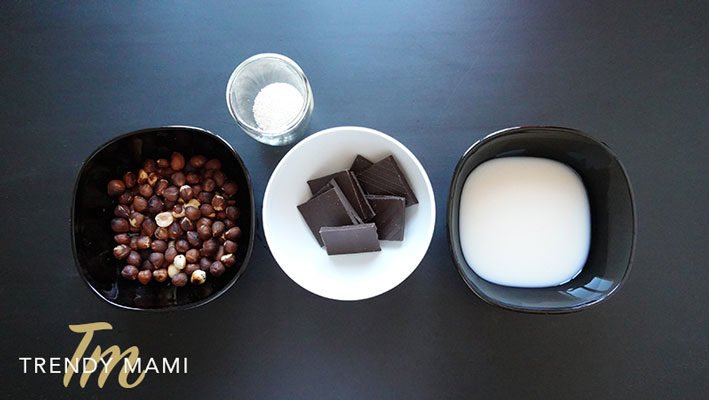 Instructions for Chocolate Hazelnut Spread Recipe:
For this hazelnut spread recipe, we will start by blending 100 gr of toasted hazelnuts in a food processor or blender. Toasting the nuts is vital to achieving that deep, rich flavor of the spread. Don't worry if you see oil coming out of the nuts while they are being blended– this is a natural oil that will give the puree a butter-like consistency. You may wish to add a few drops of milk into the hazelnut butter to soften the mixture. If you are using pre-bought hazelnut flour or butter, you may skip this step.
Place a pot over medium-high heat and add the almond milk. Let it warm up for a minute or two and then turn off the heat (or turn it down to low). Make sure to keep an eye on the milk as you don't want it to start boiling.

 

Take the dark chocolate and break it up into small chunks or pieces. Add the pieces into the warm milk and stir the two together. The milk should be warm enough for the chocolate to start melting. If it's not melting, turn the stove back on to low while you're stirring the chocolate.
Once the chocolate is melted (you should have a very smooth chocolatey mixture at this point), add the hazelnut mixture to the pot. If you are using hazelnut flour or hazelnut butter instead of blended toasted hazelnuts, you can add those at this time too. Stir the ingredients together until properly mixed.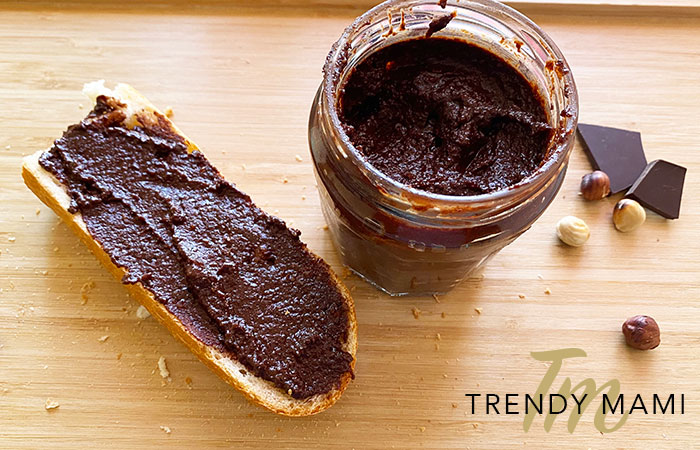 5. Turn off the stove if you haven't at this point. Keeping the heat going could curdle the chocolate, which would create a sticky, non-spreadable mess!
6. To sweeten this chocolate hazelnut spread recipe, add 2 tablespoons of brown sugar to the mix. If you prefer a sweeter spread, add one additional tablespoon. Stir together.
7. Check the consistency of your spread. Keep in mind that the mixture should be thin enough to spread but thick enough to keep its form on a knife or spoon. If the mixture is too thick, you can always add a few drops of almond milk to thin it out. 
8. Once it's at its desired consistency, then your hazelnut spread recipe is finished! Let it cool, then store it in a jar. This mixture can be stored for up to 4 or 5 days.
What's not to love about this mouthwatering chocolate hazelnut spread recipe? It's perfectly sweet and creamy, with just the right amount of nuttiness to transform any snack into a delectable treat. We recommend spreading it on a slice of freshly baked bread (while it's still warm out of the oven).
For all those sweet tooths out there, we also have a few other recipes with video tutorials that you can easily whip up in your kitchen. Learn how to make a homemade chocolate lava cake with a passionfruit sauce. Or try our easy to bake apple muffins or these delicious chocolate bites.