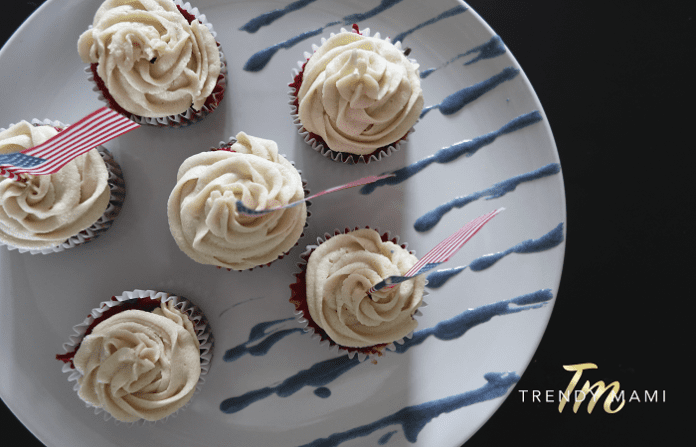 We hope you love the products we recommend! Just so you know, Trendy Mami may collect a share of sales or other compensation from the links on this page.
Time to celebrate the 4th of July with this easy to make, delicious and festive 4th of July cupcakes recipe! Vanilla frosting that is crazy creamy and sweet. Then, layered on top of  red, blue and white vanilla cupcakes. Your sweet tooth will be satisfied with these mouth-watering 4th of July cupcakes! Be sure to watch our video tutorial to see how to bake these colorful 4th of July cupcakes.
If you don't have time to make cupcakes from scratch, try out some of the baking kits from Stonewall Kitchen or order a festive gift basket from Gourmet Gift Baskets.
4th Of July Cupcakes
Ingredients
Vanilla Cupcakes
Vanilla Frosting
Instructions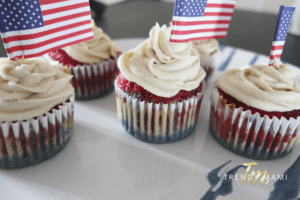 Vanilla Cupcakes
First, preheat oven to 350°F (180°C) and prepare a cupcake pan with cupcake liners.
Add the flour, sugar, baking powder, and salt to a large mixing bowl and combine. Transfer to a bigger bowl.
Next, taking your eggs, separate the egg whites from the yolks and beat until the egg whites are stiff in a separate bowl. Add the yolks to the other bowl with our dry ingredients.
Add the milk, vegetable oil, and vanilla extract to the dry ingredients bowl and combine well.
Then, add the egg whites and gently combine.
Divide your batter evenly into three different bowls.
Add in the blue food coloring to one bowl and the red food coloring into another. Leave the third bowl as is. Tip: Go heavy with the food coloring, the color lightens as it cooks!
Using a tablespoon, spoon one tablespoon of blue batter into the cupcake tins which have either been coated in non-stick spray or filled with cupcake liners. Spoon gently to make an even layer. Follow the same procedure with the white batter and then with the red. Note: To layer each color without mixing them together, pour the batter gently in a circular motion out-in so it doesn't break in the center.
Bake for 15-17 minutes, or until a toothpick comes out with a few moist crumbs.
Remove the cupcakes from the oven and allow to cool for 2 minutes, then set aside on a cooling rack to finish cooling.
Vanilla Frosting
To make the frosting, mix the butter in a large mixing bowl until smooth.
Add the vanilla extract and mix until well combined.
Add powdered sugar slowly and mix until smooth.
Add frosting to a piping bag and pipe the frosting onto the now cooled cupcakes. Add your flag and you are complete!
We hope you enjoyed our 4th of July cupcakes recipe and that our video tutorial could help you out in the kitchen!
Need some other 4th of July food and drink inspo for your 4th of July bash? Check out these fun 4th of July cocktails for your Independence Day party! Or, if you need some food and activity inspiration, check out these 4th of July Barbecue Ideas and indoor celebration ideas.