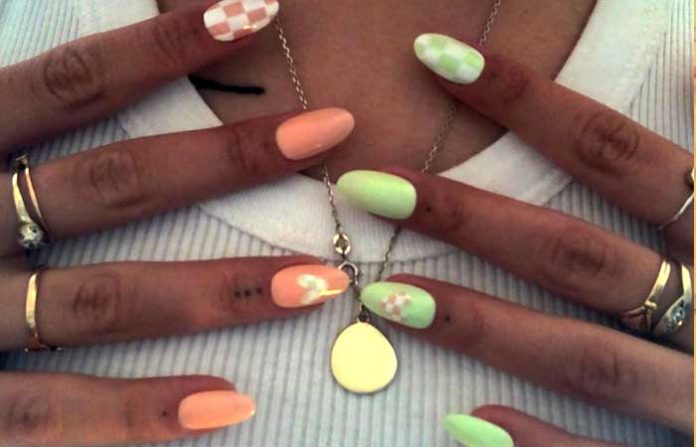 We hope you love the products we recommend! Just so you know, Trendy Mami may collect a share of sales or other compensation from the links on this page.
Spring is almost here, and that means sunny weather, fresh-cut flowers, and most importantly, spring fashion! And although you may be shopping for new spring dresses and tops (and should check out Berrylook and Spanx for some of our favorites), it's important to not forget about your nails. A DIY manicure is the best way to refresh your spring look while also showing off your creative or artistic side.
From pastel colors to floral decals and ombre patterns, there are plenty of spring manicure styles that are on trend this season. Treat yourself to an at-home nail salon and try one of the following spring nail trends!
Spring Nails with Flower Decals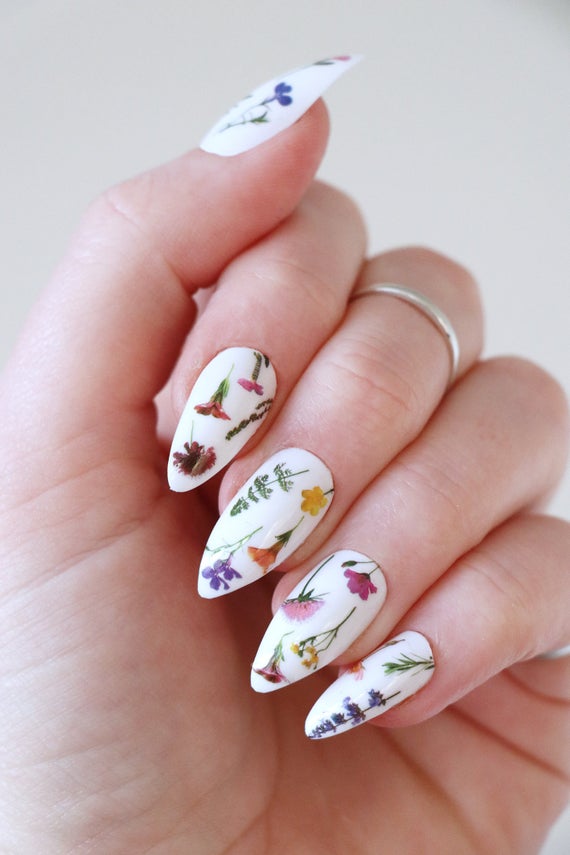 Flower decals are one of the easiest ways to transform your nails into works of art! If you want to give your nails some more spunk for the spring season, then check out these flower petal nail decals. After you paint your nails, all you have to do is press on a few of these decals and cover with a topcoat. The decals are encapsulated in acrylic and gels, which means they'll last for several weeks (or for as long as your polish usually lasts). If you're looking for a blouse or dress to compliment your flower decals, check out Revolve, which carries the best of both!
2. Pastel Spring Nails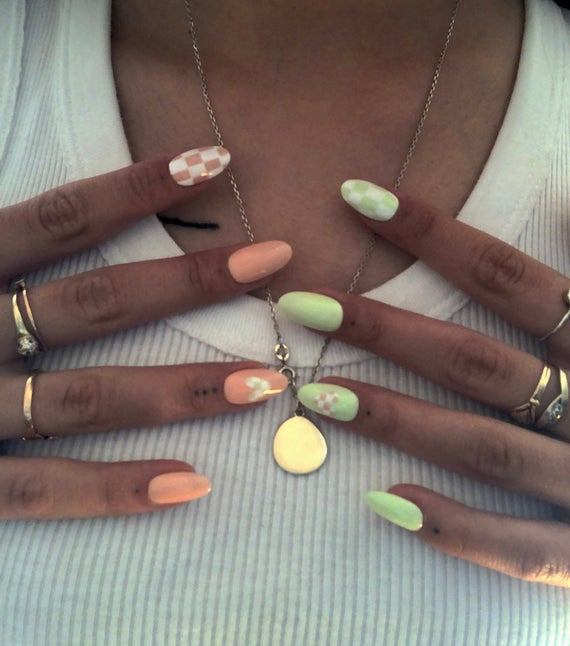 Nothing says spring nails more than soft pastel colors. If you're in the mood for something fun and less in the mood to paint, these press on from Etsy are playful and cute. If you prefer to paint them yourself and you want a twist, instead of painting your entire nail one solid color, consider this playful spin on the classic French manicure look. First, pick out your favorite pastel color (we love OPI's Another Raman-tic Evening and Let me Bayou a Drink) and a matching color for the tip. Although white tips work well with most pastel colors, you can also opt for something more unique or show-stopping like a neon green or vibrant orange!
Looking for dresses, shoes, or other clothes that will go great with your new nails? Take a look at Charlotte Russe for great prices on cute styles!
3. Ombre Spring Nails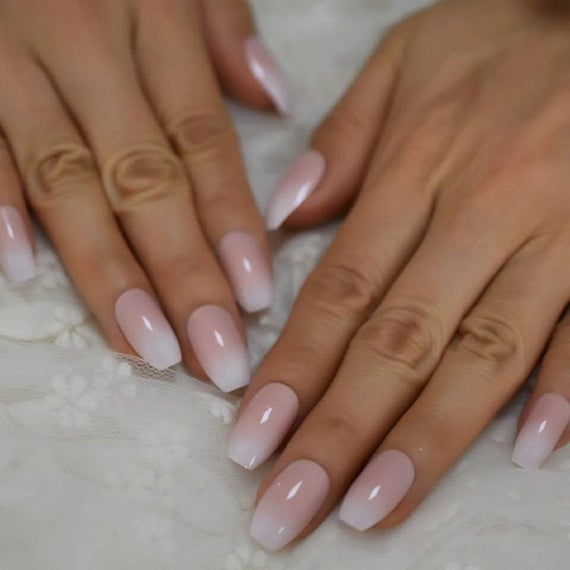 Ombre is forecasted to be one of the biggest trends this season, so why not apply this fun style to your nails too? While ombre nails might seem difficult to master at first, it's surprisingly easy to do from the comfort of your home. If you're not in the mood for DIYs, these press ons from Etsy are a breeze to apply and have amazing ratings. If you prefer to do it yourself, all you need is three shades of the same color palette and a makeup sponge, you can have cute spring nails that look professionally done.
Essentially, you'll need to brush the three different colors in straight lines onto the sponge. Then, you'll blot the colors directly onto your nail to transfer the colors. A little touching up and a brush of topcoat and viola – adorable ombre spring nails.
4. Fruity Nails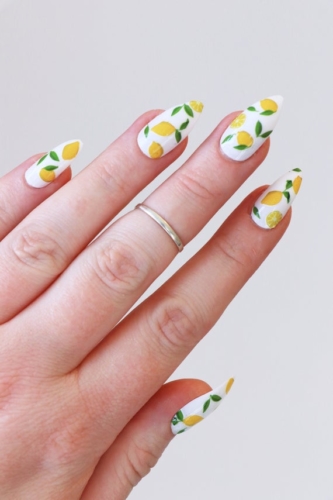 Warm weather is just around the corner, and that means outdoor picnics, BBQ parties, and of course, wedding season! Why not make it more fun with some colorful fun fruits on one or all nails?. You can paint your nails white or neutral, and add these fun lemon nails tattoos from Etsy, you'll feel a good a positive energy right away!
5. Marbled Spring Nails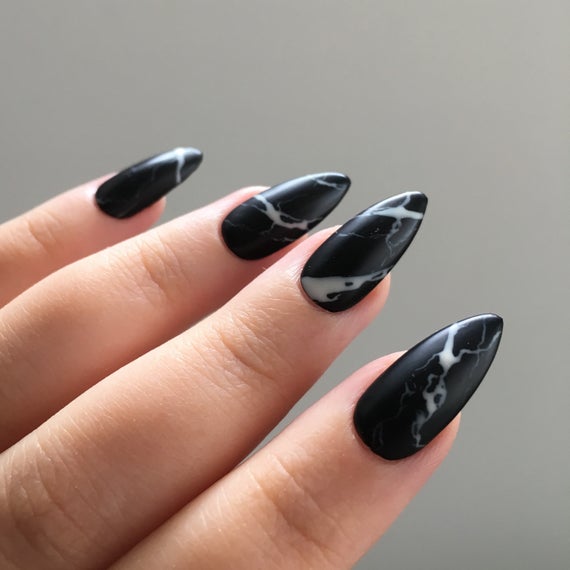 The marbled trend is everywhere – iPhone covers, bathroom trays, wall art, and even nails! Giving yourself cute spring nails with a marbled swirl adds a touch of elegance and sophistication to your look, which is great for date night, special occasions, or simply an evening out with friends. These press ons from Etsy do the job in a second. If you prefer to DIY, with some patience, you'll get the hang of it in no time.
First, paint your nail a base color. We prefer something lighter and pastel for spring. Then take plastic wrap and scrunch it up into a ball. Dab the wrap into a bit of base color and a lighter accent color (for the cracks in the marble) and press it onto your nail. Once that has dried, you can take a small paintbrush and add squiggly lines for a more marbled texture.
If you have gold or metallic nail polish, then this is a great accent to add to your marbled spring nails. That slight shimmer streak is the final touch to give your cute spring nails that extra pizazz!
Fashion is all about the small details, which is why a spring-inspired manicure is one of our go-to looks for this season. If you're feeling extra creative, then we recommend you try our easy (and delicious) edible nail polish tutorial. It's free from any harsh or toxic chemicals, so it's great to use with your little ones too!