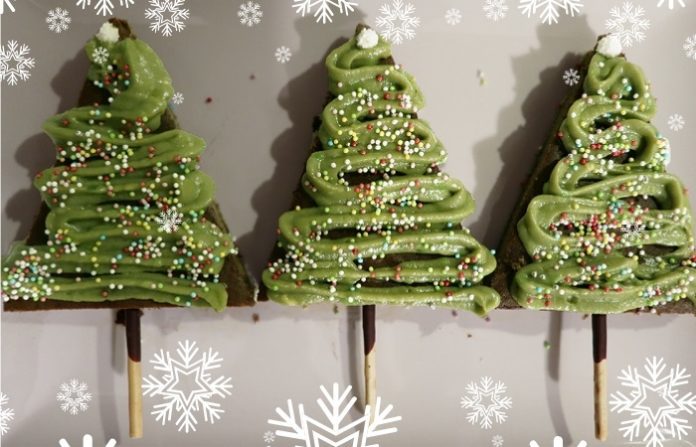 If there are two foods that most of us don't associate with dessert, it's zucchini and avocado. But you know what? The more I experiment with both of these, the more they are becoming some of my absolute favorites!
Aside from all of the health benefits that avocados and zucchinis both provide, whenever I add them to a sweet recipe, they both create a super-moist and creamy texture that truly is incomparable.
That's why, my Christmas gift to you, is a zucchini cake recipe; one that has healthy avocado frosting!
What's truly adorable about this cake is that it will end up looking as good as it tastes.
Are you ready to delight your guests with your own handmade edible Christmas trees?
Ingredients for Zucchini Cake: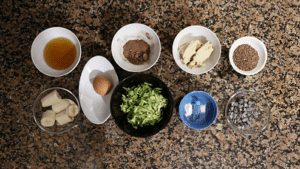 210 gm (3/4 cup) of shredded zucchini
40 gm (1/4 cup) of ground flaxseed
30 gm (3 tablespoons) of unsweetened cocoa powder
5 gm (1/2 teaspoon) of baking soda
3 gm (1/2 teaspoon) of kosher or sea salt
1 ½ very ripe medium-large banana (chopped into 4-5 pieces)
1 large egg
1 egg white
100-120 gm (1/2 cup) of honey
190 gm (1 cup) of almond butter
1 ½ teaspoon vanilla extract
60 gm (1/2 cup) of chocolate chips
Step One: First, I preset my oven for 350 degrees. That way, once I put my cake in, it should take no more than 30 minutes to bake.
Step Two: Then I take about three zucchinis, wash, peel and either with a food processor or grater (although a grater takes a lot longer), shred them. Then I squeeze the excess water out of the shredded zucchini and put it into a medium-size mixing bowl. (I also immediately wash out the food processor because I'm going to need it again in just a sec.)
Step Three: Next, I put the flaxseed into my food processor and turn it on until the flaxseed is finely-ground (maybe 45 seconds or so).
Step Four: I add cocoa powder, baking soda and salt and turn my food processor again for about 10-15 seconds.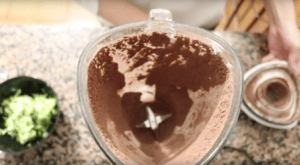 Step Five: Now it's time to combine the banana pieces and egg. Turn the food processor on again until everything is evenly blended (give it around two minutes or so).
Step Six: I pour in the honey and blend again for around 30 seconds.
Step Seven: I now put in my almond butter and blend again (for around a minute this time).
Step Eight: Finally, it's time to add the zucchini into the food processor. I use a whisk to make sure it mixes in with everything.
Step Nine: Next, I add the vanilla extract and turn my food processor back on. To be on the safe side, I let it run for about three minutes, just so everything is nice and smooth.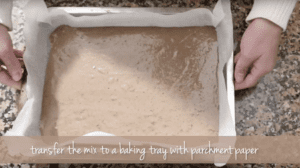 Step Ten: Based on the size (and kind of) pan that I want to use to bake my cake in, I line it with parchment paper and put it into the oven. (If you opt to use a 9X9 aluminum square cake pan, it should take around 30 minutes for it to bake.)
Step Eleven: I check to make sure the cake is fully baked by putting a toothpick inside of it. If it comes out clean, I take my cake out and allow it to cool while I work on my homemade icing.
Ingredients for Avocado Icing:
1 medium ripe avocado (thinly sliced)
2 tablespoons of powdered sugar
2 teaspoons of lemon juice
1/2 of teaspoon vanilla
Your choice of mikado/chocolate sticks/candy canes/wooden sticks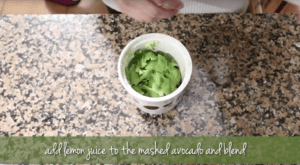 Step One: With my hand masher or hand blender, I mash up the avocados until it's a puree paste.
Step Two: I slowly start to add in the powder sugar. Just so I can make sure it doesn't create any lumps, I pour in a little, mix it with my whisk and then pour in some more. (Then more you stir, the more the combo should have a pudding-like texture.)
Step Three: Now I take my cake and, with a very sharp knife, I slice diagonally from left-to-right and then from right-to-left. I do this so that I'll have medium-sized triangles to take out and decorate.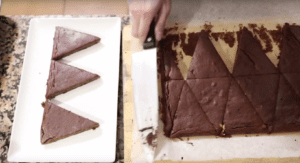 Step Four: I take out three triangle slices and place them on a presentation dish.
Step Five: I then take three chocolate sticks and stick one through the bottom/base of each triangle.
Step Six: I put the icing/frosting that I just made into one of my icing bottles (you can use different nozzle attachments to create your own masterpiece).
Step Seven: I test the bottle by squeezing a little of the icing on a paper towel (just to make sure everything is coming out smoothly) and then I decorate each triangle—which if everything is going right, looks more and more like a Christmas tree—by applying the icing in a zig-zag design.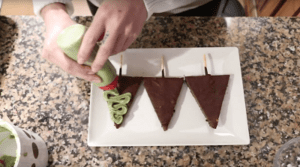 Step Eight: Finally, I add some candy sprinkles to my "trees" and a small piece of candy at the top to be my "tree angel". And I have ended up with some of the cutest and most delicious lil' Christmas trees you have ever seen! (So will you!)
Looking to make a pie instead? Try out our yummy pumpkin pie recipe this Holiday Season!
Or perhaps just want a few more mouthwatering dessert recipes? We have a few you can choose from, how about some pumpkin bread or even pumpkin almond cake!
Happy Holidays, Everyone!