We hope you love the products we recommend! Just so you know, Trendy Mami may collect a share of sales or other compensation from the links on this page.
We all know what it's like having to cook for the family after a long, tiring day of being run off your feet with work and the kids. #MomLife, are we right?! Therefore, to make it easier for you to enjoy a home cooked meal with the family, we've got a couple of freezer meal recipes for the busy mom! So, you can cook ahead of time, freeze and then zap in the microwave or throw into the oven and dig in! These freezer friendly meal ideas are versatile and reheat just like new, so enjoy these delicious freezer friendly meals!
Just before we get into it, we recommend to get ready to meal prep by getting your groceries from Thrive Market. If, you are looking for meats, try Butcher Box, Omaha Steak or Mr. Steak, they have a variety of meats to choose from! And fish from Wild Alaskan Company! They all even deliver right to your door! Oh and use PROMO CODE: TRENDY15 at checkout for $15 off your Wild Alaskan Box!
Too busy to make your own juices? Try out Pressed Juicery. They offer tons of juices that are great for cleansing and nutrition. Oh, be sure to use CODE: ROOTS-TM-10.
2 Freezer Meal Recipes for the Busy Mom
1. Mini Pot Pie Biscuits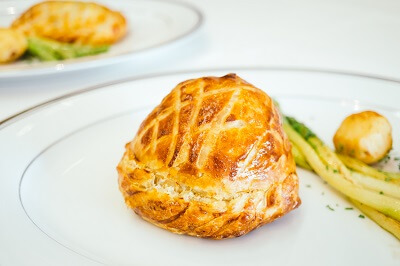 Serves 12
What You'll Need
Chicken Filling:
2 tbsp butter
1/2 cup yellow onion, diced
1 celery rib, diced
1 cup carrots, diced
1 garlic clove, minced
1 tsp salt
1/4 tsp black pepper
1 cup frozen peas
2 cups shredded chicken
1 cup milk
1/4 cup all-purpose flour
1/2 cup chicken broth

Biscuits:
Need some kitchen cookware or tools? Sur La Table is a great place to get high quality kitchen appliances.
Instructions
For Filling:
First, preheat your oven to 400°F.
Melt the butter in a large skillet, over medium-high heat. Add the chopped onions, carrots, and celery. Saute veggies for a few minutes, stirring frequently, until the onion is translucent.
Make a well in the center of the veggies and add minced garlic, salt, and pepper. Saute for another minute. Add the chicken and peas to the skillet.
Then, sprinkle the flour (just for the chicken filling) over the chicken and veggies, making sure the filling is evenly coated. Stir in the broth and milk. Bring to a boil, then bring down to a simmer. Simmer for 5 minutes, until you can see that the filling is thick. Set aside.
For Biscuit:
First, grease a muffin tin and set aside.
In a large bowl, whisk the flour, salt, and baking powder. Using your hands, crumble the butter into the flour mixture slowly.
Next, pour the milk into the flour mixture, stirring just until combined. Using your hands, knead the dough gently and form into a ball.
Sprinkle a surface with a small amount of flour. Roll the dough on this and form into a long rectangle. Be careful not to spread the dough too thin!
Finally, using a large biscuit cutter or a knife, cut out individual biscuits, then place each biscuit in the greased muffin tin. Be sure to press the biscuit down and pull the sides of the biscuits to cover the sides of the muffin tin.
To Assemble:
Fill each biscuit with approx. 1 tablespoon (or more) of chicken filling. This will vary, depending on the size of your muffin tin.
Bake for 12-15 minutes, until the biscuits are gold and crispy on the edges.
Wait to cool, then store in freezer bags or freezer friendly containers and reheat when needed.
If you're trying to take the night off from cooking dinner or prepping lunch, Grub Hub is a great route to go! Enjoy all the other fun Easter activities and leave the cooking to your local restaurants! 
Use PROMO CODE: GRUBFREE for Free Delivery on Orders $15+

2. Cheesy Lasagna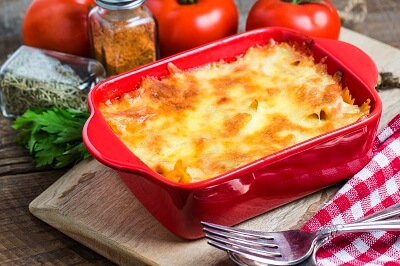 Serves 12
What You'll Need
Lasagna:
2 cups beef (minced)
4 cups shredded mozzarella cheese
3 cups of your favorite tomato spaghetti sauce
Homemade White Sauce:
What To Do
For White Sauce:
In a medium saucepan, over medium heat, melt the butter. Whisk in the flour and stir until well combined, for about 2 minutes.
Gradually whisk in the milk, stirring until smooth.
Simmer until thickened, for about 8 minutes, stirring.
Set aside.
For Lasagna:
First, grease a 9×13-inch pan. In a large skillet, brown your ground beef and then add the spaghetti sauce and set aside.
Next, spread half of your meat sauce in the bottom of the 9×13-inch pan. Sprinkle 2 cups of cheese over the meat sauce.
Then, place 4 lasagna sheets down across the cheese.
Pour your white sauce (that we set aside) over the lasagna sheets. Top with the remaining four lasagna sheets.
Spread the remaining meat sauce over the lasagna sheets. Top with the cheese that's leftover.
Lastly, wrap the pan with foil and chill completely before freezing. This dish can be frozen for up to 3 months in a regular freezer, how great is that!
To Serve:
Thaw completely in the fridge. Then, bake in a preheated 400°F oven for 30 minutes. Lastly, allow to cool for 10 minutes before serving.
In conclusion, we hope you enjoyed these 2 delicious freezer friendly meal recipes for busy moms!
Looking for more freezer friendly meal ideas? Check out these homemade soup recipes that would freeze perfectly! Or, try these dumplings that would also make a great meal!
Looking for great places to shop for food, check out these awesome programs that will making shopping for necessities easy!