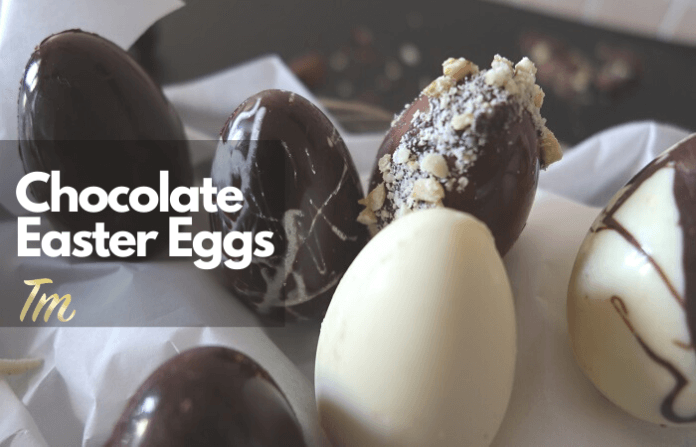 We hope you love the products we recommend! Just so you know, Trendy Mami may collect a share of sales or other compensation from the links on this page.
Fill these beautiful, edible chocolate Easter eggs with toys, lollies, love notes, or anything else you can think of! A homemade hollow chocolate egg makes for a wonderful and thoughtful Easter gift. These eggs are so easy to make at home and you need very little ingredients and materials. Keep reading to see how you can make your very own homemade chocolate Easter eggs!
If you've been looking for high quality cookware, Sur La Table is the place for you. Their kitchen and cooking tools are great additions to the kitchen and their expansive options are a plus as well!
Crack open a bottle of wine from Martha Stewart Wine Co. or Winc. and get your chocolate making on! We all know wine pairs great with chocolate! Or even get a few things from Saucey (in under 30 minutes) and pair with your chocolate recipe! a We hope you enjoy this recipe!
Chocolate Easter Egg Recipe
Need some groceries or ingredients? Order through Postmates and get it delivered to you!
Ingredients:
Your favorite chocolate (300g of chocolate makes about 2 eggs, depending on the size of the mold)
Big bowl
Instructions:
Melt your chocolate to 44°- 46°C/113°F over a bain-marie or you can use a insert like this.
Add extra chocolate and swirl and spread your chocolate around a little bit to bring the temperature down to 29°- 30°C/78°F. 30°C is the perfect temperature to pour the chocolate into the molds.
Start pouring your chocolate into your
Flip the molds upside down for 5-10 minutes to let the excess chocolate drip back down into the bowl.
Then flip it up again to let the remaining drops go into the center then back upside down.
Place in the fridge to set for 10 minutes.
Remove any uneven edges around the egg mold before continuing with a second layer of chocolate, following the same steps. Make sure your second layer of chocolate is still at 29°- 30°C/78°F.
When fully solidified and set, remove from the mold, take a warm pan upside down and use it to heat the edges of one side of the egg and unite with the other half left on the mold. There you have it, your very own homemade Easter egg!
Enjoy!
If you're trying to do other activities like make dessert while taking a break from cooking dinner and lunch everyday, Grub Hub is a great route to go! Enjoy all the other fun Easter activities and leave the cooking to your local restaurants! 
Use PROMO CODE: GRUBFREE for Free Delivery on Orders $15+
Other Creative Ideas To Try With The Family!
1. Splashed Version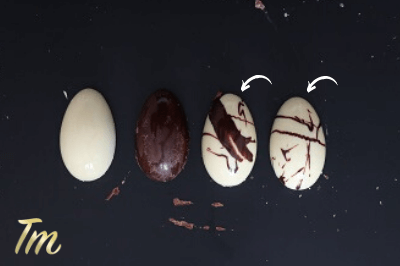 With a knife or a spoon, dip into the chocolate, and then swing back and forth onto the egg mold to create splashes of chocolate. Let it cool in the fridge for 10 minutes and then add the first layer of chocolate. Keep in the fridge for 10 minutes and then add the second layer, exactly like we did with our first egg. Unite both sides as displayed in the video tutorial.
2. Hazelnut Egg
Add the first layer of melted chocolate to the egg mold and cool for 10 minutes in the fridge. Add the second layer and place it in the fridge again for 10 minutes. Unite both sides and then with a cooking brush, add more chocolate on the surface of the chocolate and let the egg roll into a bowl of chopped hazelnuts. Voila!
If you have whole hazelnuts, this handy gadget is great for chopping nuts as it doesn't strain your hands and will save you from a mess.
Important Notes: 
If the chocolate eggs don't drop off the egg mold, they probably haven't solidified yet, so keep your chocolate in the fridge for an additional 5-10 minutes to solidify your chocolate completely.
Use gloves to manage the chocolate eggs, this way you won't leave any finger prints whilst working on it.
We hope you enjoyed our article on how to make your very own homemade chocolate Easter eggs!
Stuck with ideas on what you and the family can do to celebrate Easter at home this year? Here are fun Easter activities for the whole family to enjoy at home.
Check out how you can create these cute Easter themed deviled eggs.