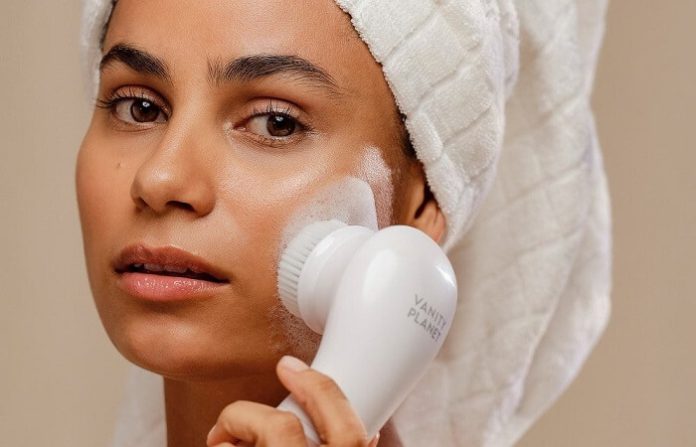 We hope you love the products we recommend! Just so you know, Trendy Mami may collect a share of sales or other compensation from the links on this page.
Let's face it – we all want healthy, glowing skin that looks youthful and luminous even as we age. While makeup and moisturizers certainly help us obtain that flawless look, your cleansing routine also plays a big part in keeping your skin at its best. That's why finding the right facial cleansing brush is crucial to a great long-term skincare routine. While using your hands is okay, a face wash brush will work wonders on your skin!
From silicone brushes to electronic massagers, there are numerous models and types of facial cleansers on the market. We've chosen five of our favorites that are guaranteed to leave your skin feeling fresh and healthy for years to come.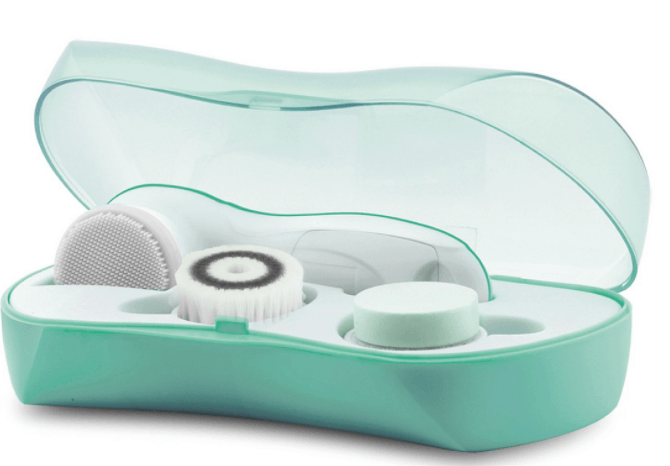 If you're looking for a cleaner brush that won't break the bank, consider the Electric Facial Cleansing Brush by TOUCHBeauty. This all-inclusive cleansing kit comes with three interchangeable brushes! Additionally, you will find a compact carrying travel case so you can take it with you wherever you go.
The clearing brush is ideal for those with oily skin, as it provides a deep clean that can scrub away impurities and prevent acne. The silicone brush is a little softer, so it's better suited for people with sensitive skin. And once a week, we recommend swapping to the refreshing brush, which is great for exfoliating blackheads to brighten your glowing skin.
This face wash brush is one of the more affordable options on this list. Although, keep in mind that you'll still need to replace the brush heads every three months. But with the ability to clean 6x times more effectively than your hands, it's still one of our top choices to keep your skin young and vibrant!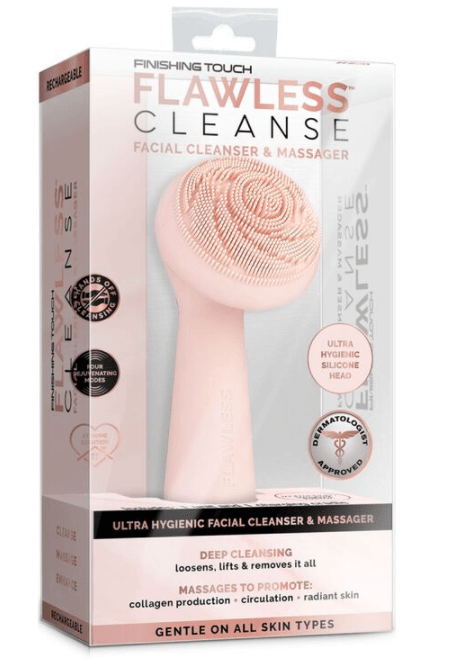 Made with thousands of ultra-soft silicone "fingers," Idea Village's Flawless Cleanse Facial Brush is the perfect option for people with normal to dry skin.
Unlike other brushes that rotate and spin, this cleansing brush uses sonic vibrations to remove dirt and makeup. This vibration also helps to stimulate collagen production and increase circulation for healthier skin.
The brush features four different vibration speeds – low, pulsating, massage, and massage & cleanse. Whether you're looking for a gentle scrub or a relaxing exfoliating massage, this brush can be customized to the exact needs of your skin.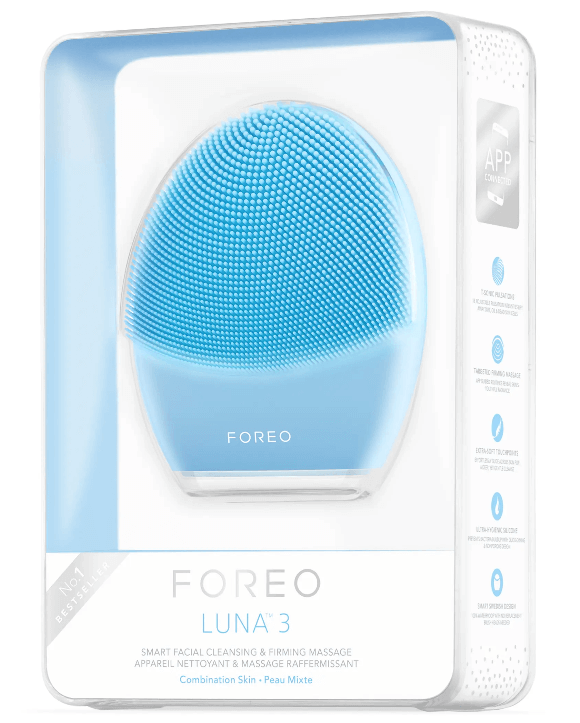 You can't talk about facial brushes without mention the incredibly popular LUNA series. As one of the biggest names in the beauty industry, LUNA has created a line of high-tech cleansing brushes. While they produce different brushes for different skin types, we love the newest LUNA 3. This model is ideal for people with a combination of oily, dry, and sensitive skin types.
Using T-sonic vibrations, the LUNA 3 cleans surface-level skin cells. Also, it uses pulsations to loosen and lift oil and dirt. You can use it with your regular facial cleanser, or you can simply wet it with water. Use this massaging anti-aging mode to diminish fine lines and wrinkles.
The brush can be easily charged with a USB cord. One overnight charge lasts for over 650 uses. Best of all, that means you can go almost two years without worrying about it losing power. It may not be the most affordable facial cleansing brush on this list, but as we like to say, you can't put a price on beauty!
With the water-resistant Raedia Facial Cleansing Brush, you can enjoy a luxurious spa-like treatment right from the comfort of your home. It's great at removing makeup, scrubbing off dead skin cells, and washing away that hard-to-see dirt and oil that sits below the surface of your skin. As a result, your skin is purified and smooth, so it can easily absorb moisturizer or hydrating masks.
This brush comes with three different types of heads that can be changed depending on your skin type. The cleansing brush is suitable for everyday use. In addition, the silicone brush is gentler and better for sensitive skin. Then, the exfoliating brush provides a deep clean for those times when your skin feels extra dirty.
In addition to the interchangeable brushes, the brush also features two cleansing speeds. People with normal to oily skin can use the higher speed to deeply penetrate dirt. On the other hand, those with sensitive skin will appreciate the slower speed.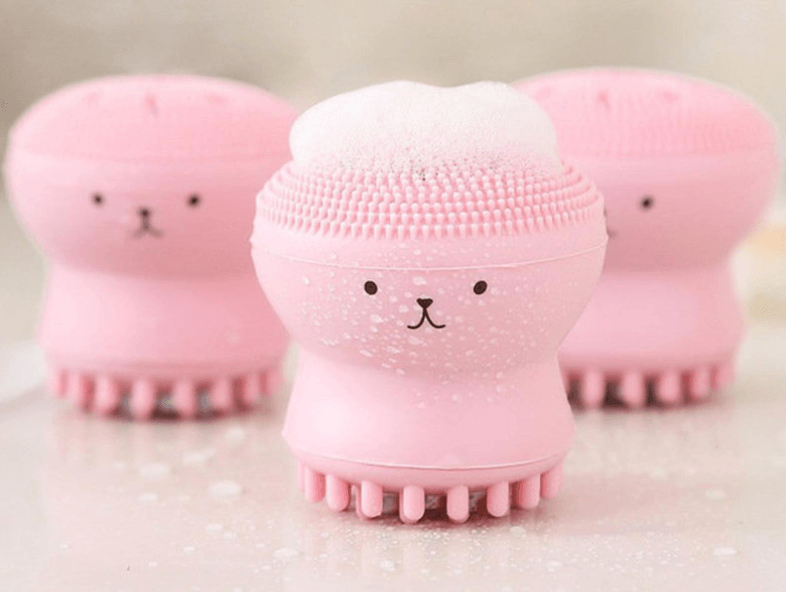 This handheld face wash brush is just as adorable as it is effective at removing dead skin! At just 5 inches tall, this pint-sized brush can easily scrub below your skin's surface to remove makeup, dirt, oil, and other debris that has accumulated over the day. This helps to prep your skin for moisturizer. Most importantly, it will help to unclog any pores that could potentially lead to unsightly breakouts or blackheads.
This brush is a great alternative to the expensive electric cleansers on this list. It provides a deeper clean compared to your hands or a towel while also allowing you to control the pressure and speed of your cleanse.
Naturally healthy skin isn't just a myth. Finding the right facial cleansing brush is important if you're looking to achieve that youthful glow while also freeing your skin of pore-clogging dirt and debris. Pair your new brush with great skincare products like a homemade exfoliant, and we guarantee you'll be happy with the results!