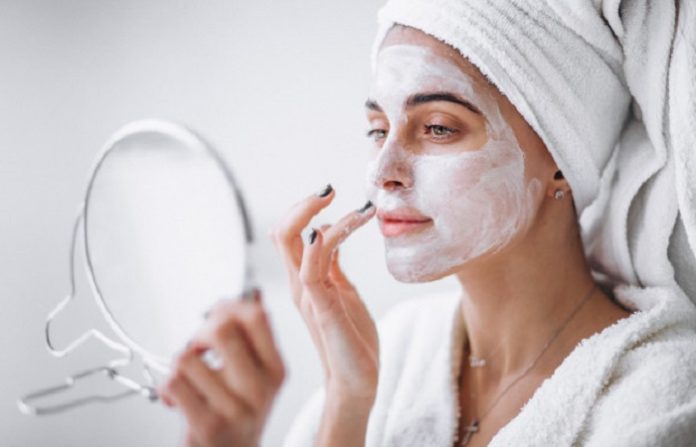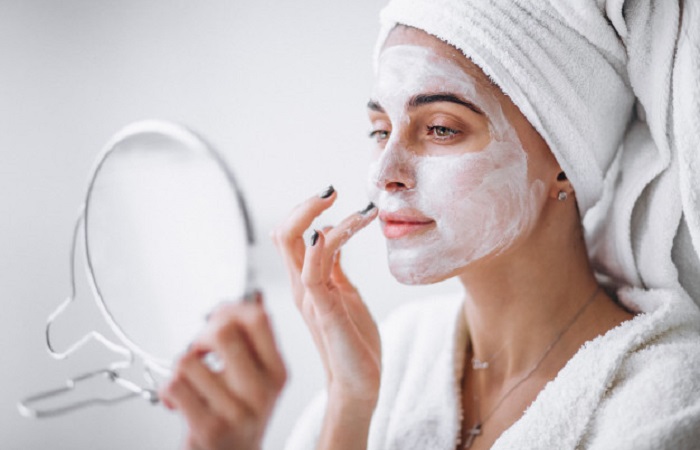 We hope you love the products we recommend! Just so you know, Trendy Mami may collect a share of sales or other compensation from the links on this page.
If you're a woman over 40—congrats! If you take even a moment to think about all of the wisdom, knowledge and experience that you've acquired up to this point, you'll get why this season in your life is truly worth celebrating. You can celebrate with in a little help from us on great ways to pamper your skin!
Of course, with maturity comes a shift in our hormones, our bodies and—yes, ladies—to a certain degree, even our appearance. But by no means does that have to be a "bad" thing or something to shy away from. Some of the most beautiful—and confident and thriving—women in the world are in their 40s (think Gabrielle Union; think Heidi Klum; think Tyra Banks; think Brooke Burke and whew, think Jennifer Lopez and she's almost 50!). But what falling into this demographic does mean is it's important to be "intentionally proactive" about your health and well-being; including your beauty regimen.
Not in your 40s, what about 30s? Check out our skin routine for women in their 30s!
Okay so time to tell you what you need for your skin care routine!
And just what does a woman over 40 need when it comes to keeping her skin in great shape? We're so happy that you asked.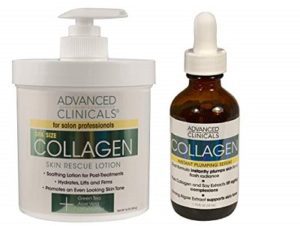 Collagen
When we're younger, something that our body produces plenty of is the protein known as collagen. As we age, we produce less and that can lead to less skin elasticity. When that happens, we can end up with wrinkles, sags and skin that is less than glowing.  
One thing that can be done to combat this is to eat foods that have lots of collagen in it. Some that top the list include berries, bone broth, garlic, leafy greens, eggs and citrus fruit. You can also take a collagen supplement. Or, if you'd like to apply a little collagen from the outside in, try Advanced Clinicals collagen lotion and serum (it's a two-piece set). It is great for all skin types and immediately provides a youthful appearance.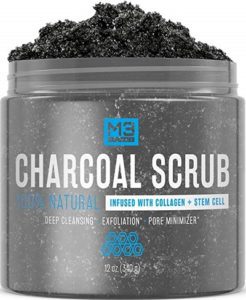 Exfoliant
Speaking of glowing, something that prevents everyone's skin, regardless of their age, from appearing fresh and youthful are dead skin cells. We literally shed millions of them a day which is why it's so important to exfoliate.
You can do this by making your own sugar scrub or even washing with some sulfur soap. Or, you can try a popular exfoliant brand like M3 Naturals Activated Charcoal Scrub. The charcoal is a powerful detoxifier while the stem cell that it contains will rejuvenate you from head to toe.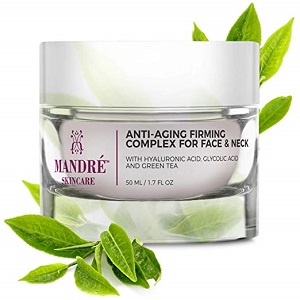 Neck Cream
Hands down, as far as the top five list of most overlooked body parts goes, the neck is definitely on it. Here's the thing, though—no matter how young your face may look, if your neck has a lot of sagging skin or age spots, you're still going to appear older than you would probably like.
The collagen that we talked about earlier can help. So can exercise, taking some Vitamin C (due to all of the antioxidants that are in it) and applying a thick neck cream. One that immediately comes to mind is Mandré Skincare Anti-Aging Firming Complex Face & Neck Cream. It has everything from hyaluronic acid and glycolic acid to Vitamin C and green tea—all of which firm, tone and strengthen the skin on both your face and neck.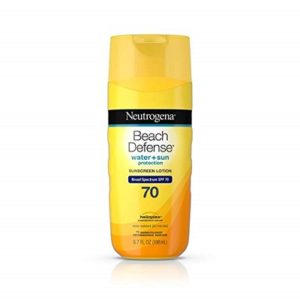 There's no doubt about it. One of the main reasons why so many people end up with older looking skin, way before they should, is because of all of the damage UV rays have caused over the years. In part, due to laying out in the sun. The other reason is due to not wearing enough sunscreen.
Although the less melanin you have, the more potent of a sunscreen you need, sunscreen is something that all skin tones and types should apply. There was an article that recently came out stating that sunscreen is able to enter into your bloodstream in as quickly as a day (many health professionals say that it poses no risk, by the way). If the thought of that bothers you, you can always make your own sunscreen. Or, you can try Neutrogena Beach Defense Water Resistant Sunscreen Body Lotion with Broad Spectrum SPF 70. It's affordable and an Amazon best-seller.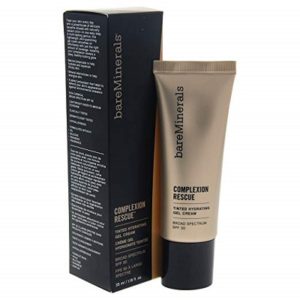 Tinted Moisturizer
There's not one day that should go by when you don't apply some sort of moisturizer on your skin. It's what keeps your skin hydrated, shields it from environmental damage, helps to heal any skin conditions that you may have (such as eczema or psoriasis) and, of course, it helps to slow down the aging process.
A really great way to pamper your skin is to apply some sweet almond or avocado oil to it (especially at night). Something that works during the day? A tinted moisturizer. The reason why we're so fond of those is because heavy foundations have a tendency to cake up, making you look even older. But a tinted moisturizer provides just enough color to naturally hide minor imperfections while still giving your skin all of the moisture that it needs. A fan favorite is bareMinerals Complexion Rescue Tinted Hydrating Gel Cream SPF 30. It's light, it shields against UV rays and it softens age spots and imperfections too.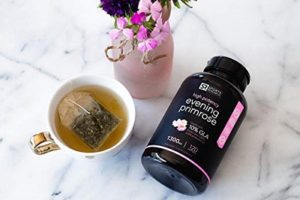 A supplement that every woman on the planet should take is evening primrose oil. For starters, it has a truly uncanny way of reducing PMS and menopausal symptoms including breakouts, breast discomfort cramping and hot flashes. That's not all. There are anti-inflammatory properties in the oil that relieves eczema and GLA-rich EPO ingredients that will increase your skin's elasticity while keeping it firm too (especially if you take 3-5 500 ml each week).
Copper isn't a nutrient that's brought up in everyday conversation; that doesn't make it any less relevant, though. Since copper helps to make healthy red blood cells, of course, it's essential. As far as your skin goes, copper contains powerful antioxidants. It's also what assists with maintaining collagen and elastin. As a bonus, if you've been noticing any premature greying lurking around, adding some copper to your health regimen can help to reduce that too.
Foods that contain a good amount of copper in them are nuts, seeds, dark leafy greens, shiitake mushrooms and (yay!) dark chocolate. A multi-vitamin typically contains copper too, if you're prefer to get your daily intake that way.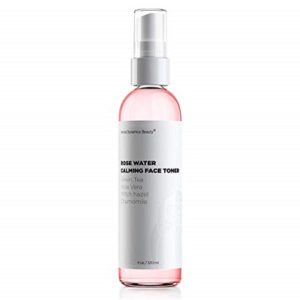 Again, skin needs lots of moisture. Aside from applying a moisturizer, something that can give you that youthful dewy look that is so fresh and beautiful are face mists. They are nourishing, portable and affordable. 
Everyone should get no less than 6-8 hours of sleep; this is especially the case if you are looking for a way to keep your skin in great condition (hey, they don't call it "beauty sleep" for nothing!). If you need some help catching a few more z-z-z's, applying some lavender oil to your bedding and the soles of your feet (the oil will get into your system faster that way) will help. Something else that is highly-recommended is taking a magnesium, calcium and zinc supplement. The combination, working together, is a muscle and nerve relaxer that can give you some of the best rest that you've had in a while. Your 40s (and beyond) will thank you for adding it to your diet. We guarantee it!
In your 30s and want to start early, take care of your skin in these following ways!
Whether your in your 30s or your 40s, Allure Beauty Box is a great way to go! They send you monthly boxes with the best high quality products you can imagine! Go check them out! I would personally recommend them.
If you don't see the product that best fits your needs up above, give Grove Collaborative a look! They have a whole section for Skin Care! The skin care section includes products ranging from top of the facial cleansers, to detox scrubs to over beauty and even a few great selections for suncare like this one! Let's be real, what else could you ask for!