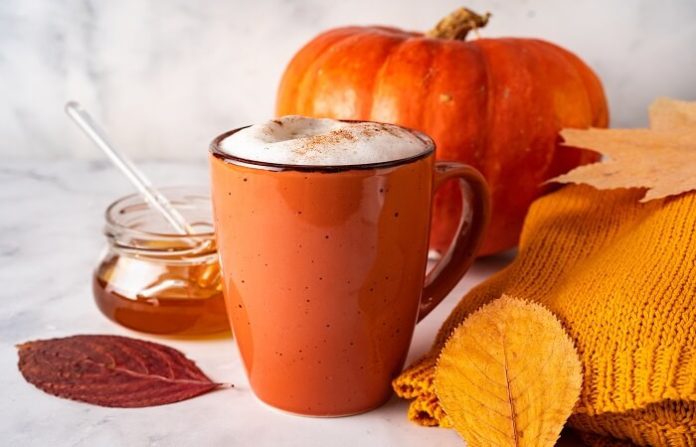 We hope you love the products we recommend! Just so you know, Trendy Mami may collect a share of sales or other compensation from the links on this page.
Now that the weather is cooler and the leaves have changed color, you may already be enjoying pumpkin spice lattes. However, if you're spending a fortune at your local Starbucks for that delicious festive latte, stop right now! Because we have a tasty pumpkin spice latte recipe that is just as mouth-watering as your local barista whips up. You'll be surprised you made it in your very own kitchen it tastes that good. We also have a healthy pumpkin spice latte recipe if you're calorie conscious, and a vegan pumpkin spice latte recipe if you're ethically conscious.
If you're a sucker for fall like us, and nothing beats chilly mornings, sunny afternoons, cozy food, and the return of good TV shows, then you will love this homemade pumpkin spice latte recipe! It's a perfect pinch of pumpkin before diving into pumpkin pie later in the season!
Let's welcome in the fall season with open arms with these homemade takes on pumpkin spice lattes. We have an original recipe, a healthier recipe and a vegan recipe for you!
Pumpkin Spice Latte Recipe
Ingredients:
Optional for a spiked pumpkin spice latte:

Instructions:
In a saucepan, add your brewed coffee, milk, pumpkin puree, pumpkin pie spice, and sugar (and liquor if desired).
Stir until well combined and bring these ingredients to a simmer.
Take the saucepan off the heat and pour into your desired mug.
Decorate with whipped cream, sprinkles of pumpkin pie spice, and cinnamon if you wish. Enjoy!
You can even make your own whipped cream and dish it out in a whipped cream dispenser from Zabba.
Healthy Pumpkin Spice Latte Recipe
Ingredients:
Instructions:
Add your milk and pumpkin puree to a small pot.
Heat over medium-low heat, stirring constantly with a whisk, until the mixture begins to simmer.
Add in your liquid stevia and cinnamon. Whisk the mixture until it becomes frothy.
Add your freshly brewed coffee to a large mug and pour the healthy pumpkin spice mixture on top. Enjoy your healthy homemade pumpkin spice latte!
Vegan Pumpkin Spice Latte Recipe
Ingredients:
Instructions:
In a small pot over medium heat, add your maple syrup and pumpkin puree. Stir, then add the pumpkin pie spice and your non-dairy milk. Let simmer, but do not bring to a boil.
Once warm, turn off the heat and add your brewed coffee (or espresso shots) and stir.
Taste and add more maple syrup if you prefer a sweeter drink.
Pour into a mug and sprinkle a little more pumpkin pie spice mix on top if desired. Enjoy!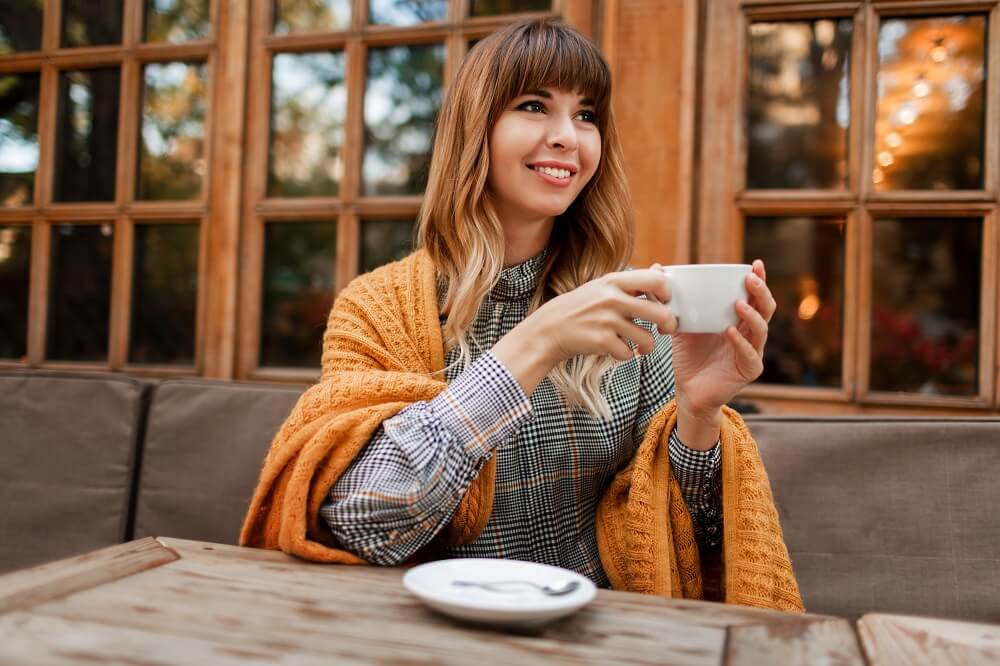 Now that the weather is getting chilly, order your ingredients via Instacart to have them delivered to your door. If you want to try the alcoholic version, you can have that delivered in no time from Saucey or Drizly. We hope you enjoyed our homemade pumpkin spice latte recipes, whether you tried the original (virgin or alcoholic), healthy or vegan recipe!
If you did try out one of these festive fall inspired recipes, you may want to check out our 12 Mouthwatering Fall Dessert Recipes for more fall inspired baking. Also, be sure to check out our 5 Fall Themed Cocktails to Die For. If the spiked pumpkin spice latte didn't cut it, these fall themed cocktails should do the trick!