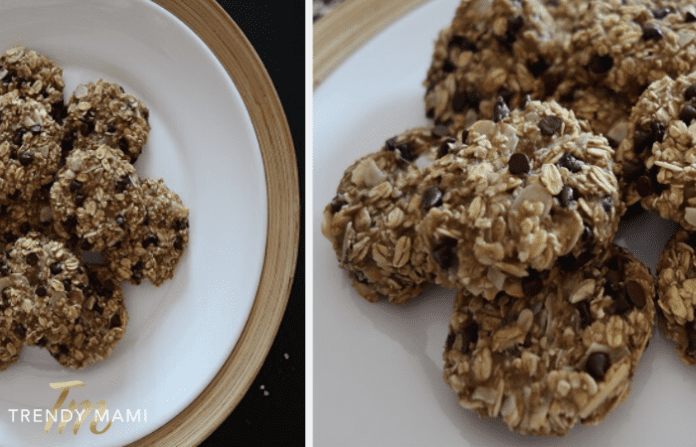 We hope you love the products we recommend! Just so you know, Trendy Mami may collect a share of sales or other compensation from the links on this page.
You may have noticed that people quarantining and isolating around the world are managing the COVID-19 pandemic by cooking up a storm and getting their hands dirty in the kitchen. If this sounds like you, and you're spending your time cooped up inside trying to learn some new baking skills and recipes to impress your family with. Then, you're going to love this vegan oatmeal cookie recipe we have for you! These oatmeal cookies are vegan, gluten free, but also chocolatey and delicious. Moreover, they're nice but taste oh so naughty, we are in love. Be sure to watch our video tutorial on our vegan oatmeal cookie recipe for an extra helping hand in the kitchen!
Want to take a break from cooking? GrubHub can deliver your favorite food, desserts or snacks from local restaurants and shops right to your door!
Use PROMO CODE: GRUBFREE for Free Delivery on Orders $15+
Or you can check out Top Chef Meals that are customizable and can be delivery to your door and ready to eat in under 3 minutes!
Vegan Oatmeal Cookie Recipe
(Makes 12 cookies)
Need ingredients? Get them at Thrive market! They carry tons of diet specific products that are great for vegans, vegetarians, or other diets. Alright, let's get to the vegan Oatmeal cookie recipe.
Looking for some vegan food delivery options? Purple Carrot is the way to go! They have an amazing selection of meals weekly! Plus a few tasty treats to add to any box!
Ingredients and Materials: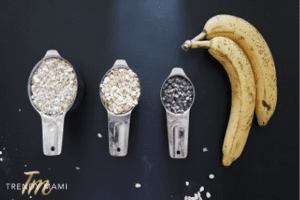 Looking to get some groceries for this recipe? Give Food Kick a look! They have a variety of products to choose from if you are on a health kick!
Instructions:
First preheat oven at 180°C/350°F
Then, mash the banana with a fork, in a large mixing bowl
Add the dry ingredients and mix together until well combined
Use a ⅛ cup measurement, or these adorable cookie dough scoops, to divide the mixture and place on the baking tray
Bake for 15 mins
Enjoy!
Note: a great alternative or twist to this vegan oatmeal cookie recipe is to add a scoop of your favorite vegan protein powder! Great for some extra flavor and helps to get your protein in.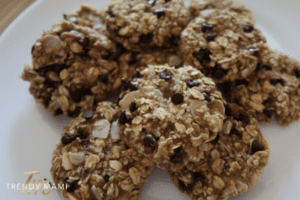 Benefits to Eating Gluten Free

Looking to change up your lifestyle and be healthier? Go on a cleanse. Pressed Juicery has great detox kits that will improve your energy and digestive health. Don't forget to use our code ROOTS-TRENDYMAMI-10 to get 10% off your purchase!
This vegan oatmeal cookie recipe is gluten free and there are a lot of benefits to eating a gluten free diet that we would like to share with you! So, if you don't know what gluten is, it's a type of protein found in wheat, rye, and barley. It is often found in most cereals, breads, and grains. The benefits to eating gluten free include:
Improves cholesterol levels
Promotes digestive health
Increases energy levels
Eliminates unhealthy and processed foods from your diet (oils, fried food, breads, and desserts to name a few)
You'll be more likely to eat fruits and vegetables because they are all gluten-free
Reduces your risk of heart disease, certain cancers, and diabetes
Helps ward off viruses and germs as many foods you will now eat will contain more antioxidants, vitamins, and minerals (3)
Promotes healthy weight-loss
Improves the health and well-being of people with irritable bowl syndrome and arthritis
It distinctly improves awareness of foods that can have an adverse effect on your health

Benefits to Eating Vegan
A vegan diet also has a multitude of health benefits. By consuming a vegan diet, you may experience benefits such as higher nutrient levels due to consuming more nutrient dense foods. In addition, studies have found that vegan diets tend to provide more fiber, antioxidants and appear to be richer in potassium, magnesium, folate, and vitamins A, C and E. So, a vegan diet may also help you to lose excess weight, lower blood sugar levels, improve kidney function, protect against certain cancers, lower your risk of heart disease and surprisingly, may even reduce pain from arthritis.
We hope you give our gluten free vegan oatmeal cookie recipe a go in your isolation haven!
Need some more healthy recipes to make to keep you occupied whilst you're in quarantine? Try this quick and healthy croquette recipe!
Looking for something vegan? Check out this Beyond Meat vs. Impossible Burger, the ultimate burger test!
Are you finding yourself with limited ingredients whilst in isolation? No fear, here's 3 strawberry dessert recipes you can whip up at home!