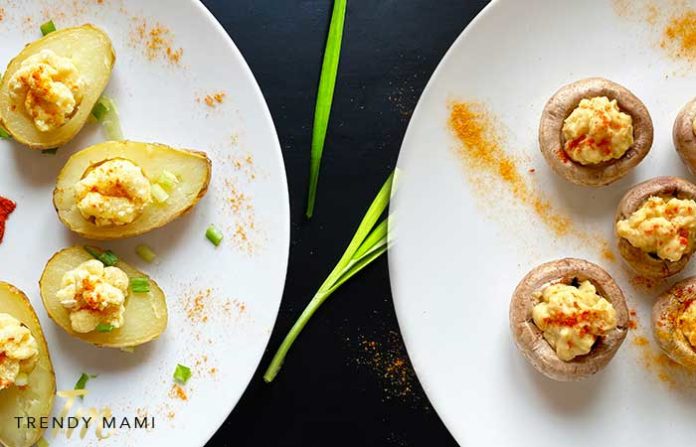 We hope you love the products we recommend! Just so you know, Trendy Mami may collect a share of sales or other compensation from the links on this page.
This Easter, please your guests with these two easy-to-make vegan deviled egg recipes using mushrooms, potatoes, and only a few other ingredients you have lying around the house!
One of the best parts of celebrating Easter is gathering with friends and family for a delicious meal. However, picking the right appetizers can be tricky, especially if you have a few vegan or keto diners coming to brunch. But don't worry, because we have two mouthwatering vegan Easter recipes that you can serve along with your main meal.
Making vegan deviled eggs is super easy. Instead of using hard-boiled eggs, these vegan Easter recipes use either potatoes or mushrooms, which means they are entirely vegan and keto-friendly.
Vegan Deviled Eggs – Deviled Potatoes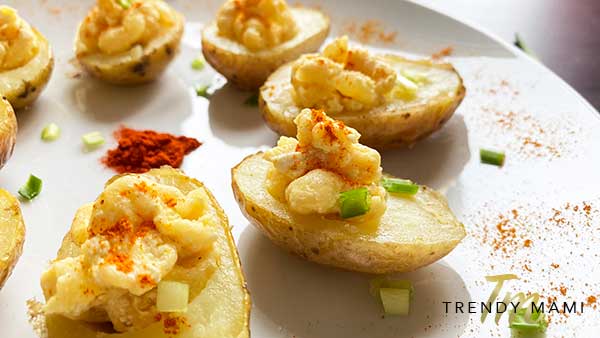 When it comes to vegan Easter recipes, deviled potatoes are a filling snack that's guaranteed to please even the pickiest of eaters at your breakfast table. Using mini golden potatoes, tofu, vegan mayonnaise, and a few spices you have lying around the house, you can whip up a delicious vegan appetizer in just over 30 minutes.
Ingredients:
15 mini golden potatoes
½ tbsp olive oil
½ tbsp coarse salt
For Filling:
¼ block firm tofu (about 100 g)
4 tbsp vegan mayonnaise
1 tsp Dijon mustard
1 tsp vinegar
¼ dried garlic
¼ tsp black salt
⅛ tsp ground turmeric powder
⅛ tsp paprika (can use smoked paprika)
Chives for garnish
Instructions
Preheat the oven to 350°F/180°C.
Brush the olive oil over your silicone baking mat.
Lay the mini golden potatoes on the baking mat (make sure they have a little space between them) and brush with olive oil.
Sprinkle coarse salt over the potatoes.
Place the potatoes in the oven and bake for 30 minutes.
In a bowl, mix the tofu and vegan mayonnaise together. Add the mustard, vinegar, dried garlic, black salt, turmeric, and paprika to the mixture.
Take the potatoes out of the oven. They should be soft with wrinkly skin. Once they are cool enough to handle, slice each potato lengthwise in half.
Using a small spoon, scoop out a small part of the potato meat of your vegan deviled eggs. Place the scooped-out potato into the bowl with the tofu and vegan mayonnaise and mix together.
Place the mixture into a plastic food bag or piping bag. If you're using a food bag, you'll need to cut the tip in order to make your own piping bag.
Now, squeeze a bit of the filling into the center of the scooped potatoes.
Garnish with chives and other spices, and enjoy our potato vegan deviled eggs!
Vegan Deviled Eggs – Deviled Mushrooms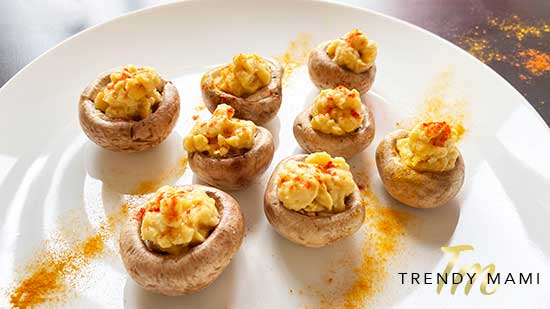 These deviled mushrooms are bursting with flavor, thanks to an overnight soak in handmade pickled juice (trust us – making your own pickle juice makes all the difference for this vegan Easter food). Add some seasoning and a blended puree of chickpeas, and you have yourself a unique vegan deviled egg recipe that you can share for Easter!
Ingredients
15 white button mushrooms
1 can chickpeas
¼ tsp of black salt
¼ tsp paprika
¼ tsp turmeric
1 tbsp vegan mayonnaise
¼ tsp mustard
1 L homemade pickle juice
Homemade Pickle Juice Ingredients (1 Liter):
1 tbsp salt
2 tbsp sugar
3 cups water
¼ cup apple cider vinegar
¼ cup vinegar
Instructions:
Combine all the pickle juice ingredients into a bowl or cup.
Wash the mushrooms in water (make sure to scrub off any dirt from the stem and cap).
Carefully separate the stem from the cap of the mushroom. This can be done by twisting or pulling directly on the stem.
Place the mushrooms in the homemade pickle juice and cover with saran/plastic wrap and let them soak for at least 12 hours or overnight.
Empty the can of chickpeas into a food processor and blend into a puree.
Add the vegan mayonnaise, mustard, turmeric, black salt, and paprika into the pureed mixture.
Place the mixture into a piping bag. If you don't have a piping bag, you can cut a hole in the corner of a plastic food bag instead.
Drain the mushrooms from the pickle juice and place them on a plate.
Using the piping bag, fill the center of the mushroom caps with the chickpea mixture.
Garnish with paprika and serve!
There are many different activities to plan this Easter, although you can't go wrong with a delectable brunch with friends and family. Best of all, these vegan deviled eggs are so delicious that even your non-vegan friends won't be able to help to pop one or two on their plate.
If you're looking to serve a few other sweet vegan treats to your guests, check out our recipes on how to make vegan homemade ice-cream and gluten-free, vegan oatmeal cookies.