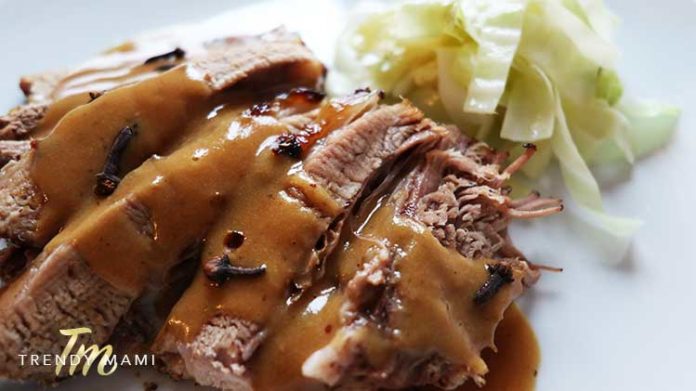 We hope you love the products we recommend! Just so you know, Trendy Mami may collect a share of sales or other compensation from the links on this page.
A delicious corned beef brisket recipe is a staple in practically every deli in America. This flavorful piece of meat is juicy, tender, and mixed with a perfect blend of aromatic spices. While it's common to order corned beef in a deli or café, most people are unaware that you can actually make it at home in your own kitchen in just a few easy steps.
Unlike other corned beef brisket recipes which need to cure in salt for several days at a time, this quick and easy recipe will be ready in just under 3 hours! As long as you have a good cut of brisket and a variety of spices, then you can have a mouthwatering meal of corned beef on your table in no time.
In this corned beef brisket recipe, we'll also be making a gravy sauce that you can pour over the meat. We also recommend making a few side dishes to serve with it, like pickled vegetables or mashed potatoes.
And if you need a high quality cut of brisket, make sure to check out Certified Piedmontese, and get your cuts delivered to your door. Any order over $99 also includes free 2 day shipping.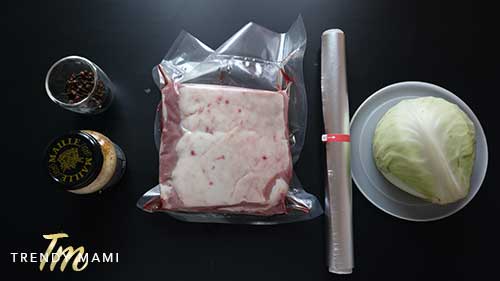 Ingredients:
Materials:
Corned Beef Brisket Recipe:
Preheat the oven to 350°F/180°C.
While the oven is preheating, line your baking pan with a sheet of aluminum foil. You can also use an oven proof dish with high sides (like a Pyrex dish). In this corned beef brisket recipe video, we used aluminum foil with baking paper, although if you don't have baking paper, aluminum foil should be fine to use on its own.
Place the meat in the center of the pan with the fat facing up.
Drizzle the honey over the top of the meat (feel free to add more if you prefer a sweeter flavor!). Using a brush or knife, spread the honey over the meat.
Spoon the mustard over the top of the meat. Spread the mustard all over the top and along the sides. By now, your corned beef should be completely lathered with a thick coating of both honey and mustard.
Place the cloves on top of the meat. They have little pokey ends which can easily be pressed into the meat so that they don't fall out during the cooking process. If you're not a big fan of cloves, you can use less or simply skip them all together.
Take the seasoning packet that was included with the meat and generously sprinkle it over the meat. If you do not have a seasoning packet, you can use a mixture of spices like salt, mustard seed, coriander, black peppercorn, rosemary, thyme, bay leaf, cinnamon, all spice, and chili powder.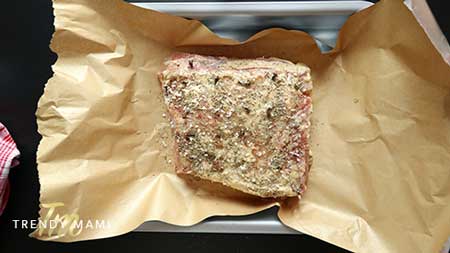 Time to bake!
8. Take the aluminum foil and tightly wrap it around the corned beef. Make sure it's completely covered (we don't want any of those delicious juices leaking out!)
9. Place the pan inside the oven. A 2.5 pound piece of corned beef will need to cook for approximately 2.5 hours. If your cut of meat is smaller or larger, you can adjust the cooking time as needed.
10. Resist the urge to keep opening up the oven or the aluminum foil to check on corned beef recipe. The more you open it up, the more dry it can get. The best way to cook corned beef is to let it cook for the full 2.5 hours.
11. Once the meat is cooked, take it out of the oven and unwrap the foil (don't throw away the juice just yet! We will use that to make a gravy). Let the meat rest for 10 minutes.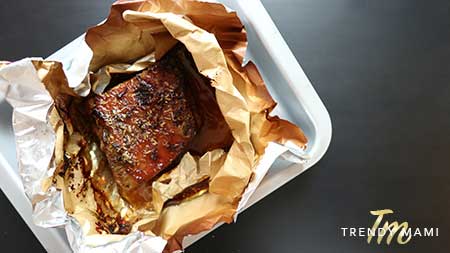 The Gravy
12. While the meat is resting, we can make a delicious gravy for our corned beef recipe. Take the juice that you saved from the meat and pour it in a sauce pan. Place the pan on the stove top and set to low – medium heat.
13. Sprinkle the flour one tablespoon at a time into the sauce pan. Whisk the flour until it is completely dissolved and mixed with the juice before adding additional flour. The gravy should be smooth, thick, and free of any flour clumps.
14. As soon as the gravy is thick and mixed, remove it from the heat and let it rest while you cut the corned beef.
15. Place a slice of corned beef on your plate and pour over your gravy sauce. Serve it with a side of cabbage, potatoes, or salad for a complete meal. Enjoy!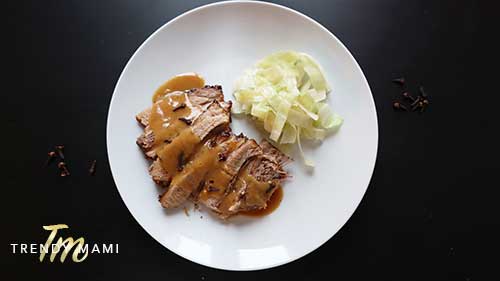 Now, wasn't that corned beef recipe a lot easier than you thought? If you enjoyed making this dish, then don't forget to check out a few of our other favorite recipes. And if you happen to be cooking for non-meat eaters, then consider making one of these delectable tofu dishes instead.