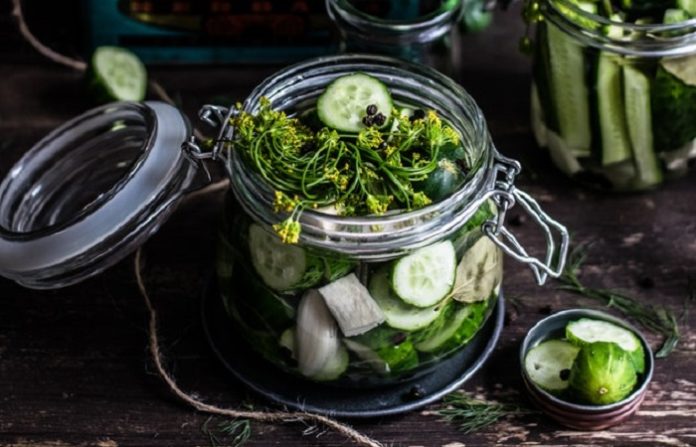 We hope you love the products we recommend! Just so you know, Trendy Mami may collect a share of sales or other compensation from the links on this page.
"Peter Piper Picked a Peck of Pickled Peppers." We've heard the tongue twister, but do we really know how much fun we can create for our tongues with pickling? Pickling is one of the oldest methods of food preservation prior to modern refrigeration.
The process pickling involves turning a fruit, vegetable or sometimes even a meat into a pickle in a short amount of time using vinegar, water, salt, spices and maybe something sweet. It is the combination of fresh spices, vegetables and/or fruits that really bring the pickling flavor to life.
Pickling often allowed families to have nutritious food in times of drought with the pickling process being done in the winter in preservation for the summer. The evolution of this process in current day allows for a much quicker process so that we can enjoy foods with unique flavors more often and in just a few days.
In addition to the unique flavor, benefits of quick pickling are the improvement of good bacteria in the digestive system, lots of vitamins and minerals, antioxidants which contribute to diabetes control, liver protection, ability to heal ulcers and facilitation of hydration. Some of the foods that can be quick pickled are cucumbers, beets, peppers, berries, onions, carrots, tomatoes, cabbage, broccoli, watermelon, beef and pork. These items can be thinly sliced, cut into spears and/or peeled.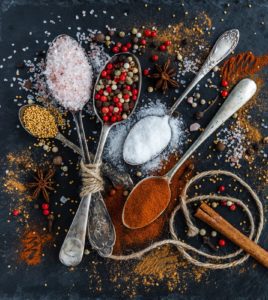 To really make the flavor of these foods pop there are several spices that are commonly used in combination. To spice up pickled meat try mustard seeds, celery seeds, salt or bay leaves. For fruits, taste test some sugar, cinnamon stick, cloves, salt, cilantro, pink peppercorns. Veggies pair well with salt, ground cumin, black peppercorns, fresh ginger, snipped chives, flat-leaf parsley, garlic cloves, chili peppers, thyme, rosemary, basil and/or dill.
Before diving into a recipe be sure to have a chef's knife, a cutting board, sterilized wide-mouth pint jars with lids and a slotted spoon. You will need to:
Bring the pickling liquid (usually water, vinegar and salt) to a boil in a big pan.
Put the pickling marinade ingredients, your choice of superb herbs and spices mix, into a large bowl.
Peel, slice, cut veggies or fruits and place them in the boiling pickling liquid for about 3 minutes.
Minimize how much they rise to the surface and use a slotted spoon to take the vegetables or fruits out of the pan and place in the pickling marinade.
Quickly put hot vegetables or fruits into the sterilized jars where the marinade completely covers them and tighten the lids.
Now that you know about the quick pickling process, check out some popular recipes!
Grilled Fish Tacos with Pickled Onions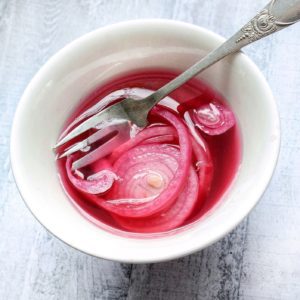 Ingredients:
1 orange, juiced
1 lime, juiced
2 tablespoons olive oil
1 tablespoon dried oregano
1 tablespoon chili powder
1 teaspoon ground cumin
¼ cup finely chopped cilantro
2 pounds cod filets
1 red onion, thinly sliced
½ cup apple cider vinegar
1 tablespoon brown sugar
2 teaspoons salt
1 package Tortillas
Salsa Verde
Directions:
Combine orange juice, lime juice, oil, spices, and cilantro in a container. Pour over the fish. Let marinate 25 minutes in the refrigerator.
Meanwhile, in a small saucepan over medium heat bring onion, vinegar, and brown sugar to a boil. Immediately remove from heat; cover and let cool. Slice the fish.
Heat grill medium to high. Cook fish over indirect heat for 8 minutes, or until cooked through. Pull apart into large flakes. Cook the tortillas over direct heat for 30 seconds on each side, until soft.
Place fish onto center of each tortillas; top with pickled onions and salsa verde. Fold sides of tortilla over filling. Serve with lime wedges and enjoy
Slow Cooker Pickled Pork
Ingredients:
3lbs of pickled pork
½ cup malt vinegar
3 tablespoons brown sugar
2 teaspoons ginger
1 onion
1 carrot
1 stick of celery
1 bay leaf
Directions:
Cut the onion into thick slices and put at the bottom of slow cooker.
Place the pork on top of the onions.
Place veggies into the slow cooker.
Add bay leaf, ginger and brown sugar.
Cook on high for 6 hours or low for 8 hours.
Leave the pork to cool for at least an hour.
Remove the pork and allow the liquid to drain off.
Shred the meat, serve and enjoy.
Pickled Watermelon Rind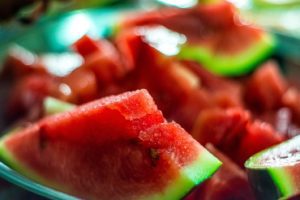 Ingredients:
8 lbs watermelon rind
4 cups apple cider vinegar
½ teaspoon mustard seed
12 cups water
2 cups white sugar
¾ cup salt
10 cut up cinnamon sticks
2 tablespoons whole cloves
Directions:
Trim the watermelon rind and remove all pink portions.
Stir water and salt in a bowl until salt is dissolved.
Marinate rinds overnight in the bowl with salt and water.
Rinse rinds of salted water.
Place rinds in pain with fresh water and bring to a boil for 30 minutes.
Combine remaining ingredients and bring to a boil. Let stand for 15 minutes.
Stir in watermelon rind then return to a boil.
Reduce heat to medium and simmer until syrup starts to get thick for around 45 minutes.
Throw away spices after 40 minutes.
Place rind in hot sterilized jars.
Cover with boiling syrup and seal. Let cool overnight.
Do you use pickles to cook? Try these amazing recipes and let us know what you think! Don't forget to check out our other recipes!