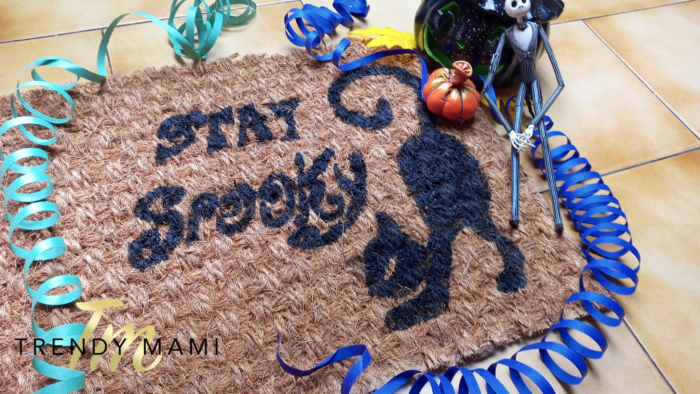 We hope you love the products we recommend! Just so you know, Trendy Mami may collect a share of sales or other compensation from the links on this page.
Halloween is just around the corner, and it's time to get our scary Halloween doormats ready for the spooky season! Whether you're spending this year's Halloween with the kiddos at home or not, a doormat is a ridiculously easy (and cheap way) to dress up your home.
We get it! Large Halloween doormats tend to be a bit pricey. But don't fret. In this article, we'll share an easy and affordable way to create your own scary Halloween doormat. You'll only need a few materials to customize your design and convey the haunted spirit. Let's dive in!
Supplies for Your Scary Halloween Doormat
For this project, you'll need:
Printed shapes and text for a template

Needles

A plate/bowl
Instructions to DIY a Large Halloween Doormat
1. Create and Print Your Design
After purchasing a plain doormat, decide on your design and text in advance and print it on paper. Alternatively, you can use a cute, themed stencil. For example, for our scary Halloween doormat, we used the wording "Stay Spooky," but others such as "Boo", "Witch, please", or "Happy Halloween" will do, too. We'll also add a beautiful cat silhouette to match the Halloween spirit.
2. Cut the Design & Assemble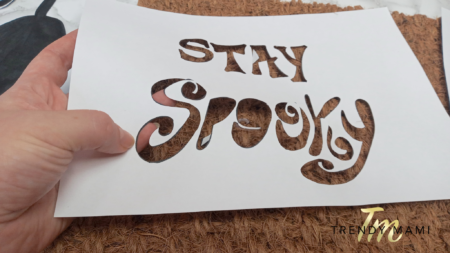 Next, you want to carefully cut out the design with the craft knife and remove the printed part. Be extra careful with the small pieces, such as the cat's eye or the inside of the letters "P" and "A." You can use a craft mat to avoid cutting on surfaces. Once the printed part is removed, it's time to arrange the image on the doormat using painter's tape and needles to secure it.
3. Paint Over the Design
Time to paint over your design. If you used a plain beige mat, black paint usually works wonders for your scary Halloween doormat. There are many different paint options, including outdoor spray paint, outdoor acrylic paint, outdoor latex paint, and Flex Seal Rubber Spray. Put some color on the plate and brush on top of your design until it's fully covered. You can also wear gloves, but no worries if you don't, since the paint will be washed away easily. You'll probably need to brush a couple of coats.
4. Let It Dry
Once you're happy with the painted coats, peel off the paper stencil right away to reveal the finished project. Let it dry for about 24-48 hours before placing it outside. And voilà! Your very own scary Halloween doormat is ready to welcome your guests into this year's spooky season. Place it in your front door along with your other Halloween decorations, and you're ready to go!
Ideas for Your Paper Stencil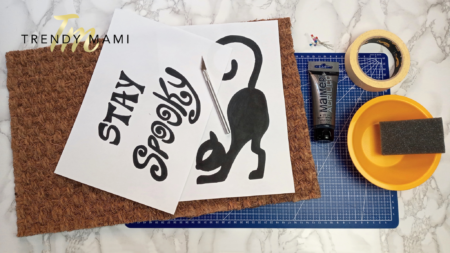 Run out of ideas for your large Halloween doormat? Here are a few cool phrases you can use to have a good laugh with your guests:
Run Away! 

We're All Mad Here 

The Neighbors Have Better Candy

Trick Or Treat Yo' Self 

Watch Out Behind You

Come In, My Pretties
If you want bigger letters to cover the whole mat, you can print paper stencils for each letter, cut them out with the craft knife, and combine them with tape for your project.
Extra Decorations You Can Add
Now that your scary Halloween doormat is ready, it's time to add a few more fall decorations to really get into the season's spirit. For example, you can add some spiders, spider webs, or witch's legs underneath the doormat for the spooky effect. A fun witch's hat will also give the impression that a witch was squeezed underneath your mat, conveying the "BEWARE" warning.
Ready to Make Your Scary Halloween Doormat?
This project is quick, fun, and easy like every DIY ought to be. It's also budget-friendly as it'll save you a few bucks from having to purchase a Halloween doormat. And since doormats get a lot of wear and tear throughout the holiday season, having the luxury to change them sounds like a great deal! So gather your DIY-loving kiddos, grab a few basic supplies, and spend an afternoon preparing a scary Halloween doormat.