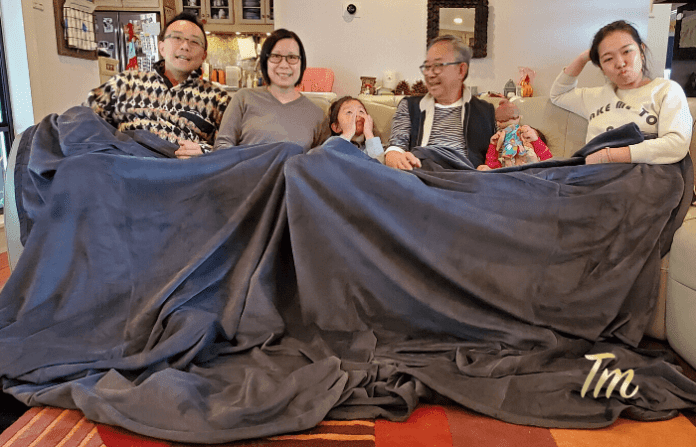 We hope you love the products we recommend! Just so you know, Trendy Mami may collect a share of sales or other compensation from the links on this page.
Have you been longing for a blanket big enough to end tug of wars with your partner on the couch? Big enough for everyone in the family during family movie night? Big enough for the kids to have the best fort known to man? Lucky, you've found Big Blanket Co. With a cult following on Instagram and many devoted followers who give it a near-perfect 5-star rating on its website, you can't deny Big Blanket Co is selling the best blanket on the market right now. Keep on reading for our Big Blanket Co review!
Oh and best of all, we have a PROMO CODE for you! Use PROMO CODE: WINK25 at checkout and save $25 off your order!
Big Blanket Co Review Video:
Big Blanket Co provides its customers with temperature regulating, moisture wicking, super soft, machine washable blankets made from ultra premium stretchy material, that are big enough for the whole family.
What Blankets Does Big Blanket Co Have?
Their collection has a range of big blankets to choose from. From their Original Stretch Blanket, Premium Woven Blanket, XL Weighted Blanket and their Premier Plush Blanket, the options are seemingly endless!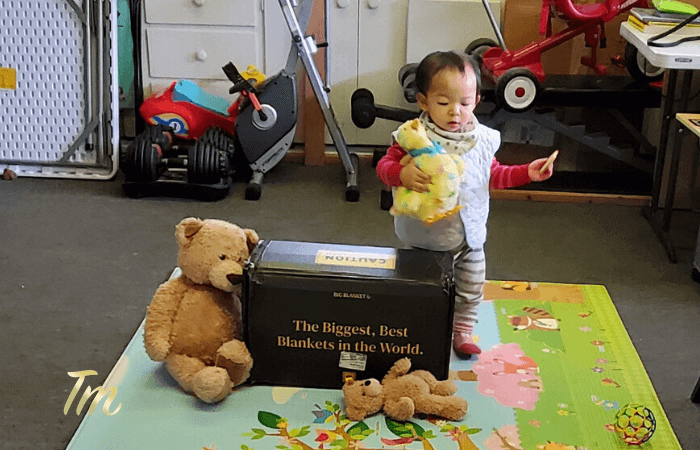 10′ x 10′ (120″ x 120″)
Folded weight: 11 pounds
Machine Washable
95% Polyester / 5% Spandex
Temperature Regulating
Insanely Soft
30 Night Guarantee
Comes in 19 colors and patterns to choose from
10′ x 10′ (120″ x 120″)
Folded Weight: 11 pounds
Machine Washable
100% Acrylic
Temperature Regulating
Insanely Soft
30 Night Guarantee
Comes in 15 colors and patterns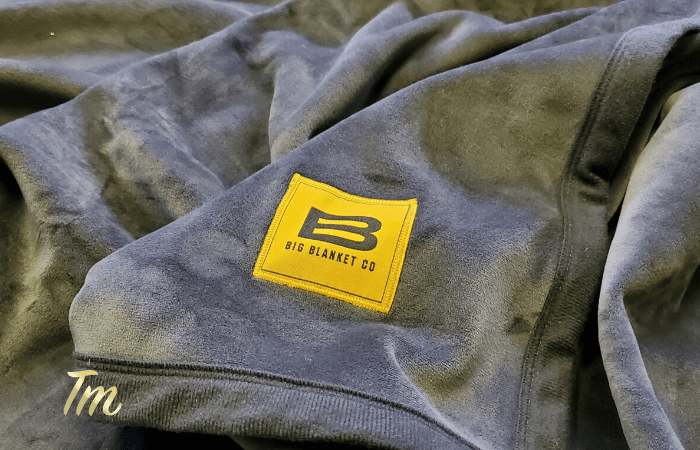 100″ x 120″ (8′ 4″ x 10′)
Available in 30 lbs and 40 lbs weights
Larger than a king-sized comforter
Weighted Core
100% polyester
Premium glass beads
6″ x 6″ grid pattern for even weight distribution.
Hand wash only
Removable Duvet
100% cotton
Machine wash cold, tumble dry low
Reinforced duvet ties to securely attach to weighted core.
Comes in 3 colors
10′ x 10′ (120″ x 120″)
Fits in Standard Size Washing Machine
Weight: 11 Pounds
100% Polyester
Breathable, Plush Material
Insanely Soft
Imported
30 Night Guarantee
Comes in 2 colors

Big Blanket Co Review For Pets?
The big blanket also makes for an incredible pet blanket. We're not sure if they built the big blanket to be pet-friendly, however, we quickly learned that it makes an amazing throw for pet owners. If your cats, dogs, or other pets with lots of fur, often claim every blanket in your house as their own, then you'll understand how much of a pain their fur can be. With the big blanket, you'll barely notice they've touched it!
There may be a few stray hairs, but nothing that stands out—and you won't find marks from where their claws have pawed at the fabric, unlike many other blankets we've owned that are coated in black hair and covered in loose strings that have been pulled up during kneads.
Since it's a huge blanket, you can also easily slide in and out of it without waking up your pet, whose probably sleeping on it just a few inches away (this is a huge bonus to cat owners whose hearts break every time they disturb their pets).
Other pro's to the big blanket are that it's extremely comfortable, with its fabric feeling almost fleece-like. It's big enough to keep the entire family warm, your partner, kids, pets and all!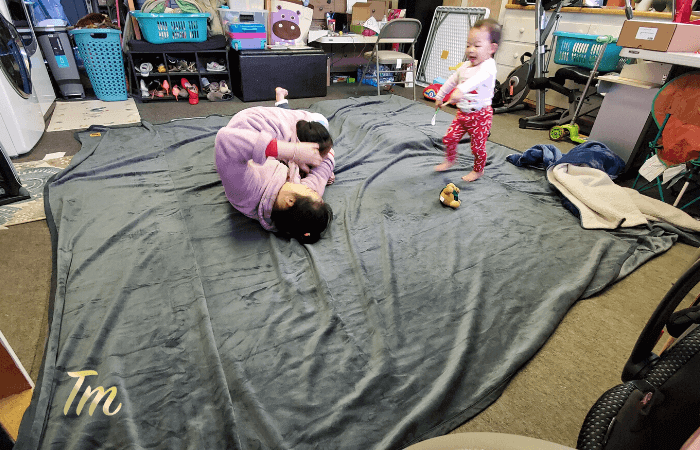 Are Big Blanket Co Affordable?
Their most affordable option would be their Original Stretch blanket, which is priced at $149. We understand for a blanket, the price tag may seem a bit hefty. However, for a big blanket by Big Blanket Co, the price tag is worth it. Big Blanket Co also offers the option to pay with Afterpay, which allows you to pay for your purchase over 4 interest-free installments.
Why Do You Need A Big Blanket?
If you are looking for a blanket that manages to keep the entire family cozy, or allows you to burrito yourself, enough that you can wrap your entire body in this blanket three times over, then you NEED a big blanket. Yes, we capitalized! This blanket is also great if you find you and your partner fighting for more blanket every night.
The size of the big blanket is what sets it apart from others. Tall people, who often have a hard time fitting under standard blankets, can finally rejoice with the big blanket! The big blanket was literally built with tall people in mind (one of the founders is an NBA player). The fact that you can also get a massive weighted blanket is a huge draw for many people. Big Blanket Co's XL Weighted is 30 pounds and 10' by 8'. If you're a tall person who wants a weighted blanket, but hasn't yet found a version that will cover your toes, this would be a great blanket for you!
If you're looking for a durable, comfortable, pet-friendly, large and machine washable blanket, Big Blanket Co are the way to go!
Use PROMO CODE: WINK25 at checkout and save $25 off your order!
We hope you enjoyed our Big Blanket Co review!
Looking for more product reviews from us? Check out our Wild Alaskan Company Review, KiwiCo Review, Sundaily Review, Lumee Review and even our Freshly Review!